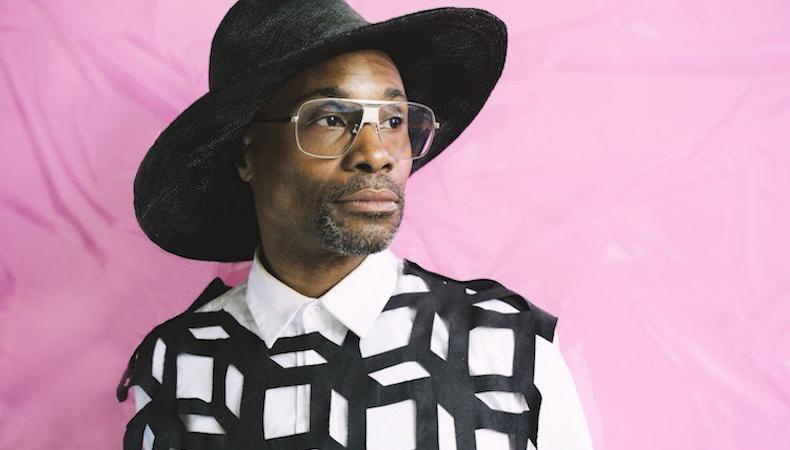 Billy Porter tells it like it is. Whether he's onscreen starring as ballroom emcee Pray Tell in Ryan Murphy and FX's '80s-set "Pose" or sitting with us for an on-camera interview, you'd better give him the mic and your attention, because he has some hard-won lessons to teach the young girls and boys of the House of Evangelista and aspiring stage and film actors alike. Below, we round up the best bits of insight from this Tony winner's career in—and out—of the spotlight.
"Pose" achieves what Porter had thought impossible.
"I have been in this business for over 30 years, and I talk about what it feels like to dream and have big dreams, right? I've had huge dreams for my whole life. I've seen many of them come true. What this particular experience has taught me is that I wasn't dreaming big enough. I was not dreaming about the impossible. My dreams were springboarded off of other stuff that I had seen: Why can't I be the first black Jean Valjean in 'Les Miz'? Why can't I be the first black emcee in 'Cabaret'? Why can't I be the first black whatever? And the start of this sort of restructuring started with 'Kinky Boots.' But this 'Pose' moment just blows it even further out of the water. The subject matter, the cast. These ladies: five transgender actresses of color in series regular roles. For real. And it's about them. They're leading with that."
READ: Evan Peters on 'Pose' + Why He Still Goes to Acting Class
Dreams can change, too.
"As you get older, your dreams can shift, and that's OK. They should shift. They should mature. You've gotta keep fighting. You've gotta believe in yourself enough to invest in yourself for the long haul. That's what I did. It was not easy. It was not easy at all."
He's learned to put his work in service beyond himself.
"I was watching Oprah—this is probably about 20 years ago—[and] they were talking about service. Shift your intention to service, and everything else will fall into place. I thought, How can I be of service to something other than my ego and my bank account in an industry that's inherently narcissistic? And the answer came swift—it hit me like a bag of bricks—authenticity. Now, you have to understand, this was the late '90s, early 2000s-ish. Black and gay? I'm just supposed to stand in some sort of authenticity and be broke? (Which I was.) Be jobless and have no prospects? It was like, OK, I hear it, I believe it, and I'm just going to have to trust whatever comes along with that. A lot came along with that. No place to live, bankruptcy (for real), no jobs. I was in my 30s and I got to a real place of surrender. Just surrender and know that I'm in exactly the place that I'm supposed to be. As uncomfortable as it was, there were so many angels that showed up for me. There was so much growth. I couldn't stand in Pray Tell's shoes and tell this story and have the responsibility that I have on this show had I not gone through what I went through."

Check out Backstage's TV audition listings!