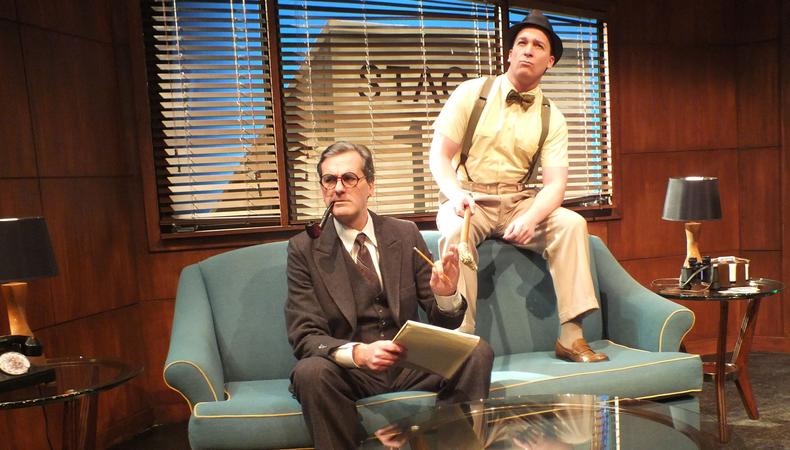 There's always something special about an inside Hollywood story told inside Hollywood, but the world premiere of "Billy & Ray" takes that concept one step further. Directed in his own theater by Garry Marshall, one of the industry's heaviest heavyweights, and written by Emmy Award–winning producer-screenwriter Mike Bencivenga, the show has significant pedigree. Better still, this travel back to 1943 chronicles a defining moment in film history, when hard-boiled director-writer Billy Wilder collaborated with equally well-done crime novelist Raymond Chandler to create the screenplay for the film classic "Double Indemnity."
During the process, through sessions in which Wilder and Chandler seem ready to kill one another at any moment, something major is accomplished: the cracking of the obstructive Motion Picture Code, which restricted Hollywood films from employing any profanity or nudity and forbade the depiction of murder. As the two geniuses labored to survive their partnership despite bristling personal incompatibilities, they worked together to circumvent the censors. They agreed on very little beyond Wilder's belief that they were "grossly overpaid to make shit up," turning that status into the challenge of unearthing innovative ways to skirt the code. The result was the adaptation of James M. Cain's gritty penny-dreadful serialized novella into a script that signaled the advent of film noir.
As Wilder, Kevin Blake is a force of nature. With the help of dialect coach Tuffet Schmelzle he finds the Austrian accent that the filmmaker tried to overcome, especially as World War II turned America into a place rife with patriotic furor. Blake's portrayal is uncanny, delivering Wilder's vocal patterns and tapping into his quick humor and studied nonchalance, with which he masked the pain of his life. As "Double Indemnity" was being born, Wilder was seeking information on his family members in Austria, who had been taken to what were then still referred to as "work camps." Rumors were flying about them, but the reality was yet too horrifying to contemplate.
Shaun O'Hagan has the more difficult task of bringing Chandler to life, a man far less colorful than Wilder who lived a life of curmudgeonly contradictions. O'Hagan is a perfect foil for Blake, his Chandler as stoically private and insulated from the world as his flamboyant collaborator is willing to publically embrace his socially dubious peccadillos. Ali Spuck contributes fine support as Wilder's long-suffering secretary Helen Hernandez, as does Anthony Starke as Joe Sistrom, the eggshell-walking Paramount producer assigned to wrangle these two bucking broncos.
Marshall directs with a steady, knowing hand on Keith Mitchell's classy set, which re-creates the fourth-floor corner office dubbed the Grand Suite by lesser talents wanting the clout that Wilder and Chandler have been afforded, despite famed producer Samuel Goldwyn's dictum that writers "should be kept in dark, dank basements so they can grow like mushrooms." Still, the most fascinating aspect of "Billy & Ray" is Bencivenga's smart, knowing script, which captures an important era in filmmaking fueled by two great minds who rose above their shared belief that "if there's one thing Hollywood hates, it's originality."
Presented by and at Falcon Theatre, 4252 Riverside Dr., Burbank. April 5–May 5. (818) 955-8101 or www.falcontheatre.com. Casting by Amy Lieberman.
Critic's Score: A-