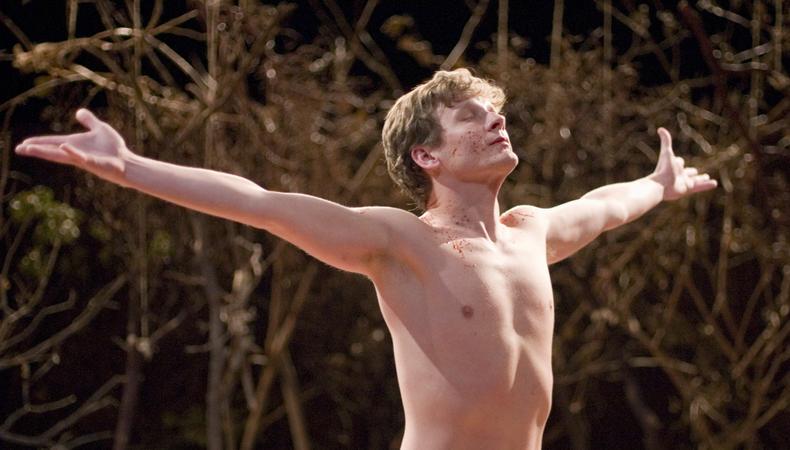 The changes of adolescence can often seem more terrifying than a ghost story and equally as strange (I'm growing hair where?). In "Billy Witch," getting its world premiere at Astoria Performing Arts Center, playwright Gregory S. Moss combines the two, creating a creepy summer-camp tale that recasts the maturation into adulthood as an adolescent monster mash. Instead of deepening voices and surging hormones, Moss' teens sprout tentacles and fur but lack one important part: a heart.
When Oliver (Seamus Mulcahy) gets dropped off at Camp Blue Triangle for the first time, he's determined to be changed. "Nobody knows me here, so I can be whatever I want to," he says. He's immediately targeted by best friends Miranda (Aimee Howard) and Sandy (Liz Wisan) as the cute guy at camp, so you know a coming-of-age story of summer love is in the works.
Director Erik Pearson and the production team go to great lengths to bring the overly enthusiastic, slightly manic atmosphere of camp to life. The simple yet immersive set by Tim Brown divides the audience into three rival cabins, in front of a thicket of trees and underbrush. The woods (always a place of transformation and maturation) are seemingly mundane in the daytime but foreboding at night, a double identity expressively rendered by Marie Yokoyama's lighting.
As patrons enter, they're checked in by the perpetually cheery counselors Becky (Dawn Luebbe) and James (Nicholas Urda), who make sure that everyone can swim and has their immunizations on file. Luebbe and Urda breathe life into these potentially one-note characters. During arts-and-crafts time, they pontificate about their pathetic yarn-and-popsicle-stick creations as if they held some eternal significance. As James instructs the campers, Becky imagines gazing at the craft in awe while "lying in your bed, perhaps for the last time." It's a brief moment of pitch-perfect parody out of Christopher Durang's playbook.
But where the humor isn't as successful, the characters' flatness is laid bare. Oliver's bunkmate Arden (Eric Bryant) is a seemingly macho bro with his eye on Oliver; the gay taunts that belie his secret passion get stale almost immediately but remain his defining characteristic throughout the 90-minute show. And while the romance between Oliver and Miranda is one of the narratives that drive the play, Moss substitutes freakish physical changes for emotional ones. It's a sly joke, emphasizing the foreignness of the people we become post-adolescence, but it misses the core of the teen experience, relying on a series of fun but static gags.
Where "Billy Witch" excels is in one-off scenes that revel in the creepy mythology of camp. When the old-timers spook the new kids, telling the ghoulish tale of Billy, a former camper who met a sordid end, they only need a few flashlights in the dark to give you chills. Andy Phelan is hilariously deadpan as the camp's requisite mysterious boy. Is it over the top? Sure. But what is summer camp without some downright campiness?
Presented by the Astoria Performing Arts Center at the Good Shepherd United Methodist Church, 30-44 Crescent St., Queens, NYC. Nov. 8–17. (212) 352-3101, (866) 811-4111, www.theatermania.com, or www.apacnyorg. Casting by wojcik|seay casting.
Critic's Score: B-