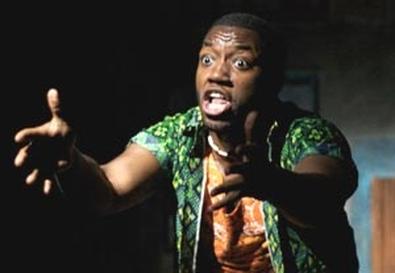 "You know what they say: When it comes to thrills, Africa's the top," says Manny (Zachary Webber), a Caucasian member of an American urban ghetto gang called the Wildboys. They are led by the title character, a 13-year-old immigrant African girl, in Koffi Kwahulé's passionate play "Bintou." Manny degrades Bintou with a light tap on her bare rear, but just this once. Like nearly everyone else in her orbit, he spends much of his time in reverence of her, genuflecting to her every violent whim. But as played by Adenike Thomas, Bintou doesn't give them any other option. Though the worshiping is excessive, Thomas gives this brazen 13-year-old thug such confidence and bravado that one can't help but be enraptured.
"Bintou" immediately casts a spell with its blend of spiritual and natural warfare. Against a backdrop of earth tones and African customs, the story of a girl gone wild develops with an urgency that cannot be ignored, under David Mendizábal's feverish direction. The goings-on, framed by the chorus (Audrey Hailes, Cherrye J. Davis, and Joy Caldwell) with the right combination of sexuality, witchcraft, and grace, unfurl like a scroll detailing Africa's history and Western society's ravaging of it. Like the character, "Bintou" will not stand for a lukewarm reception. It demands that you sit at attention, lean forward, and either wish for the protagonist's salvation, as her hapless family does, or watch as she arbitrarily dispenses it to the wayward. The dialogue, in Chantal Bilodeau's translation, is alternately lyrical, proverbial, and convoluted, but always exciting and thought-inducing.
We may not be able to fully define Bintou—she will happily define us—but by her own admission, she defies comprehension. She is a phenomenon that appears for only 90 minutes but is well worth the tithing of time and modest ticket price.
Presented by the Movement Theatre Company at Harlem School of the Arts, 645 St. Nicholas Ave
.,
NYC. June 25
–
July 10. Thu. and Fri
.,
8 p.m
.;
Sat
.,
2 and 8 p.m. www.themovementtheatrecompany.org
.