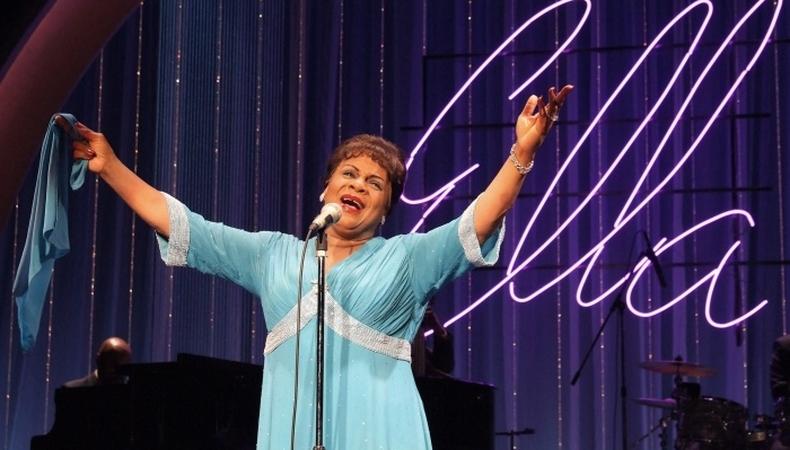 As a tribute concert, "Ella" is unbeatable. The musical biography of jazz legend Ella Fitzgerald at the Queens Theatre faithfully recreates the experience of hearing one of the greatest popular singers of the 20th century. Tina Fabrique flawlessly replicates that silvery, smooth voice and captures the evolution of Fitzgerald's art from a youngster bopping along in novelty numbers like "A Tisket, A Tasket" and "Cow Cow Boogie" to an expert scat practitioner delivering exquisitely intricate variations on "How High The Moon" and "Oh, Lady Be Good" and soulful renditions of ballads like "Something to Live For" and "The Man I Love." The lady is backed up by a magnificent quartet (the expert musical direction is by pianist George Caldwell) whose swinging musicianship transports us to jazz heaven.
If "Ella" was an evening solely devoted to Fabrique's warbling, the show would be perfection. But the book by Jeffrey Hatcher pushes too hard to create dramatic conflict and the narrative just plays like a forced Lifetime TV movie. Fitzgerald did not have as tumultuous an offstage life as her contemporaries Edith Piaf, Billy Holiday, or Judy Garland; the only potential for conflict is her devotion to her career over family—including two marriages, plus raising a son who was really the child of her sister.
Hatcher sets the scene at the rehearsal for a concert in Nice, France, in 1966, when Fitzgerald's sister has died and her son Ray, Jr., has just found out the truth of his parentage. To put the action in motion, the singer's manager, Norman Granz (a bland Chris McHale), demands that Fitzgerald cut a number from her set so she can add "patter" and chat with the audience. Searching for material leads the singer to autobiographical reminiscences, with the onstage musicians portraying all the men in her life. The second act is the concert itself, with the action propelled by the star's anger at Granz and her desire to reconcile with Ray, Jr., who is in the audience. Unfortunately, these triggers don't really work. Fitzgerald's rage at Granz appears excessive and, though Fabrique is convincing in a tearful breakdown, her ruptured relationship with Ray, Jr. is not enough to sustain dramatic interest.
But there is that marvelous music, and that is enough to satisfy any true lover of the First Lady of Song. Fabrique channels Fitzgerald's uncanny ability to convey the essence of a melody, then build and improvise upon it. As an added bonus, trumpet player Ron Haynes joins her for a spot-on imitation of the gravel-voiced Louis Armstrong in duets of Irving Berlin's "Cheek to Cheek" and the Gershwins' "Let's Call the Whole Thing Off." It just doesn't get any better. Too bad the non-singing portions come up short.
Presented by Queens Theatre in association with Maximum Entertainment at Queens Theatre, 14 United Nations Ave. South, Queens, NY. Sept. 28-Oct. 7. (718) 760-0064 or www.queenstheatre.org.
Critic's Grade: B-