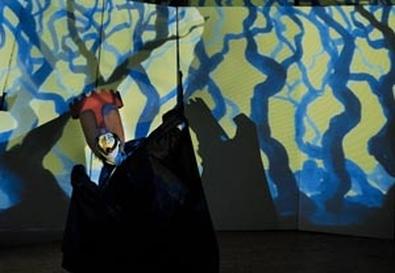 The stagecraft is the star of
Bird Machine
, co-created by Renee Philippi and Carlo Adinolfi. The show has technology as a major theme, but most of the devices and techniques are pleasingly low-tech yet highly imaginative and lift the sometimes uncertain storytelling into a magical realm. Beguiling puppets are artfully manipulated by a busy crew of puppeteers. Props and set pieces are bathed in evocative lights and projections, emitting a fairy-tale essence.
The script deals with Vince, the groundskeeper for an emperor who has a thing for putting up walls, and Vince's good friend Leo. When the emperor announces a birthday competition for a new invention, Vince assembles a miniature jewel garden, while Leo, obsessed with flight, creates a flying machine that sends him soaring over the city. When the emperor sees Leo in flight, he fears that such an invention will allow his enemies to fly over his walls and destroy his domain. He has Leo executed, and Vince wins the competition. To avenge his friend's death, Vince builds the emperor a huge replica of his jewel garden containing a bird machine, which takes the emperor up for a fatal flight. (The tale is loosely based on a story by acclaimed science-fiction writer Ray Bradbury.)
While the uses and dangers of technology seem to be the main concern of this parable-style story, it also touches on such matters as the mysteries of nature, human aspiration, tyranny, and docile citizenry. The script at times seems too cluttered with themes, but the stage wizardry and a trio of well-etched performances keep you involved. Michael Tomlinson brings impressive emotional depth to Vince, who serves as narrator. Adinolfi, who also designed the sets, puppets, and projections, makes Leo an engaging fellow, and Jo Jo Hristova gives an appropriate imperiousness to the emperor, whose regal robes are topped by an enormous crown suspended in midair.
The show is further enhanced by David Pinkard's recorded symphonic score, which accompanies almost all the action, often synchronized with director Philippi's staging. Other noteworthy contributions include Renée Molina's lighting and Danielle Breitenbach's costumes.
Presented by Concrete Temple Theatreat Theater Three, 311 W. 43rd St
.,
3rd floor, NYC
.
June 19
–
July 5. Wed
.–
Sat
.,
8 p.m
.;
Sun
.,
2:30 p.m
. (
Additional performance Tue
.,
June 30, 8 p.m
.)
(
212
)
598-9135 or www.concretetempletheatre.com
.