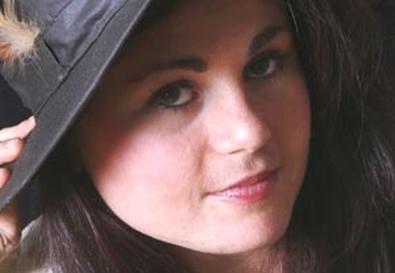 It was 5 a.m. and I was jet-lagged, having just flown from Heathrow Airport in my hometown of London to JFK Airport in NYC.
New York!!
"Be careful what you wish for. It might come true!" my dad once said to six-year-old me when I mentioned my ambition to move to the States—to New York City in particular—and become an actress. Of course, I listened to his comments but did not understand.
Sixteen years later, though he is no longer alive to churn out these pearls, he would be proud of me. I was now
there
, in New York studying at Stella Adler, waiting to discover whether that 'dream come true' was a warning or a blessing.
A taxi took me from the airport to a youth hostel in midtown. As I paid the man and jumped out at the corner—my suitcase on wheels dragging behind me—I caught a glimpse down Sixth Avenue at the Empire State Building. Then, up 43rd Street I saw the sun rising and a dark blue sky quickly clearing above.
Suddenly I had a feeling of joy that burned and boiled within my being. This cascaded up into my belly until finally I was inspired to almost skip down the street. Goodbye cold September UK weather—hello sunshine!
*************
Even from that very first time I was in Times Square, I imagined myself living in this epicenter. The Broadway lights were alluring, the theatres alive, the crowds energetic, and 'the square' looked like a movie set. Like something out of "Plaza Suite," my favorite Neil Simon play.
But reality quickly took hold.
The search for an apartment in The Big Apple was tough. I spent my first few weeks in a youth hostel, in which I ate my very first peanut butter and jelly sandwich. Most of the time, I was in Internet cafes discovering the ins and outs of Craigslist.
For a short time, I found comfort in a cozy room share in Chelsea. (Ok, tiny.) Then, one day I came home and found the room was filled with a huge number of glass tables. I don't know where they came from or how they got there, but there were so many that just getting to my bed was a struggle. When I complained, the lady I lived with said simply, "The furniture is here to stay." So I moved on.
I started the hunt again. And again. And again. Then it happened.
Through a friend, I discovered an available share that seemed perfect. It had a roof terrace, laundry, and a deli right across the street. My flat mates (sorry,
room
mates) had similar interests, and the landlady was the kind of person who would help you up the stairs with your bags. (Plus, no glass tables!)
Best of all, it was located on 47th Street between Broadway and 6th Avenue—a block from Times Square! I raced to get my deposit in, and won against the interested masses.
Dream in hand (but without much money), I set about exploring my new 'hood.
Because the fridge in the apartment was not big enough to hold any food and the oven was too small and dirty to cook on, the nearby deli became my daily survival.
Pretty quickly, these lovely guys knew my morning order of coffee and egg-and-cheese on a bagel before I spoke to them.
Besides that, my daily diet consisted of the apples, Diet Coke, and many other sugary goodies. To offset it all, I found a New York Sports Club at the nearby Crowne Plaza Hotel, and quickly signed up for a membership. (Getting a break with my student ID.)
My second time there, I was taking out my shorts and sports bra as I overheard a nearby conversation.
Girl 1: "Have you been with the show long?"
Girl 2: "I started when the show opened, actually. It's such a great crew, and the pay is solid. How much are you on?"
Are they talking about a
Broadway
show, I wondered? I slowly turned. It was like something out of a childhood dream—a 2010 version of "Grease Lightning."
Standing two or three meters away were two very fit, long-legged ladies. Each were wearing black stockings, with stiletto heels. Neither wore makeup. They were putting on shiny skin-tight vests and short pants. Over that, they put on a wrap to cover their bottoms, and one pulled a baseball jacket with the word "Chicago!" emblazoned across the back.
Girl 1: "Wow, it makes me feel so fresh to work out in the middle of the day."
Girl 2: "I come four times a week when I can fit it in. It keeps me focused."
After that, whenever I happened to pass by the Ambassador Theatre on my way home, I'd see all the eager fans gathering outside. I'd chuckle to myself thinking, if they really want to see their stars, the gym is the place to be...
As time passed, I realized that the amount of actors in Times Square is similar to the ratio of Duane Reades to New York City.
I kept experiencing more of these surreal moments.
One night I was in the middle of Duffy Square, checking out the board at the TKTS half-price ticket booth. Before I could move, the police started putting up barriers. And they weren't letting anyone get out.
Three times I waited in anticipation to cross the road, and three times the policemen announced that I had to wait: "They are re-shooting." Who and what? I wondered.
Hundreds of people were crowded into this tiny area. At one point, someone pushed, the crowed wavered, and I fell to the ground. I fell so close to a policeman that I could see the gun in his belt pointing at my head. He looked down, helped me up, and shouted, "Please be patient everyone!"
Then, Nicholas Cage came racing down Broadway in his red Ferrari. They were filming one of his movies. I could see him working, watching it both as a fan and as an actress in training.
And perfectionist that he is, they filmed for
hours
, take after take, making it nearly impossible for me to go home—even though it was only a block or two away.
It was all very exciting. I was living in the heart of New York! Day and night was activity. And I was in the center of it. Just what I'd dreamed about!
But there were definitely down sides as well.
Despite (or perhaps because of) its location, my apartment was tiny. I was living in a room so small I could touch two walls when I stretched my arms out. Looking out of my barred-up windows, I would see traffic jams full of yellow taxis, and hear the noisy drivers beeping all night, sometimes making harmonies with their honkers.
Then there was the tourists.
They outnumbered the grocery stores in the area by about 10,000 to one. They were a constant presence, from morning till very late at night. Slow-walking, lost, confused, traveling in family packs, drunk or sober, with baggage, taking pictures, eating food as they walk—tourists became a constant obstacle.
After a while, I started getting neurotic. I needed space, I needed sleep, I needed proper home-cooked food. I needed to get out of this concrete jungle and see some greenery.
Though I loved my new home, I also started to hate it.
All these things were alien to me. I grew up in the English countryside. I was used to going wild in open fields. I knew New York was not going to be like that. I just did not envision what effects the opposite environment would have on me.
One day, while wading through the packs of people on Broadway, staring up at all the billboards and lights and constant floods of stimuli beating down on me, I had a sudden realization. I don't have to live
here
. In midtown. In the middle of the theater district.
Though my dream was to be in New York, I was taking the dream too literally. Living on Broadway doesn't make me an actress. Performing on Broadway does.
I'm not here to be a tourist. I'm here to be an artist. And much as I liked the area—and
love
New York—living near Times Square was getting in the way.
For me, feeling at home in this city required me to be with
real
New Yorkers, not tourists; with rusty old street lamps instead of shiny glowing billboards; and with ground floor bars instead of high-rise lounges hidden in the clouds. And it required the occasional quiet moment just to be myself in this amazing metropolis of my childhood dreams.
Besides, I can get bagel-and-egg sandwiches in the East Village, or Harlem, or Chelsea—or even Brooklyn—that are just as delicious.
Kimberley Datnow now lives in New York where she has been studying at the Stella Adler Studio of Acting for the past two years. She is originally from London and a graduate of The University of York.

Kimberley won the National Youth Theatre Award for her acting in the U.K. She has appeared in various theatre festivals, short films and stage performances, including "Private Lives" "What's the Question?" and "Cold Comfort Farm." She can be reached at kimberleyrose85@gmail.com .