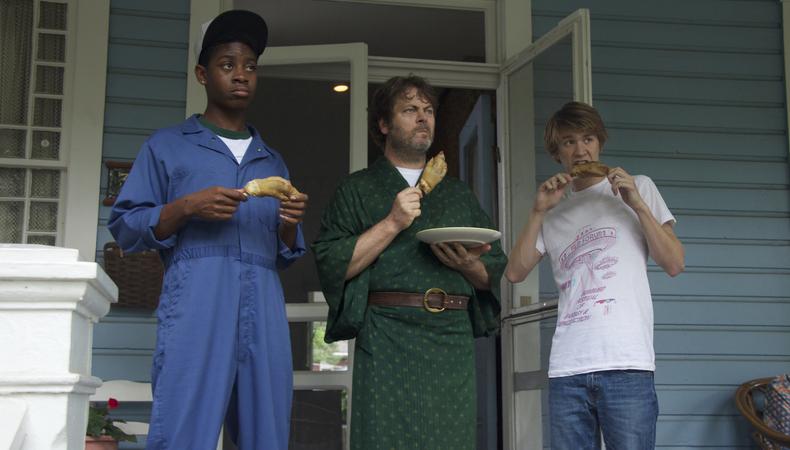 The inherent challenge of directing a film called "Me and Earl and the Dying Girl" lies in its title: How do you depict such sensitive subject matter as a terminally ill teenager?
It's a delicate balance, according to Alfonso Gomez-Rejon, whose main goal in directing the movie became avoiding the overly saccharine or depressingly tragic. "They're two emotional currents coming at each other," he explains. The titular dying girl, for example, is given increasingly colorful outfits as she sickens. In the film—as in real life—"the bitter and the sweet come together all the time."
Adapted by Jesse Andrews from his debut novel, the story is narrated by Greg (Thomas Mann), a high school senior who resists social intimacy to the point of calling his friend and fellow filmmaker Earl (Ronald Cyler II) a "co-worker." When Greg's mother (Connie Britton) needles him into spending time with cancer-stricken Rachel (Olivia Cooke), an unlikely friendship blossoms. Although not outright romantic, "Me and Earl and the Dying Girl" is as joyful and painful as the best romantic dramedies; it's a coming-of-age tale that earns every heart-wrenching moment. Audiences and critics are agreeing—the film took home both the Grand Jury Prize and Audience Award at Sundance.
Gomez-Rejon felt an immediate affinity with the characters upon reading Andrews' script. "I loved the way the teenagers were depicted, the way they were speaking," he remembers. Mostly he was struck by how real everyone seemed. "I identified with Greg, and I hadn't had that since 'The Breakfast Club.' I wanted to take that journey with him and I wanted to do it in a comedy, which was very important to me."
The way to capture that naturalism, as it turns out, is to cast the right actors. Because Greg's journey takes place in a high school, Gomez-Rejon had to be wary of succumbing to clichés. Background actors needed to appear authentic: "I didn't want to have a 6-foot-5, letterman jacket–wearing guy playing with a football," he says. "I don't know that guy. I want everyone to feel real—not the TV version of these archetypes."
The main cast, he adds, had to be an extension of that authenticity. In casting, Gomez-Rejon looked for a "naturalistic sense of timing," meaning actors who could make both comedy and tragedy feel effortless—often simultaneously. "Olivia was perfect," he says of his female lead, citing the film's longest shot in which Rachel and Greg argue about a potentially life-changing decision. "Without being sentimental or soap-operatic, she handled that big scene with such grace, but was still age-appropriate." The balance of maturity and childishness, he adds, is especially crucial for young actors taking on such heavy material.
Although the film's adults were more recognizable stars, the same rule of naturalism applied. "Connie reached out when she read the script, which meant the world to me," says Gomez-Rejon. "She wanted to play it real." As Greg's dad, Nick Offerman had the gravitas countered with eccentricity to convey the depth of his fatherly concern. And Molly Shannon, who plays Rachel's wine-slurping mother, could believably contemplate losing a child without giving in to tragic wallowing.
"Acting is tricky because it's the most noble of the arts," the director adds. "Actors have all my respect, because as an introvert, I need actors so much and I live through them. They're aliens. They're able to tap into something so mysterious."
The director admits watching the cast portray these multilayered characters helped him cope with the recent loss of his father; both the story and the act of telling it became intensely cathartic. Film, as he points out, honors its subjects with a sort of second life. "It's less about the loss and more about the love; that's something I started to learn throughout the film.
"When I make something personal, I get more out of it personally. And that translates to the audience."
Inspired by this post? Check out our film audition listings!