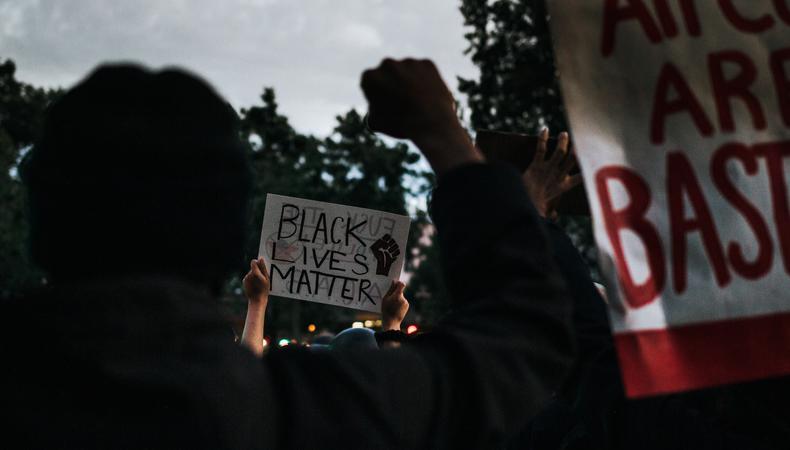 In light of a recent string of video-recorded murders of unarmed Black people around the country by police officers and racist vigilantes, people around the world have taken to the streets and social media to express outrage and demand change in America. While domestic terrorism and violence against people who are Black, Brown, and Indigenous are not new in the United States, it seems like the degree of public outrage is. In a recent Monmouth University poll, 76% of Americans called the country's racism a big problem—including 71% of white people.
When football player Colin Kaepernick protested police killings by kneeling during the national anthem, he was virtually shunned by the NFL. Now, Black actors and celebrities are speaking their truth—acknowledging that it could impact their careers. Below are condensed snippets of some of their thoughts at this monumental time.
"I don't know if I'm going to have a career after this." —John Boyega
In an impassioned, impromptu speech in London's Hyde Park, "Star Wars" actor Boyega said: "Black lives have always mattered. We have always been important. We have always been something. We have always succeeded regardless. And now is the time. I need you to understand how painful it is. To be reminded every day that your race means nothing. And that isn't the case anymore! That is never the case anymore. I'm speaking to you from my heart. Look, I don't know if I'm going to have a career after this, but fuck that.... This is a lifelong dedication."
The speech, which has since been viewed millions of times online, provoked the "Star Wars" franchise to tweet their support for Boyega's message. "Us" and "Get Out" director Jordan Peele also tweeted, "We got you, John," which Oscar winner Guillermo del Toro retweeted.
"Are you policing our stories as well?" —Michael B. Jordan
At a protest rally organized by talent agencies in Hollywood, Jordan—who starred in the 2019 civil rights film, "Just Mercy"—called on the industry to step up and racially diversify: "[Studios] committed to a 50/50 gender parity in 2020; where's the challenge to commit to Black hiring? Black content led by Black executives and Black consultants. Are you policing our storytelling as well? So, let us bring our darkness to the light. We've got to vote.... Voting has never been more important than it is today."
A 2018 study by USC Annenberg demonstrated Jordan's point: In over 11 years, a little over 5% of Hollywood directors were Black.
"I'm not in a space where I can, as a full Black woman, have my voice." —Amanda Seales
In an Instagram Live interview with "Hamilton" actor Brandon Victor Dixon, Seales, who also stars on Issa Rae's "Insecure," announced she would be leaving the Fox television show "The Real," a show featuring all women of color, because of a lack of representative network leadership: "My contract is up and I didn't renew it because it doesn't feel good to my soul to be at a place where I cannot speak to my people the way they need to be spoken to.... and where the people who are speaking to me in disparaging ways are not being handled. I'm not in a space where I can, as a full Black woman, have my voice and my co-workers also have their voices and where the people at the top are not respecting the necessity for Black voices to be at the top, too."
In a recent tweet responding to actor Terry Crews' controversial comment about "Black supremacy," Seales stated: "A lotta my fellow celebs need their phones taken away and replaced with books. You're not playing a role. You're a role model. We must know our history better than we know their scripts."
"My children fear the police." —Nick Cannon
In an interview with "Access Hollywood," Cannon opened up about the fears of his young children, whom he raised with ex-wife Mariah Carey and ex-girlfriend Brittany Bell. Cannon, who has attended protests against the murder of George Floyd in Minneapolis, said: "My children fear police. It's a real statement. I didn't say, 'You should be.' I try to teach fearlessness. I try to teach, 'Yo, you have a power within you [and] you need to fear nothing.' But when they see the energy of law enforcement…that mindset of sit up straight, don't talk, keep your hands where they can see them. These are things I'm talking with a 3-year-old about or 9-year-old about, and they bring those questions to me. I remember growing up, there was an idea that one wanted to be a police officer—I want to help and protect and serve people—it has definitely changed. [The police] perpetuate fear. It's hurtful to have those conversations with your children, but you want to protect them at the end of the day."
Cannon, considered one of the most recognizable celebrities in the country, is currently the host of the popular game show "The Masked Singer" which has a viewership of close to 9 million.
"I, as a citizen, want to know what side of history are you trying to be on?" —Keke Palmer
In a recent viral video, Palmer confronted National Guard troops in Hollywood saying: "March with us. March beside us. Get your people. March beside us. Let the revolution be televised. March beside us and show us that you're here for us. Let's just do it. We start marching and you march with us. Make history with us, please."
In a follow-up interview on Good Morning America, Palmer continued: "We have a president that with every tweet incites divisiveness. Some would say a situation where our military has orders to unleash on its citizens. Obviously, everyone has a choice to make… I, as a citizen, want to know what side of history are you trying to be on?"
"It starts with the media." —Vanessa Morgan
For some, systemic change extends beyond the criminal justice system but to the representations of traditionally oppressed communities and characters. "Riverdale" actor Vanessa Morgan recently tweeted: "Tired of how Black people are portrayed in the media. Tired of us being portrayed as thugs, dangerous, or angry, scary people. Tired of us being also used as sidekick non-dimensional characters to our white leads. Or, only used in the ads for diversity but not actually in the show. It starts with the media. I'm not being quiet anymore."
In response to Morgan's tweet, "Riverdale" creator Roberto Aguirre-Sacasa issued an apology promising, " 'Riverdale' will be part of the movement, not outside of it."
Looking for remote work? Backstage has got you covered! Click here for auditions you can do from home!