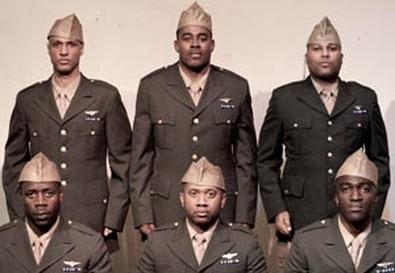 At its best, "Black Angels Over Tuskegee," the award-winning play about the famed Tuskegee Airmen, grooves like a tight jazz band, filling St. Luke's Theatre with snappy riffs of dialogue, bluesy monologues, and a couple of spontaneous song-and-dance routines. Based on true stories, it presents the saga of six African-American men whose lives entwine as they seek to overcome a mountain of racism and become pilots in World War II. Though the Army—and by extension white America—seems determined to stop them, they persevere for two reasons: the awareness that their struggle is important for their people and the simple human desire to fly.

The play begins with a narrator informing the audience that he's going to tell us a story "just like it was told to me." We then travel back to Utah in 1943 and meet six men from different parts of country who have come to a Utah army facility to take an exam designed to judge their suitability as pilots. Five of them—Theodore Franks, Percival Nash, Elijah Sams, and brothers Abraham and Quentin Dorsey—quickly become friends. The sixth man, Jeremiah Jones, holds himself apart, for reasons we learn later. We follow these men from Utah to Tuskegee, Alabama, where they receive their flight training, and from there to North Africa and Italy, where they see action and serve their country with skill and valor. The play ends with the narrator revealing what happened to the six and who he is.

Despite its many virtues, "Black Angels Over Tuskegee" isn't textbook playwriting. It's uneven, in that the narrative needlessly grinds to a stop from time to time so that the characters can cut up, thus making the play seem long. There's also a lot of anachronistic speech; surely no one in 1943 advised a friend to think "outside the box."

But excellent ensemble acting keeps "Black Angels Over Tuskegee" soaring. As the airmen, David Wendell Boykins, Demetrius Gross, Thom Scott II, Derek Shaun, Jay Jones (standing in for Lamman Rucker), and playwright Gray form a tightly knit, irresistible sextet. Antonio D. Charity as Man, the narrator, and Rich Skidmore as Major Roberts, the only white character in the play, are solid in less flashy but equally important roles.

Also the show's director, Gray keeps the action flowing, and his air battles are both poetic and exciting. Jason McGee's first-scene costumes provide welcome touches of color and characterization.

Some plays teach, others celebrate, and a few simply entertain. "Black Angels Over Tuskegee" manages to do all three and one thing more: It inspires.


Presented by the Black Gents, Edmund Gaynes, the Layon Gray Experience at St. Luke's Theater, 308 W. 46th St., NYC. Opened Feb. 15 for an open run. Mon., Fri. and Sat., 8 p.m.; Sun., 5 p.m. (212) 239-6200, (800) 432-7250, or www.telecharge.com.