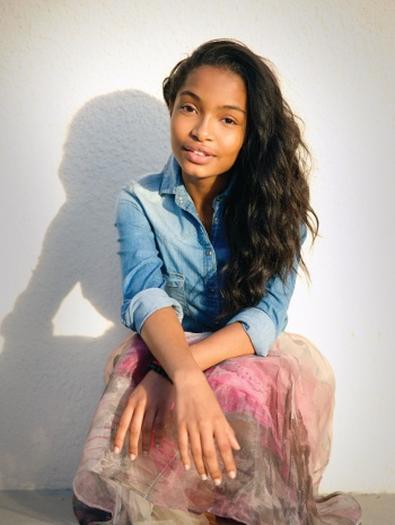 Fourteen-year-old yara shahidi plays Zoey, the oldest daughter on ABC's "Black-ish." She chats about her audition for the show, how she relates to her character, and advice for teenage actors.
On auditioning for "Black-ish."
"For my second [audition, a read with Anthony Anderson], I walk into the room and he's sitting there in the chair. And I'm still a little nervous—less nervous 'cause it was such a good first audition—but we were wearing the same shoes in different colors! We both had Cole Haan oxfords on. So I think there was a connection there right away."
On what she likes about her character.
"There are a lot of [qualities] I admire about Zoey that I think I wish I had. She's really witty and she's a little bit of a rebel. Now, there's some times when she might cross the line, like, these are your parents and you have to respect your parents—a line I really wouldn't cross—but she has a really strong sense of self and she knows who she is and she's not gonna change for anybody."
On advice for actors her age.
"Never jeopardize who you are for a role. Now, I'm not saying you should never change for a role, because the fun of being different characters is adapting different nuances and different parts of the character, but never jeopardize your moral compass or anything like that to have a role."
On how she got into acting.
"I was in Minnesota, where I was born, and I did print ads and commercials. And that was always cool 'cause when you're little you can only work two hours a day and it changes. I had a great time and it was a lot of stuff with my family, and it was really enjoyable. Then when we moved to L.A., I started going out for more commercials, and then one day they emailed me a movie script. The first thing I said was, 'No way. I love commercials.' I thought, How was I gonna be on a project as one person for months? It was a little crazy nerve-racking.
"But I finally read the script for 'Imagine That,' [starring Eddie Murphy] and I really liked it. So I said, 'OK, I'll audition for it.' I didn't know what it was gonna be like, but every single audition they gave us way more pages of sides and I kept falling in love with this character. It was so much fun that once I got it, it didn't feel like five months of shooting; it felt like two seconds. Then I started doing more projects and realized this is something I really want to do."
On what she's learned on set.
"I think the main thing is to really just go with the flow. To be on a comedy set you can't be so stuck in your head, like, This is the way I'm gonna do it; this is the way it's gonna happen. Scenes change all the time. Scenes will change while you're shooting them and you just have to roll with it 'cause that's what makes it funny. It's not being stuck in your character and how you're gonna do something, but to react to other people and to really have a real-life conversation."
On relating to the show's theme.
"I think [the theme is] what really drew me to ['Black-ish'], because a lot of the material—even though it has more of a comedic flare—is something that I really connected to just because it's real-life situations and real-life problems. The first time I read the script I was like, 'Were they watching my family? This happened to me a few weeks ago!' "
On her dream role.
"One thing I haven't been able to do much of are mysteries or detective shows. And I absolutely love detective shows, so I think somehow being involved in [one]… I mean, at my age there's not many 14-year-old prosecutors on 'Law & Order,' but I still would really love to be a part of a detective series."
Like this story? Read more of our Spotlight On interviews!