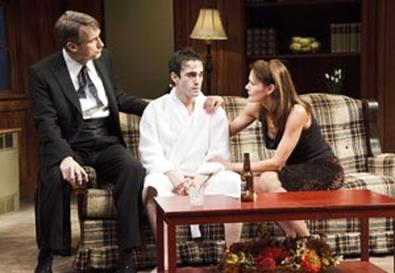 Is Pete Gurney growing conservative in his twilight years? The veteran playwright (known professionally as A.R. Gurney) was once the sand in the oyster of WASP culture, delivering pointed critiques in pearls like "The Dining Room" and "The Cocktail Hour." But last season he gave us a lament for the loss of a classics-based curriculum in universities ("Office Hours") and a salute to the theatrical tradition of the leading lady ("The Grand Manner").

Now comes "Black Tie," a "Father Knows Best" sort of comedy that celebrates the civility of good manners. Gurney is mining for gold in the same territory where he once found dross, and he certainly strikes it here. Wryly witty and warmly embracing of its characters' eccentricities and foibles, this generation-gap tale is a charmer—funny, observant, and altogether winning.

The real-time action takes place in a tacky Adirondack-style hotel suite (craftily realized by designer John Arnone) near Lake George in upstate New York. Curtis is preparing to throw the rehearsal dinner for the wedding of his only son, Teddy. To the cautious consternation of his wife, Mimi, and daughter, Elsie, this family scion is planning to wear his late father's evening clothes (never call it a tuxedo) and speak at considerable length.

Teddy, at Curtis' request, will be wearing his father's old monkey suit. Backing Curtis up with moral support is his father's ghost, an unreconstructed old-guard adherent attired in splendid evening regalia of his own and full of advice, which his son eagerly elicits. When Curtis discovers that the bride, who describes her racial mix as "tawny" and hails from a family as un-WASP as they come, has other plans for the evening's program, complications ensue.

Under Mark Lamos' elegant, rhythmically attuned direction, Gurney's play expertly balances nostalgia, humor, and some rather messy emotions. Gregg Edelman is outstanding as Curtis, all unflappable geniality cloaking steel, with the actor particularly successful at making Curtis' stuffiness as endearing as it is annoying. Daniel Davis lands every laugh he has—and a few he hasn't—as Curtis' cheerfully self-involved, emotionally distant father.

The two actors have a wonderful rapport and succeed admirably in dramatizing one of Gurney's central themes: Our parents speak through us whether we like it or not. When Curtis' father gently guides his son toward a solution to the evening's crisis, a fascinating thing happens: We get a sense of Curtis taking ethics of behavior his father once taught him and putting them to use in a new way, one that his father, were he alive and present, might never have countenanced. It makes for a highly satisfying, quietly touching resolution.

Carolyn McCormick gives grace and poise to Mimi, who is not as unconventional as she'd like to believe, and handles Gurney's lightly bickering spousal banter with flair. Elvy Yost is a mixture of exasperation and love as Elsie, somehow making that familiar combination fresh and true. As Teddy, Ari Brand offers the evening's most intriguing performance, creating a young man in full flight from his heritage who nevertheless is informed by and respects it. Teddy's tentatively expressed fear that he may not be in love with his polar-opposite bride-to-be is considerably affecting in Brand's hands.

"Life is a long, incoherent, ungrammatical sentence, and all I can do is try to provide some basic punctuation," says Curtis as he maneuvers to control his evening. Gurney's faith in the ability of civil behavior to improve human relations may be quixotic in this increasingly selfish, solipsistic world, but this gentle cri de coeur persuasively argues that there's hardly any problem that wouldn't benefit from it.

Presented by Primary Stages, in association with Jamie deRoy, Barry Feirstein, Daniel Frishwasser, and Ted Snowdon, at 59E59 Theaters, 59 E. 59th St., NYC. Feb. 8–March 27. Tue. and Wed., 7 p.m.; Thu. and Fri., 8 p.m.; Sat., 2 and 8 p.m.; Sun., 3 p.m. (Additional performances Wed., Feb. 16 and 23, 2 p.m.; no performances Sun., Feb. 20, Feb. 27, and March 6.) (212) 279-4200 or www.ticketcentral.com. Casting by Stephanie Klapper Casting.