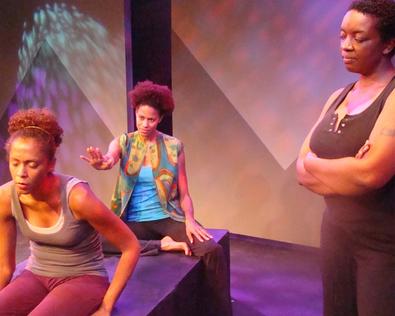 Being the mother of a child lost to a "cause"—however worthy and whatever the changes spurred by tragedy—is not something to be wished on anyone. Sure, her brave acts in the aftermath of her son's death were important to the civil rights movement, but would you want to be Emmett Till's mother? Or for that matter, Trayvon Martin's? That's where we begin in "Black Women: State of the Union—Taking Flight," a new examination of black women's roles and identity, one which makes no excuses for targeting the specific audience of its title. The evening—six short plays interspersed with personal narrative—hits home in that respect with urgency, warmth, and honesty. While this passion doesn't always ensure successful theatrical delivery of the plays, which are an uneven mix, the high points of the evening soar and make us glad that these artists are reaching out and being heard.
Playwright Lisa B. Thompson's stylized, poetic "I Don't Want to Be" is the first piece of the evening, and it offers a chilling perspective. This is what it means to be an African-American woman: to raise children in a "sea of hateful looks and gunpowder" and live with the nightmare that you might become part of a "chapter of black history" in the worst of all possible ways, by losing one of them to violence. Director-producer Ayana Cahrr's inventive staging and use of dance and heightened physicality is stunning. We meet the talented company of producer-performers—Michelle Flowers, Kila Kitu, Lony'e Perrine, Lee Sherman, and Tamika Simpkins—and can see the world through their characters' eyes. It works beautifully.
Another strong piece is Sigrid Gilmer's "Black Simulacra," an unexpectedly funny investigation of stereotypes and race relations smartly directed by Nataki Garrett, featuring an excellent Simpkins, Flowers, and Sherman. Penelope Lowder's comic "15 Min." offers more than its share of laughs and insights as we get a different take on dating double standards; Austen Jaye and Perrine are terrific as a not-so-perfect couple, and Kitu directs with an assured hand. Unfortunately, Lowder's ambitious "The Follicle Prison War" can't contain all of its clever ideas and interesting twists; it needs some reigning in. And while Kellie Dantzler's sweetly touching "Evolutionary" has a knockout performance by Kitu, it could benefit from more nuanced direction than Cahrr provides.
But Cahrr is a wonderful match for Tanya Alexander-Henderson's "Ritual," a fascinating and energetic ending to the production. Through a melding of lyricism, movement, and honest humor, we're once again completely drawn in as we watch one black woman manage to prepare herself for what she wants to become. We're left with an eye on higher possibilities, which isn't a bad place to be.
Presented by Katselas Theatre Company, in association with BWSOTU, at the Skylight Theatre, 1816 N. Vermont Ave., L.A. Oct. 27–Nov. 18. (702) 582-8587 or www.ktctickets.com.
Critic's Score: B