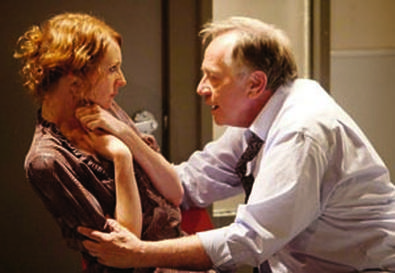 In David Harrower's potent long one-act, angry and determined Una (Corryn Cummins) turns up at the office where Ray (Sam Anderson) works. Initially we're uncertain of their relationship, but it's clear that she is hell-bent on confrontation.
Gradually it emerges that seven years previously, Sam was sexually involved with 13-year-old Una, which resulted in his being sent to prison for six years, but disturbing loose ends remain. It's clear that both their lives were wrecked by the scandal, but seemingly she's more deeply damaged than he.
In a "he said, she said" exchange, both deliver their accounts of an encounter in which each felt abandoned by the other. He is eager to justify himself and convince her that he was not just a cynical child molester, and she reveals a predatory side that made her the partial instigator. Just when we begin to feel a certain understanding of the situation, a third character (Casey Burke) appears, calling into question all that has gone before.
Robin Larsen directs with a fine eye for detail and the careful unraveling of emotional ambiguities. Anderson captures the growing frustration of a man trying to deal with a loose cannon from his past that has returned to threaten his future, while Cummins reveals the endless desperation of a woman who has for years cherished a thwarted, hopeless love. Stephanie Kerley Schwartz designed the cluttered set: a company lunchroom with frosted glass panels that reveal the ongoing life outside. Edgar Landa provides convincing fight choreography.
Presented by Rogue Machine at Theatre/Theater, 5041 W. Pico Blvd., L.A. June 10–July 24. Mon., 8 p.m.; Sat.–Sun., 5 p.m. (Exceptions: Dark July 4 & 18.) (855) 585-5185. www.roguemachinetheatre.com.