If "Blade Runner 2049" is any indication, the future is female—and as the mysterious maybe-replicant and sex worker Mariette, Mackenzie Davis is among the gifted ladies bringing that future to the big screen.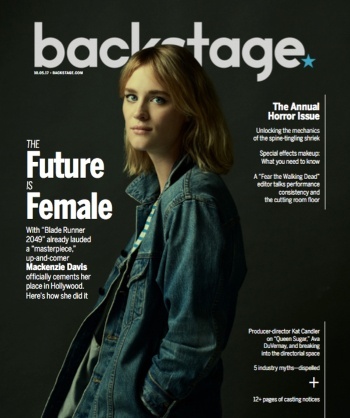 Getting cast in director Denis Villeneuve's long-awaited sequel to Ridley Scott's 1982 cult classic was quite literally a dream-of-electric-sheep come true. Sitting for an early September lunch in mid-Manhattan, Davis recalls telling her United Talent Agency reps five years ago that atop her acting bucket list was a role in the sci-fi franchise, should a second installment ever come. "I really wanted to be Pris," she says, citing the "basic pleasure model" made famous by Daryl Hannah. "I'm not," she clarifies, "but I'm really happy with who I am."
READ: Mackenzie Davis Says These 2 Things Will Screw Up Your Audition
As for further details on Davis' Mariette, the actor stays contractually mum—as has all other talent involved. But what we do know tallies three: The new feature follows a young blade runner, Officer K (Ryan Gosling), who's set on tracking down the 30-years-missing Rick Deckard (Harrison Ford) after learning he holds a key to staving off society's crumbling in his near-future Los Angeles.
No. 2: We know that Villeneuve and his "2049" do "Blade Runner" justice. Davis says she was "nervous about being a part of something that would tarnish the legacy" of her favorite film, "[but] I think [it] adds to it in a great way." She was also nervous about meeting the standards she set for herself. "It's hard to be such a fan of something and to want something so bad and then to just be super casual and normal when you get it," she admits. "The stuff that exists in the dreamscape doesn't cross over to your real life that often."
Which brings us to No. 3: Davis needn't have worried. Villeneuve exclusively tells Backstage that though "Mackenzie doesn't know this," the 30-year-old talent—until now best known for "Halt and Catch Fire" on AMC and the Emmy-winning "San Junipero" episode of Netflix's "Black Mirror"—was always at the "very top" of his casting wish list. "She was part of my initial dream," he concedes. "It wouldn't have been possible for me to make the movie without her."
For the film, Villeneuve was looking for actors who possessed a "very specific type of presence. Facial features are like landscapes," he says. "They bring their own stories and they participate directly in the atmospheres of a movie." He was struck, too, by Davis' "naturalism, her precision, and her assurance" as computer programmer Cameron Howe on "Halt and Catch Fire," a series he had coincidentally watched a few months prior to casting.
READ: Denis Villeneuve on Why an Actor Is Like a Planet
Precise, too, are Davis' career choices since studying under acclaimed Montreal, Quebec–based acting teacher Jacqueline McClintock and then moving to New York City eight years ago to train at the Neighborhood Playhouse School of the Theatre. With a résumé that spans short films and acclaimed indies ("Always Shine" earned her the best actress award at 2016's Tribeca Film Festival), subversive romantic comedies ("That Awkward Moment" with Zac Efron and Michael B. Jordan), and Oscar-nominated epics (Golden Globes sweeper "The Martian")—plus her aforementioned prestige TV outings—Davis has stayed the course of wanting to do "the work that each time is different from the work I did before. I want it to be hard and weird and uncomfortable, and to portray the gamut of identities I haven't portrayed." She says that decision was made, however, in the face of the early-career actor's unspoken expectation to, essentially, take what she could get.
"It ended up being kind of hammered into me both explicitly and implicitly [that] actors are lucky to work no matter what the job is…just this sense of being thankful for any opportunity to act," Davis says. She thinks the way that many are encouraged to market themselves and to "just kind of [be] available to do anything" is "super cheesy"—it can "reduce a sense of self to a marketing gimmick," she says. "It was important to me from the beginning that I didn't really want to be an actor in any capacity. I wanted to be an actor in my own personal way."
To that end, she addresses fellow actors and Backstage readers (among whom she counts herself: "I was applying for student films and nonunion auditions the summer I graduated from theater school—I'm very familiar with Backstage!"), saying that "it's really important to choose the career that you want to have."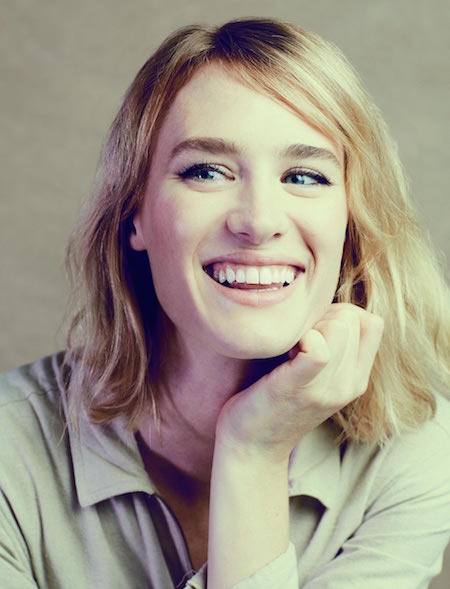 Of all her various projects, she credits her four seasons playing a "shit-kicking, tormented badass" on "Halt and Catch Fire," whose series finale premieres Oct. 14, as "the job that taught me technically and structurally about how to be a working actor." It was the job that taught her at age 25 what an acting career looks like, in addition to the craft. (Before, she remembers Googling phrases like "how an actor prepares for a role.")
So, is she sad about letting Cameron go? "I keep saying it's like if a 90-year-old woman dies, where you're like, 'Oh, I loved her, but she had a good life!' " Davis says. "[The series] ended really beautifully, and somehow they made each season better than the last, so we ended on the best season. I don't know how many shows get to do that, so I feel thankful."
"Halt and Catch Fire" may have been the project that pushed her from wetting her toes to jumping in the deep end, but Davis admits that it took time to figure out her own way of working. Now, on the other side of it, she reflects on feelings of "intense depression and just feeling really scared" after graduating from the Neighborhood Playhouse and joining fellow graduates Allison Janney, Robert Duvall, and Connie Britton in the real world.
"I'd always thought everything was just going to work out somehow, and then when I didn't have the structure of school or the structure of a job or the structure of an income, I felt alarmed at how unprepared I was," she says.
Relishing the school days of having an institutional "taskmaster" to prod her to put the work in or risk being shamed by her peers, it was an adjustment for Davis to become her own taskmaster before seeing results. She learned that "there is a lot of comfort before you get an agent in having to figure out for yourself how you're going to work—about setting up a schedule and going through Backstage [to] find jobs," Davis says. "Those were the things that started to pull me out of feeling really lost."
Now, Davis continues to lead with curiosity and a desire to be challenged rather than follow in others' footsteps. "As somebody who grows up looking at other actors, you think that there's a way you're supposed to do it and that their way, if they're successful, is the way that you're supposed to do it," she says. "But really, you kind of figure out what your way is yourself. And some people know immediately what their way is, but I needed to do way too much and then do way too little and then just sort of find out where I landed."
It's with that hard-earned self-assurance and a calendar full of work ahead that Davis is back to dreaming.
---
A Look Into 'Black Mirror'
"It makes me so happy!" Davis says of the recognition her "Black Mirror" episode is receiving from audiences and critics. ("San Junipero" took home two Emmys on Sept. 17, including outstanding TV movie.) "I feel like I'm just sort of a passenger for this whole thing, [and] the reception for it was so beyond what we thought would happen. It's been just lovely and educational and really cool." Educational how, you ask? "Just the relevance and the resonance it had for the LGBTQ community, which is something that I didn't know about until [now]—the sort of tropes that they were super fatigued by, the depictions of gay and lesbian characters on television," she says. "It felt like a salve for people in a way that I didn't [expect]." That unexpected reception, however, is one of Davis' joys in art-making. "I think it's so interesting to see how something morphs.... That's the other side of the process: not making stuff in a vacuum, but seeing how it operates once it's unleashed into the world."
Do you dream of electric sheep (and working in sci-fi)? Check out Backstage's film audition listings!