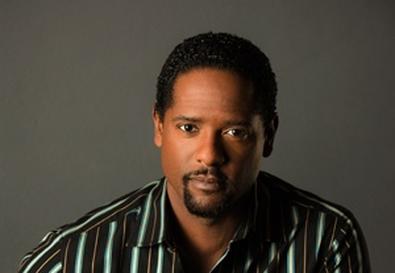 Blair Underwood is hungry. Just a few hours ago, he was in Los Angeles, and now he's lounging in a tufted turquoise booth, contemplating the breakfast menu at Gordon Ramsay's The London.

If Underwood is jet-lagged, it doesn't show. Even a concession to comfort in the form of a zip-up pullover seems like a three-piece suit on the effortlessly gorgeous actor. When the waiter comes to take his order, he nonchalantly requests an egg-white omelet and steel-cut oatmeal. Oh, and whole-wheat toast, turkey bacon, cranberry juice, and green tea. That takes care of the food.

But even breakfast at The London won't satisfy Underwood's creative cravings. Though he's conquered television, with long-running series ("L.A. Law") and high-profile guest spots ("Sex and the City"), and film ("Tyler Perry's Madea's Family Reunion"), he's still missing one credit: Broadway.

That will change this spring, when he takes on the Main Stem as the beastly Stanley Kowalski in a revival of Tennessee Williams' "A Streetcar Named Desire," which opens at the Broadhurst Theatre April 22 and co-stars Nicole Ari Parker, Daphne Rubin-Vega, and Wood Harris.

Stanley, however, is "a very different cat" from the characters Underwood is used to playing. "You think of him as having a kind of natural grace," says "Streetcar" director Emily Mann. "What he's done [in 'Streetcar'] is transformed himself into a working-class guy who's got a hair-trigger temper, incredible magnetism, and rage and brutality on a level that is tempered by the fact that you understand him."

Underwood brings that same "magnetism" to bear in his day-to-day life. His striking presence extends beyond his appearance, and he has a way of putting everyone around him at ease. Even the jaded New York waiter silently lingers near our table, as starstruck as any Times Square tourist. Underwood makes eye contact with everyone he speaks to, and he listens as intently to the waiter rattling off the morning's specials as he does to questions about "Streetcar."

This charisma will take a different form in the volatile Stanley, however, and the elephant in the room is Marlon Brando's iconic performance in Elia Kazan's original 1947 Broadway production and ensuing 1951 film. But Underwood isn't thinking about it.

"Brando was so incredible and absolutely brilliant," he says, "but here's the thing: Marlon Brando was a fresh face on the scene at 24 years old when he did this ... What Brando was doing was very new to the landscape of acting and to the New York theater and to the film world, and you can never re-create what is a first. You can never re-create the buzz or the excitement of the discovery of a talent and the discovery of real style. It's so much on a pedestal. My approach to it is, there's no way you can reach for that. So instead of gazing upward and trying to grasp that, I chose -- and choose -- to gaze inward. I can't even deal with that. It's so far out of my reach."

That won't stop him from working unrelentingly, though. Over and over, Underwood emphasizes the importance of the text, which is not the same script that launched Brando into the stratosphere. Instead, this production will stage the last published manuscript Williams approved.

Underwood wanted to play Brick in the 2008 revival of "Cat on a Hot Tin Roof," but "it wasn't meant to be," he says with a shrug. (Terrence Howard took the part on Broadway.) He met producer Stephen C. Byrd, who produced "Cat" and is also producing "Streetcar," in the lobby when he saw "Cat," and the conversation started there.

Being part of a multicultural cast also frees Underwood from comparison, and Byrd and Mann agree it's impossible for him to replicate the past. "He will do for us what Brando did for the role," says Byrd. "I had thought about doing this multiracially with a white Stanley, and a very astute agent said that the only way you're going to break that Marlon Brando hold on the role is with a black actor."

For Underwood, the race issue isn't important. "Is it a hot topic?" he asks with genuine curiosity, as if the notion hadn't crossed his mind. "I always see myself as an actor first," he says. "And it's not until later that I step back and say, 'Oh! It is unique because they've never done a multicultural cast of "Streetcar" on Broadway.' That was an afterthought ... The challenge and the excitement of doing 'Streetcar' and doing Stanley Kowalski, that's what attracted me to it."

Underwood studied musical theater at Carnegie Mellon University, but his chiseled cheekbones made him a natural for screen work -- though his deep voice can no doubt command a stage, and his electric presence is undeniable. He last appeared in "Purlie" with Encores! at New York City Center in 2005, and he also graced the New York stage in Shakespeare in the Park's 1993 "Measure for Measure."

"My first love has always been the theater," he says. "In my career, film and television just took off, thank God, but whenever I have a chance, there's always that gravitational pull back to the stage."

He started in front of an audience but can't quite recall his first play. "Something about the Pilgrims," he says of his middle school debut. In high school, he worked at dinner theaters, and he spent two summers in college performing at Busch Gardens in Williamsburg, Va.

"I just wanted to become an actor because part of me doesn't and didn't want to grow up," Underwood says cavalierly, as if there was no specific impetus for his decision. "And the whole aspect of acting that is about make-believe, creating fantasy, and creating that other world and stepping into it is what I've always loved doing."

Coaches such as Carnegie Mellon's Angela D'Ambrosia convinced Underwood to take acting seriously. "There's always a juxtaposition in this business of art meeting commerce and balancing the two," he says. "Are you about the work, or are you about celebrity? Those early mentors really instilled in me a technique and a passion and a love for the work. If celebrity comes, that's icing on the cake."

Underwood definitely has some icing, but celebrity has not glazed his perspective. He listens, speaks, and questions in earnest, letting the interview sprawl past its appointed end time. ("We're done when we're done," he says, quoting "Streetcar.") That attentiveness also causes him to leave much of his breakfast untouched. As he prepares to return to his room, he graciously asks the hovering server to wrap up his meal. His appetite must be mostly creative, however, as he leaves his takeaway platter behind, focused more on the matter at hand. Calling him back seems pointless. It's best to leave him hungry.

Outtakes

Underwood won a Grammy, with Beau Bridges and Cynthia Nixon, for best spoken word album for Al Gore's "An Inconvenient Truth."

He made his directorial debut in 2007 with "Bridge to Nowhere."

With producing partner Tommy Morgan Jr., he spearheads production company Intrepid Inc.


---

The Other Stanleys

Marlon Brando
1947
Originated the role and played it in the 1951 film version, which launched his movie career

Anthony Quinn
1949
Replaced Brando on Broadway opposite Uta Hagen and starred in the touring version

Jon Voight
1973
Appeared in the 25th-anniversary production with Faye Dunaway at the Ahmanson Theatre in L.A.

Treat Williams
1984
Had his T-shirt torn by Ann-Margret in a TV-movie edition

Aidan Quinn
1988
Manhandled Blythe Danner in a Circle in the Square revival

Alec
Baldwin
1992
Netted a Tony nomination for a production co-starring Jessica Lange before the duo repeated their roles for TV

John C. Reilly
2005
Brought a "regular guy" aspect to Stanley in a Roundabout Theatre Company revival with Natasha Richardson

Joel Edgerton
2009
Starred with Cate Blanchett in an international touring production from the Sydney Theatre Company