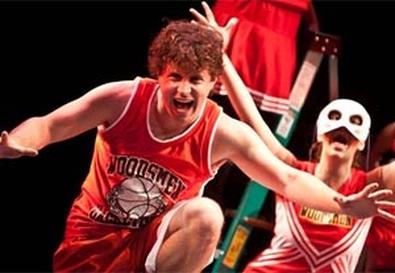 A mash-up of "Macbeth," "Dracula," and the "Twilight" vampire novels, "Blood [By The Mummers]" is one of the freshest and funniest shows I've seen at the New York Musical Theatre Festival in a long time. Despite a tedious "serious" section in Act Two and a number of songs virtually devoid of melody, "Blood" bristles with delirious ideas and jokes that seem minted on the spot. Even the scene changes delight.
Birnam High is regularly plagued by massacres, but the students—at least half of whom are vampires or werewolves—still focus on such teenage obsessions as getting elected prom king or queen. Maura is sure that her cool boyfriend Mack, a vampire, will be king, but she can't get him to turn her into a vampiress. Duff, a cheerleader, wants her former beau Vlad to return so that she can repeat as queen, but when he does reappear, a battle royale breaks out between him and Mack over who will be the campus head ghoul. Mack kills Vlad, causing Maura to realize that she must put an end to her honey's murdering ways; but Mack kills her and Jacques, a werewolf who loves Maura, first. Duff, in full Buffy the Vampire Slayer mode, then kills Mack.
The book for "Blood" is attributed to [By The Mummers], a troupe of young theater artists who create their shows through improvisation. Three members—Matt Harvey, Jake Ottosen, and Jason Purdy—also wrote the score. This multiple authorship explains the hit-or-miss nature of the writing, as well as the unpredictable, coming-out-of-nowhere humor. The success of such shows depends for the most part on the abilities of its performers, and luckily "Blood" features a raft of comic knockouts. Nora Munde Gustuson, Paul Herbig, Laura Riley, Tyson Savoretti, Lindsey Shoap, Andrew Sklar, Aileen Targett, and the afore-mentioned Harvey and Ottosen all have deliriously funny moments, making it impossible to single one of them out. Director-choreographer Aundre Seals must be saluted for harnessing the cast's madcap energy and focusing it so that the audience can experience "Blood" with clarity.
[By The Mummers] also provides costume design, sound design, casting, and publicity. Whether they hold to this egalitarian ethic will depend on how they respond when their productions become highly successful. After some reworking, "Blood [By The Mummers]" should put them to the test.
Presented by Frank Cardillo as part of the New York Musical Theatre Festival at the 47th Street Theatre, 304 W. 47th St., NYC. Oct. 7-16. Remaining performances: Wed., Oct. 12, 1 p.m.; Sat., Oct. 15, 4:30 and 8 p.m.; Sun., Oct. 16, 1 p.m. (212) 352-3101 or www.nymf.org. Casting by [By The Mummers].