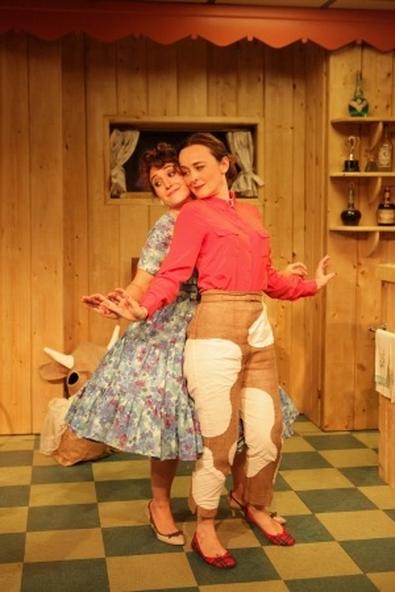 Potatoes tied up with twine. A handful of melted Japanese samurais. Tree roots that grow from pipes. Half of a cow. Streetlights you can drink. The other half of the cow. It's amazing the things people keep in their basements.
The fully finished downstairs in question belongs to a nice Jewish family who have recently moved to a suburb of 1950s Chicago. And as in every piece by the Debate Society, the working basement set for "Blood Play," designed by Laura Jellinek, is a portentous entity unto itself: wood-paneled and prepared for cocktail parties, luncheons, and better days ahead, but also charged with a kind of primordial gloom emanating from beneath its gleaming linoleum surfaces. Once again, the Brooklyn-based theater company's artistic triumvirate of writer-performers Hannah Bos and Paul Thureen and director-developer Oliver Butler escort audiences into an unforgettable setting gleefully stacked with layer upon layer of affecting detail.
That Bev and Morty (played by Bos and TDS regular Michael Cyril Creighton, respectively) find themselves hosting an impromptu cocktail party for some friends and a photographer (Thureen) is only a superficial framework. We laugh along with their bonkers party games; Butler stages each bizarre potato-swinging race in such a welcoming way that audiences can't help but follow the flow of the soirée. But here the temporal forward progression is secondary to inward movement, down through the levels of eccentrically named drinks and water-damaged Japanese murals, beyond the expertly defined life of a family, and into the stygian realms of post-war anti-Semitism and terrible childish cruelty.
Birgit Huppuch and Hanlon Smith-Dorsey play the neighbors, Gail and Sam, who drop in on their way to a barnyard dance, dressed as either end of a cow. The cow costume—kudos to costume designer Sydney Maresca and mask designer Jason Leinwand—is another wonderfully awkward detail that enhances Huppuch and Smith-Dorsey's textured, quietly belligerent relationship. As Morty, an affable trophy maker, Creighton is an agreeable if overeager host. Unsurprisingly, Bos and Thureen light the production's real fire. As Jeep the photographer, Thureen gives a wonderfully shuffling performance. (At one point Gail says of Jeep, "He's so shy and nervous." Bos' Bev mistakes her, unable to dismiss troubled thoughts of her son even for a moment of idle gossip. She instantly, heartbreakingly replies, "He'll grow out of it.")
Throughout, Bev and Morty's young son, Ira, sits alone in his tent in the backyard, the only boy that didn't go to Cherokee sleepaway camp. Bev tells Gail that he didn't feel well enough to go, but Bos and Thureen's oblique script only hints at the chilling, almost supernatural degree to which this is an understatement. Ronete Levenson gives an uncomplicated performance as the boy, in an epilogue that takes place after a startling and remarkable scenic transition, the specifics of which I won't spoil; suffice it to say Jellinek offers a glimpse of the dramatic depths from which the tree roots in the house's plumbing sprang.
Presented by and at the Bushwick Starr, 207 Starr St., Brooklyn. Oct. 3-Nov. 3. (800) 838-3006 or www.brownpapertickets.com.
Critic's Score: A+