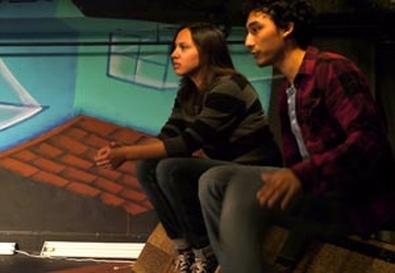 Rooftops and helicopters are the first things we see and hear to tell us that this world is our world—but a particular slice of our world that has been turned upside down. With a sure hand, playwright Virginia Grise creates a highly theatrical present-day barrio that houses the characters of one story but uses explosive language and poetic movement to reach beyond and tell us so much more. Hers is a knowing, provocative, and lyrical work that is as gorgeous as it is powerful.
Laurie Carlos directs, assembling an amazing ensemble cast. Xavi Moreno plays the title character: a young Latino struggling to escape gangs and prison. He's old enough to cling to the memory of his father, Eme (Luis Galindo), who is incarcerated. Unlike his little brother and sister (Phillip Garcia and Alexandra Jimenez), he's also old enough to have problems with his mother's choice of a new partner, a woman—Romi Dias playing the enlightened matriarch, Diana DeLaCruz playing her second chance. When Blu is confronted by recruiters at his school, he decides that the military is his only way out. The play travels back and forth through time, and in and out of dreams and memories. Like the repetitive, visceral motions of the performers onstage, the script is constantly moving but switches direction when we get too comfortable so that, like the characters, we're always walking on the edge, always discovering—if we let ourselves.
To Carlos' credit, the expansive performance area works beautifully here. Rafa Esparza's almost childlike, street-cred scenic design inhabits every inch of the space, and Carlos and her stellar performers use it well. José López's lighting and Ivan Robles' transportive sound design add thrilling layers to the production. In its evocative world premiere, Grise's play gives us a look into a time and place trapped by generations of mostly unspoken certainties, along with the hope that a new generation can raise their voices and break those patterns.
Presented by La Colectiva Chorizo y Maguey and Company of Angels at The Alexandria, 501 S. Spring St., 3rd Fl., L.A. Oct. 14-Nov. 13. Thu.-Sat., 8 p.m.; Sun., 7 p.m. (213) 489-3703. www.companyofangels.org.