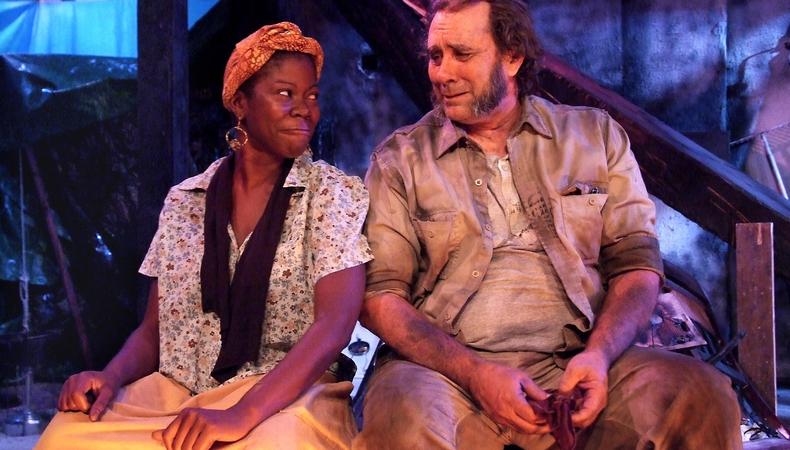 In "The Blue Iris," prolific South African playwright Athol Fugard treads delicately yet resolutely through the landscape of the heart. In doing so, the venerable 80-year-old dramatist cannot help clutching at ours, as this riveting U.S. premiere demonstrates.
Set in the barren semidesert area of South Africa known as the Karoo, Fugard's narrative is equal parts memory play and spiritual allegory. It transpires in the charred remnants of a farmhouse, which set and lighting designer Jeff McLaughlin realizes with impressionistic expertise. Downstage left a young black woman is cooking outside the perimeters of the rubble while singing in Afrikaans. This is Rieta (Julanne Chidi Hill), housekeeper to the bereaved husband whose home this wreckage was.
Enter Robert Hannay (Morlan Higgins), the widower, carrying a barely usable door while engaging Rieta in jagged conversation that gradually reveals Fugard's focal point. Buried amid the mountain of ashen trash center stage was a single surviving painting from the lifework of his late wife, Sally (Jacqueline Schultz). It is a rrendering of the title flower, which might seem a simplistic metaphor, but this is Fugard, and nothing shallow is afoot.
What follows Robert's discovery, in a blend of poetic lyricism and raw emotional force all but unprecedented in Fugard's canon, is a meditation of preternatural richness. Secrets come out; feelings and motives prove other than what we've assumed. Yet "The Blue Iris" isn't a plot-driven piece. It's a tripartite character study, heavy on atmosphere and redolent with human truth. Accordingly, director Stephen Sachs, whose affinity for Fugard has never been keener, maintains a quiet, even languid, momentum that conceals raging internal conflicts. The technical aspects, including McLaughlin's near-surreal lighting and Peter Bayne's evocative sound, are all up to the Fountain Theatre's high standards.
Ultimately, though, it's the perfectly pitched actors, their accents overseen by dialect coach JB Blanc, who bring Fugard's layered prose to palpable life. Hill's poised intensity, unforced ease at listening, and comic deadpan recall the emerging Viola Davis. She's an absolute find. Higgins, one of the best actors out there, digs so deep into Robert's regrets and rhapsodies that it's impossible not to feel what he does. Schultz, far too long absent from our stages, surpasses herself, her merger of sensitivity and brittleness reaching hair-raising levels when past and present, theatricality and naturalism, collide at the climax.
It's a short work, in some ways more novella than play, and audiences who require simple accessibility, obvious action, or clear explanations may resist "The Blue Iris." However, tthose willing to let Fugard's elegiac artistry overtake their consciousness should find a haunting, relevant, and finally transcendent portrait.
Presented by and at the Fountain Theatre, 5060 Fountain Ave., L.A. Aug. 24–Sept. 16. Tue.–Sat., 8 p.m.; Sun., 2 p.m. (323) 663-1525 or www.fountaintheatre.com.
Critic's Score: A