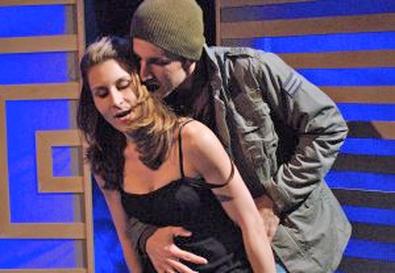 Based on Arthur Schnitzler's 1900 sex farce "La Ronde," in which 10 couples meet and have 10 slam-bang-thank-you-ma'am intimate encounters, this mounting (no pun intended) of David Hare's 1998 adaptation proves that one of our town's best directors, Elina de Santos, isn't incapable of making a misstep as she stumbles headfirst over the production's casting choices. The two actors, expected to hold an audience's attention for 90 intermissionless minutes while schtupping like rabbits as they portray all the interchanging characters, must be smoothly capable stage veterans able to make Hare's densely complex, richly poetic, even occasionally rather stuffy dialogue at least remotely conversational.
Neither Christian S. Anderson nor Christina Dow exhibits much delineation among the people each portrays. Both have trouble with their characters' many different accents despite JB Blanc's contribution as dialect coach; and Dow's laidback delivery juxtaposed to the jumpy, grandly sweeping gestures Anderson uses for most of his characters makes their incompatible styles glaringly apparent. There is oddly little physical chemistry between them even in the nude; this is especially true of Anderson, who never stops "acting" except for his notable turn as a brash New York cabdriver. Every sexual encounter between Dow and Anderson begins with the same openmouthed kiss, her legs instantly wrapping around him in the same tame missionary position, leaving one to wonder why de Santos didn't vary their staged lovemaking rites. More than anything else, however, neither actor seems to listen to or work off the other, never giving the impression they are meeting—or humping—for the first time.
This is also a play best performed in a space allowing scenery to fly or stages to revolve, making it even more leaden here with innumerable lengthy scene changes in the dark on Adam Flemming's otherwise interesting set, while one poor stagehand drags furniture in and out while the audience watches videos of falling leaves and tie-dyed designs. When one is left to ponder, during the umpteenth extensive blackout, that the stagehand shouldn't wear white jockey shorts under his black stage managerial grab, one knows a show is in trouble.

Presented by Solocat Productions at the Odyssey Theatre, 2055 S. Sepulveda Blvd., L.A. March 25–May 2. Thu.–Sat., 8 p.m.; Sun., 2 p.m. (310) 477-2055. www.plays411.net/blueroom.