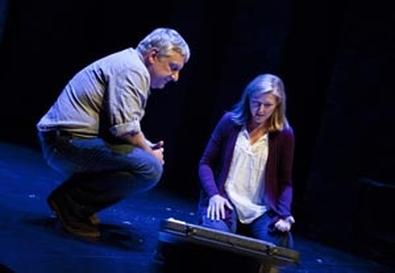 If you have any doubt that Simon Russell Beale is one of the most sensitive and intense actors working on either side of the Atlantic, beg, borrow, or steal a ticket to the regrettably short run of Simon Stephens' "Bluebird" at the Atlantic Theater Company's Stage 2 basement theater. Neither physically imposing nor strikingly handsome, Beale comes across as just an average guy, yet just by sitting and listening, he conveys a lifetime of regrets and a world of sympathy for those characters who are pouring out their own sad stories.
Stephens' script, first produced in London in 1998, is deceptively simple and somewhat familiar, following cab driver Jimmy (Beale) as he drives an assortment of wretched humanity to their destinations and concluding with a gut-wrenching encounter with his ex-wife Clare. The horrifying tragedy that ended their marriage and shattered Jimmy's life is slowly revealed, as is the significance of the title. Before this final ride with Clare, Jimmy puts up with gabby bores, shares a cup of coffee with a cheerful prostitute, fends off an advance from a desperate spinster, trades war stories with a surprisingly gentle bouncer, discusses philosophy with a transport worker, and generally acts as a sounding board, father confessor, and brief friend to his lost customers.
The basic format of a driver briefly interacting with his fares has been used before, from Martin Scorsese's classic film "Taxi Driver" to Leonard Melfi's series of one-acts "Taxi Tales" to Lanford Wilson's teleplay "Taxi!." Stephens avoids clichés in his stripped-down, brutally honest dialogue. None of the two-handed scenes turns out as expected, and each leaves you feeling as if you've met a real person rather than a theatrical invention. The play is staged with economy and variety by Gaye Taylor Upchurch, who transforms what could have been a series of static scenes into a fluid ballet of urban despair. She is aided in creating Jimmy's bizarre world of lonely nighttime streets by Rachel Hauck's ominous set and Ben Stanton's dark-hued lighting.
Fortunately, this is not just a showcase for Beale, although he is brilliant. Each of the eight additional cast members delivers a fully fleshed-out characterization, and in some cases two. Michael Countryman wisely underplays the sorrow of a grieving father and manages to impart a detailed backstory for a quarrelling husband by delivering only one line. Tobias Segal opens the play with a laugh as a hilariously annoying jerk and returns with a bang near the end as an explosive young man furious over a debilitating accident. Charlotte Parry sparkles as the easygoing hooker, and Todd Weeks and John Sharian delve beneath the rough exteriors of two working-class blokes. Kate Blumberg paints several shades of despair as the empty single woman who attempts to seduce Jimmy, and Mara Measor makes the most of her cameo as a poetry-spouting teen.
In the difficult role of Jimmy's estranged spouse, Mary McCann simultaneously conveys Clare's rage at and love for her ex. Beale matches her note for agonizing note, as he does with each of his fellow players. This is one cab you should hail.
Presented by Atlantic Theater Company at Atlantic Stage 2, 330 W. 16th St., NYC. Aug. 22–Sept. 9. Mon.–Sat., 7:30 p.m.; Wed. and Sat., 2:30 p.m. (No performance Wed., Aug. 24, 2:30 p.m.) (212) 279-4200 or www.ticketcentral.com. Casting by MelCap Casting.