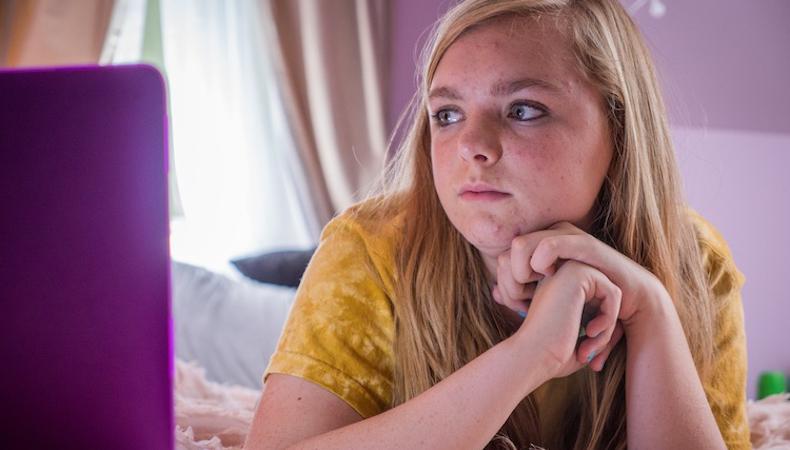 "I was just so tired of looking at things as a cynical, ironic adult," Bo Burnham says—and with "Eighth Grade," the first-time writer-director takes that feeling to task. As a 27-year-old male YouTuber and comedian, Burnham doesn't exactly seem like the most natural choice to tell the story of a young, socially guarded and ostracized girl pushing through her final days of middle school. But he makes a case over his film's 90-minute runtime that he's the unexpected creative voice we've needed for those tumultuous years all along.
Burnham says that his protagonist, Kayla (played by one of the summer's sure-fire breakouts, Elsie Fisher), was born not from a desire to write for a preteen girl but from wanting to write about Americans' relationship with the internet today. As a YouTube vlogger who's more comfortable sharing her thoughts to a screen than with those in the flesh around her, Kayla became an endearing vessel for that message.
"I tried writing a bunch of things. I stumbled on this kid, and it felt like I could say everything I wanted through her and with her," Burnham explains, adding that he thinks "the current culture is existing at an eighth-grade level—it feels like America is eighth grade right now. So it's almost a way to talk about the internet and what's going on right now in very open, raw, emotional terms, because that's the way a kid feels." And thus began the filmmaker's journey to do away with his naturally "cynical, ironic" perspective.
Burnham's secret for getting it right? Deferring to his ensemble, which he fleshed out with actual middle school–age talent for pitch-perfection. "I would always tell them, 'You know the truth, not me, so just tell me what's going on.' [I was] in a dialogue with the kids the whole time." He offers an example of that dialogue with Fisher: "One of the lines of the movie is, like, 'No one uses Facebook anymore.' And that was because Elsie read the script, and she [told me] no one uses Facebook. So I changed all the Facebook shit to Instagram shit. I was definitely humbled before the kids because I didn't want it to feel like what it could feel like: someone looking back at their experience. I wanted it to feel like someone looking out from within their experience."
READ: 8 Tips to Prepare Kids for On-Camera Auditions
Working with such young talent also enhanced Burnham's understanding of his own craft. While he recalls often tripping himself up by needing to be in control of the moment and of the scene's emotional demands as an actor and comedian, he says that the "real beauty of what the kids did in the film was allow the horizon of their thoughts to be portrayed. You don't have to be in control." After all, what is being a 13-year-old if not living in a place and time where you're lacking just that?
"It feels like a good actor is present but never totally in control of what's happening. There has to be that element of chaos, and the kids have all that chaos in abundance, so that's inspiring to see kids willing to put the unprocessed part of themselves on camera," Burnham says. "As an actor, I'd always struggled with having to be in control of everything that I'm presenting, having to be in control of myself and my emotions in order to act with them, and I don't think that's the case. Watching kids who are, over the course of the film, growing and changing as people—[it's better] if you can open yourself up and be vulnerable more [than] have complete control over your emotional arsenal."
Check out Backstage's film audition listings!