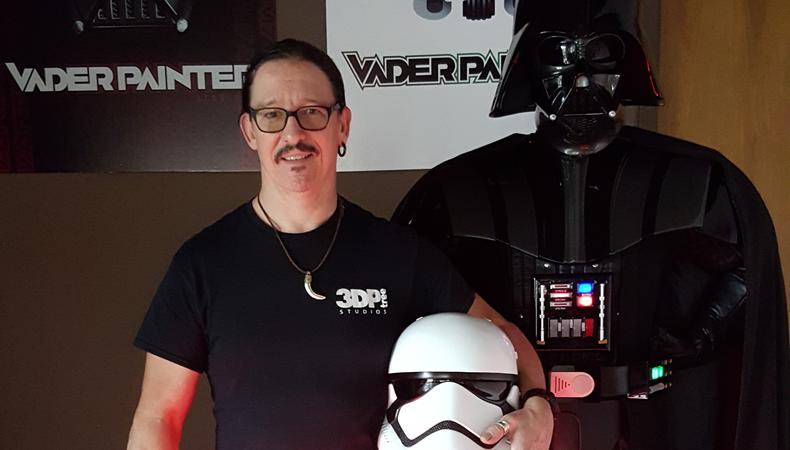 While The Force has been awakened for moviegoers with the new installment in the "Star Wars" franchise, it has always been strong with Atlanta-area prop maker Bob Bean. After meeting Dave Prowse, the mammoth actor in the Darth Vader suit in the original "Star Wars" trilogy, at Dragon Con in the late '90s, Bean vowed to create a screen-accurate Vader costume in time for the following year's convention.
"There were people wearing Stormtrooper and Biker Scout costumes, but there were no Darth Vaders," Bean recalls. "I decided I was going to make a Vader costume. This was before you could order costumes on the internet, so I had to make it myself."
Bean found different companies making different parts that could be customized to create an authentic Vader guise. He obtained armor and an accurate mask created by famed Halloween mask maker Don Post, but still wasn't completely happy with his costume.
"I discovered a way to make paint stick to the plastic," he says. "I painted my helmet and the rest of my armor to match. I sent it to the guy that sold me the armor and he said, 'I've got customers. You want to paint their stuff? I'll start sending your information to them.'"
Just as Anakin Skywalker became Darth Vader in the movies, Bean became known as VaderPainter to costumers across the galaxy. A certified mechanic by day, requests for price lists and costume orders gradually became a full-time occupation. Now with his own studio in Brookhaven, just north of Atlanta, Bean stays busy creating "Star Wars" gear, as well as custom costumes such as Iron Man, Teenage Mutant Ninja Turtles, and Thor for high-end collectors. He also makes novelty items such as Mickey Mouse ears that fit on top of Stormtrooper helmets and Ben Cooper-style Professor Morté masks for the Silver Scream SpookShow.
With emerging technologies, Bean's costuming business has also segued into him co-founding 3DPtree, a 3-D scanning service that is becoming a valuable resource for the local film industry.
"It started out with wanting to get a really accurate mold or cast of an actual screen-used prop," he says. "You really can't backcast something without destroying it, and you don't want to destroy an original prop. Along came 3-D scanners that don't do any damage whatsoever and you can create an exact duplicate."
3DPtree has created a durable Captain America shield for a local stunt team, a tree for the Atlanta-based production "Miracles from Heaven" (out next year), and body scans of Tim Perez, Martin De Boer, and Michael Madsen for the next season of PlayStation Network's "Powers."
Bean's cosplaying pursuits, which extend to his heavily modified zombie-hunting pickup truck, have also established him as a recurring character known simply as Demon Bob on Adult Swim's "Your Pretty Face is Going to Hell," earning him a SAG card.
"I'd never even seen the show, but I watched a couple of episodes and thought it was hilarious," he says. "They brought me out to be one of the demons. It was really fun, but I'd rather be in the background doing special effects. That's my passion."
Though he prefers being behind the scenes (or behind Vader's mask), Bean acknowledges that networking is one of the best ways for aspiring actors and filmmakers to break into the industry.
"Make friends and get involved with the local productions here in town," he says. "Start out just doing anything, be an extra, do whatever it takes to get involved. Start building a community of people [you] can contact, and that will contact [you] when they need people to do jobs in the industry."
Inspired by this post? Check out our Atlanta audition listings!