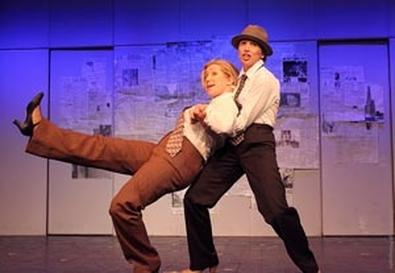 I'm afraid you'll have to look far and wide to find a musical more inept than "The Bobbed-Haired Bandit." Combine Anna Marquardt's amateurish book and lyrics with composer Britt Bonney's melodically challenged, unsuccessfully pastiched score and director-choreographer Deborah Wolfson's manic, never-met-a-cliché-it-didn't-like production, and the result is painful.
Based on a true story, Marquardt's script tells of Celia Cooney, who, inspired by the crime novels she is reading while pregnant, convinces her husband Ed that they should rob the local store in order to provide for the baby. Astoundingly, Marquardt seems to think that this lazy and selfish choice is deserving of our sympathy. The songwriters seem to have no knowledge of how to make songs forward dramatic action or reveal character (they have actually written an 11 o'clock title song that does absolutely nothing). The show's tone is wildly inconsistent, veering from would-be "Dames at Sea" silliness to an embarrassingly mawkish ballad about Celia's miscarried child. Wolfson drowns it all in wall-to-wall choreography of unmotivated stale movement that obscures whatever is being sung while encouraging wincingly broad performances that make "louder, faster, funnier" seem like Stanislavsky technique.
The decision to have an all-female (but for one) cast play men and women seems to have something to do with feminist empowerment, but as not a single actor successfully conveys any sense of masculinity except for Chase Burnett, as Ed, who comes by it naturally, that goes nowhere. Not to mention that if such is really your intention, then Ed should also be played by a woman (see Merriam, Eve: "The Club").
Presented by Gus T.T. Showbiz Productions as part of the New York International Fringe Festival at the Bleecker Theatre, 45 Bleecker St., NYC. Aug. 13–27. Remaining performances: Sat., Aug. 20, 9:30 p.m.; Tue., Aug. 23, 3:45 p.m.; Sat., Aug. 27, 5:15 p.m. (866) 468-7619 or www.fringenyc.org.