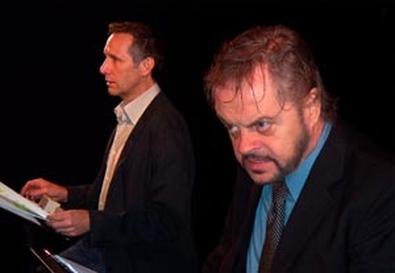 With "Bobby & Matt," his epistolary comedy-drama about two very different men who have been best friends since childhood, writer Kevin Cochran has given us a gay "Love Letters." And here's hoping that it gets produced just as often and as widely as A.R. Gurney's classic two-hander. As moving as it is funny, complex yet truthful in its simplicity, and directed with keen insight by Cochran, the show is an absolute gem.
Actors Stephen Hope (Bobby) and Gary Marachek (Matt) do nothing more than sit on stools and read from scripts on music stands, and yet both the relationship and the world they conjure are vivid and wonderfully alive. The characters meet as young boys growing up in Kent, Ohio, in the 1950s. Matt is a military brat, however, so his father is constantly being posted elsewhere and taking his family with him. The script consists of notes passed in class or left in tree-trunk hollows, poems written in celebration of occasions, telegrams, and, of course, letters—lots of letters.
Bobby's and Matt's lives take increasingly divergent paths as they mature, with Bobby becoming a writer and celebrated gay activist, while Matt follows his father into the U.S. Army as a career soldier. Bobby sleeps with a lot of different guys, then settles down with one only to have AIDS rear its ugly head; Matt serves in Vietnam, marries, and starts a family. There are clashes over sexuality and politics, but somehow the friendship endures. Finally, it blossoms into a love that has clearly been there all along after Matt at last accepts his gayness, something Cochran makes us subtly aware of from the start.
Hope and Marachek couldn't be better, working hand in hand with grace and ease to invoke a deep intimacy between the men. Ultimately, they give us two representative journeys to self-acceptance and personal happiness that virtually any gay man will recognize. But thanks to Cochran's specificity and sharp eye for detail, "Bobby & Matt" has an appeal that goes much wider than the gay community. This vibrant portrait of a changing America may be about two gay men, but audience members are bound to recognize themselves in the rich history and humanity of this wonderful tale.
Presented by Grove Theater Center as part of the New York International Fringe Festival at the Players Theatre, 115 MacDougal St., NYC. Aug. 13–27. Remaining performances: Sun., Aug. 21, 6:15 p.m.; Tue., Aug. 23, 7:15 p.m.; Sat., Aug 27, 7 p.m. (866) 468-7619 or www.fringenyc.org.