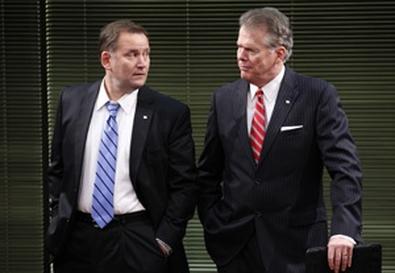 On one fundamental level, theater is about character, and it's there that "The Body Politic," a new play by Richard Abrons and Margarett Perry currently running at 59E59 Theaters, falls short. Its premise is promising: Two ambitious political operatives from opposing parties are forced to make a wrenching choice between ambition and love. But the writers hobble their play by giving their characters little more to say than political sound bites, reducing them to simplistic talking heads rather than elevating them to complex, flesh-and-blood people.
The lovers, Trish Rubinstein, a New York liberal, and Spencer Davis, a preppy conservative, are young staffers on the presidential campaigns of governors Granville Parker (D) and Harley Grant (R), respectively. The race is tight, and both staffs poke and probe each other for the slightest advantage. When a dirty trick is played on Parker, both teams blame Spencer, who claims innocence. Parker, at the urging of his Machiavellian campaign manager Viktor Spasky, assigns Trish to discover, by any means necessary, if Spencer actually planted the false rumor. The costs to all, when the truth comes out, are devastating.
Perry, who is also the show's director, elicits strong performances from her talented cast of six. Eve Danzeisen sparkles as Trish, finding shading and passion in a character constructed of attitudes and slogans. Matthew Boston's Spencer is humorous and intelligent, but he seems older than an up-and-comer, and his scenes with Trish lack sexual chemistry. As Spasky, Michael Puzzo is a mix of sweetness and menace; Leslie Hendrix is a cold-blooded harpy as his Republican counterpart, Brunhilda Logan; and Brian Dykstra and Daren Kelly are suitably oily as candidates Parker and Grant.
Timothy R. Mackabee's unit set, consisting of office furniture, bland carpeting, and multiple fire and smoke alarms, cleverly embodies "flatness creep," the notion that all American life is blending together into a gray sameness.
There's absolutely nothing wrong with what Abrons and Perry are writing about in "The Body Politic." It's subject matter that attracted no less a master than Shakespeare. But whereas Shakespeare begins his plays with stock characters who embody ambition, star-crossed love, or the extent to which the political affects the personal, he allows his characters to go beyond stereotype, so that they can challenge and enlighten us. Abrons and Perry never allow their characters to do or utter anything more than what their plot demands, and in so doing they slam the door on the potential for surprise and revelation. "Real life" has given us such larger-than-life political figures as John Edwards, Richard Nixon, Ronald Reagan, and Barack Obama. Shouldn't we expect no less creativity and daring from our artists?
Presented by At Hand Theatre Company at 59E59 Theaters; 59 E. 59th St., NYC. Feb. 20–March 6. Tue. and Wed., 7:15 p.m.; Thu. and Fri., 8:15 p.m.; Sat., 2:15 and 8:15 p.m.; Sun., 3:15 p.m. (212) 279-4200 or www.ticketcentral.com. Casting by Telsey + Company.