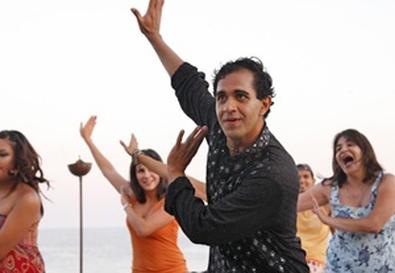 "I'm actually quite shocked at the success I've had with Bollywood aerobics. I never expected it to take off as well as it has," says Rahul Nath, a Hollywood-based actor and professional Bollywood dancer, who is teaching a new form of exercise that combines the latest moves from Bollywood cinema with an intense cardiovascular workout. Though he now teaches his Bollywood aerobics at four 24 Hour Fitness centers in the Los Angeles area, Nath introduced the concept last summer at Heartbeat House, a dance studio in Glendale, Calif., where he still teaches Bollywood aerobics as well as dance technique classes in the Bollywood style.
An informal term for the Hindi-language film industry of Mumbai, India (formerly Bombay), "Bollywood" refers to those lavish Indian movie musicals that do much of their storytelling through high-energy music and dance sequences. Though Bollywood choreography incorporates contemporary hip-hop and jazz-funk moves, the dancing is firmly grounded in India's traditional dance forms, which call for much greater articulation of the chest, hands, fingers, and face than is required in most Western dance styles.
"So the great thing about Bollywood aerobics is that you not only get a solid cardio workout, but you get a full-body muscular workout as well," Nath explains. "Even the tiniest muscles of the fingers are being used, and because the Bollywood music is such fun and you never know what movements are coming next, you don't even realize you're exercising."
In addition to the health and fitness benefits of Bollywood aerobics, the study of Bollywood dance can be extremely useful for professional dancers looking to hone their expressive capabilities. Today's commercial dance industry places such great emphasis on displays of technical skill and athletic tricks that the expressive elements of a dancer's training are often overlooked. In Indian dance, however, it is impossible to separate the two aspects of the training, because the movements are all about storytelling. A lot of energy is put into the facial expressions, which are used in complementary fashion with the body movements to express whatever emotion or idea the choreography means to convey.
An Englishman Abroad
Born and raised in England, as a child Nath traveled to India for monthlong family visits, during which time he was trained in two classical forms of Indian dance: kathak and bharatanatyam. "I'm the youngest in my family, and when we went to India I was too young to hang out with my siblings and cousins, and my parents wanted to visit with their relatives," he says. "So that no one would have to look after me, my aunt suggested they send me to dancing school. My studying dance was really like my going to daycare. It was simply a relief for my family, so they could all enjoy their holiday. Even though dance has now become an integral part of my life, back then I thought, 'I have no idea why I'm here. This is making no sense to me.' "
Nonetheless, Nath grew to genuinely appreciate his dance training: "Growing up in London, I had learned very little about my Indian cultural background. So for me to be in India and to study these classical forms of dance, I felt like I was somehow getting in touch with my culture and even learning more about my religion."
Back in London, in between visits to India, Nath trained in the more modern forms of Indian dance, which were fusing the Indian folk-dance style of bhangra with Western dancing. "That's mainly what you see in the Bollywood movies now," he says. (Another new form of exercise emerged in the U.S. a few years ago based on bhangra dance movements.)
After acting and choreographing for southern Indian films and working in London as a dancer, as well as a certified dentist, Nath moved to Los Angeles in 2008 to further his acting career and to train at the Stella Adler studio. He feels that the remarkable popularity of his Bollywood aerobics classes is partly due to a growing awareness and appreciation of Bollywood films in America, fueled perhaps by the recent success of the movie "Slumdog Millionaire."
"Los Angeles now is where London was about 10 years ago," Nath says, referring to the interest in and production of stage shows featuring Bollywood-style choreography. "There is a large Indian population in London, similar to the Mexican population here in Los Angeles, so Bollywood dance was a craze in London long before Americans really even knew about it."
In addition to his teaching, since arriving in Los Angeles, Nath has acted in commercials, two independent bilingual Indian-English films, and a television series pilot, and has choreographed three music videos for MTV India. "And I just had Kirstie Alley attend one of my classes at Heartbeat House, and she is coming back to film me for that reality show she is doing on the A&E channel." (Titled "Kirstie Alley's Big Life," the show, which premiered on March 21, follows Alley as she commits to a new weight-loss program.)

For further information on Bollywood aerobics classes, visit www.heartbeathouse.com or www.rahul-nath.com.