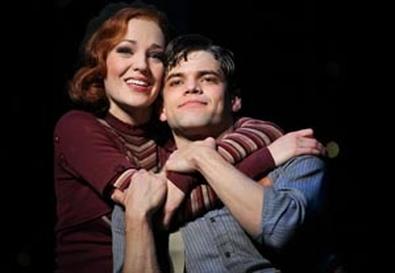 The one thing that a show about infamous killers Bonnie Parker and Clyde Barrow should not be is safe. Unfortunately, book writer Ivan Menchell, lyricist Don Black, composer Frank Wildhorn, and director-choreographer Jeff Calhoun have settled for a paint-by-numbers primer that presents the murderous pair as a couple of misunderstood kids trapped by the Depression.

But there were many people in the 1930s who didn't respond to poverty and oppression by robbing banks and machine-gunning those in their way. Whatever made Bonnie and Clyde special is missing from this sentimental musical, as are sufficient character development, adequate dramatic thrust, and any kind of subtext. If this is what passes for serious musical theater on Broadway today, heaven help us.

In a program note, the authors are at pains to distance themselves from "the now classic Arthur Penn movie," which they insist plays fast and loose with the facts. Perhaps it does, but the musical is hidebound by its adherence to them. Menchell is forced into a repetitive structure, spending too much time on Clyde's early brushes with the law as a petty thief and his push-pull love affair with Bonnie ("I love him," she tells people; "But he's no good!" they keep replying).

Menchell's penchant for forced and reductive dialogue doesn't help matters (just as Bonnie peevishly tells her mother that she is too young to wear a brooch, straight-arrow policeman Ted Hinton, who pines for her, walks in and immediately says, "I like your brooch"). Bonnie's movie-star dreams are obviously stated and restated without providing particular insight, as are the musical's attempts to frame the Depression as a factor in the criminal couple's behavior. Clyde doesn't even kill anyone until early in Act 2, which means that we spend precious little stage time with the Bonnie and Clyde everyone is interested in.

Wildhorn has contributed a reasonably melodic pastiche score that's right for the period, but in his seventh Broadway outing he still shows no ability to write for character. Most of the tunes could be sung by anyone in the story (and one, "This World Will Remember Me," has an unfortunate similarity in spots to Duke Ellington's "It Don't Mean a Thing If It Ain't Got That Swing"). Black's lyrics match the music in their baldness and lack of specificity, though not always in their scansion.

The talented quartet of Jeremy Jordan, Laura Osnes, Claybourne Elder, and Melissa van der Schyff are Clyde, Bonnie, Clyde's aw-shucks brother Buck, and his religious wife, Blanche. All four sing with lungs of steel but can't do much as actors to bring substance to their underwritten roles, with the star charisma Jordan recently displayed in "Newsies" at Paper Mill Playhouse unable to brighten the dumb and unlikable Clyde. Louis Hobson, stuck playing the colorless and formulaic Ted, fails to find a way to animate the stereotype. Kelsey Fowler and Talon Ackerman are poised and professional as the young Bonnie and Clyde, but the characters are extraneous (and the use of young Clyde when his adult self kills for the first time undercuts the moment with depressing banality).

Calhoun stages the show efficiently on Tobin Ost's rustic unit set of wooden fence slats enlivened by various mobile units and that iconic car, despite an unfortunate fondness for parallel staging moments of thudding irony, such as Buck's baptism and burial. Ost's period costumes seem a bit too neat and clean for dusty Texas, and Michael Gilliam's lights too rarely evoke the rural out-of-doors. The production's visual star is Aaron Rhyne's projection work, utilizing images of the actual people involved that provide a tantalizing human complexity missing elsewhere. John Shivers might consider ratcheting down his sound design just a bit.

There are a staggering 38 producers billed in the program above the title, but even if the musical had been produced by 50 million Frenchmen, it would still be terribly wrong.

Presented by Kathleen Raitt, Jerry Frankel, Jeffrey Richards, Barry Satchwell Smith, Michael A. Jenkins, Howard Caplan, Bernie Abrams/Michael Speyer, Howard Kagan, Barry and Carole Kaye, Terry Schnuck, Nederlander Presentations, Corey Brunish/Brisa Trincherd, Alden Badway Podell/the Broadway Consortium, Patty Baker, Bazinet and Company, Uniteus Entertainment, Ken Mahoney, and Jeremy Scott Blaustein, in association with Stageventures 2011 Limited Partnership, Darren Bagert, Robert G. Bartner/Ambassador Theatre Group, BGM, Broadway Across America, Michael D. Coit, Mary Cossette, Ronald Frankel, Lloyd Fruge, Bruce Robert Harris/Jack W. Batman, Cynthia Stroum, DSM/Gabriel Kamel, and Irving Welzer, at the Gerald Schoenfeld Theatre, 236 W. 45th St., NYC. Opened Dec. 1 for an open run. Tue.–Thu., 7:30 p.m.; Fri. and Sat., 8 p.m.; Wed. and Sat., 2 p.m.; Sun., 3 p.m. (212) 239-6200, (800) 432-7250, or www.telecharge.com. Casting by Telsey + Company.