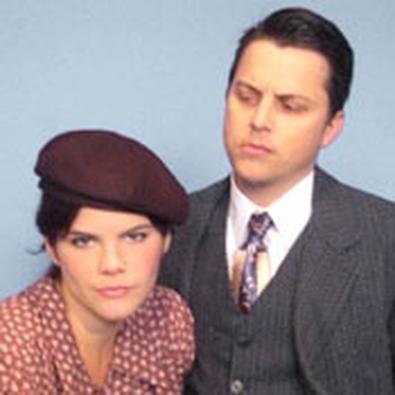 Before attending the new musical Bonnie & Clyde: A Folktale, make sure you're well-hydrated, because the theatre becomes so hot the audience might as well be in the middle of Depression-era Texas with Bonnie and Clyde. But as programs flapped in front of perspiring faces, stars Diane Davis and Jason Wooten remained coolly in control of the stage, singing, dancing, and shooting their way through a sporadically funny look at Bonnie and Clyde's bank-robbing exploits.
The problem with doing anything featuring America's favorite gangsters is that film director Arthur Penn's Bonnie and Clyde became an immediate cinema classic upon its release. And though book writer Hunter Foster strays far enough from the big screen version — and the truth — by tossing in a diner owner named Martha (the big-voiced, warm-hearted Julie Johnson) and an effeminate J. Edgar Hoover, he strays far off-course with a family reunion picnic that can't match the pathos of a similar scene in the movie.
Of course, Foster's book must be slim considering the amount of material songwriter Rick Crom has crammed into the show. With 21 songs (not counting reprises), Crom has gone overboard in adding songs to almost every scene. For every exuberant, foot-tapping moment ("Turn Away" and "Live Live Live" are the evening's highlights), there are plenty of either negligible songs or songs that are ever-so-slightly out of the singer's range. Poor Davis is most frequently the victim; confident and powerful in the lower keys, she has to strain to hit the higher notes with which Crom has peppered her material.
But the uneven quality of the writing hardly matters when delivered by director Mark Waldrop's crackerjack cast. In addition to Davis, Wooten, and Johnson, Bonnie & Clyde features plenty of top-shelf talent, from Kevin Cahoon (saddled with Foster's most painful running gag) to a deliriously funny Rachel Coloff as God-fearing preacher's daughter Blanche. With some judicious cutting and rewriting, Bonnie & Clyde could be the next quirky, off-kilter musical hit.
Presented by Bonnie & Clyde Productions as part of the New York Musical Theatre Festival at the American Theatre of Actors-Chernuchin Theatre, 314 W. 54th St., NYC. Sept. 16-28. Remaining performances: Fri., Sept. 19, 7 p.m.; Sun., Sept. 21, 5 p.m., 9 p.m.; Sat., Sept. 27, 4:30 p.m.; Sun., Sept. 28, 1 and 5 p.m. (212) 352-3101 or (866) 811-4111 or www.theatermania.com or www.nymf.org. Casting by Cindi Rush Casting; Casting Associate Michele B. Weiss.