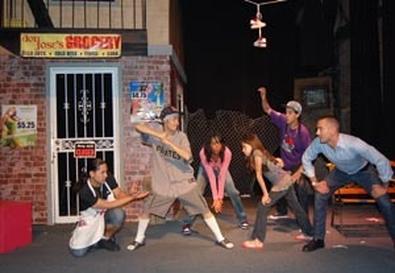 Comparisons between the new musical
Boogie Rican Blvd
. and
In the Heights
are inevitable. Both celebrate urban Latino culture and community spirit, both use the daily activities in and around a bodega to connect a variety of characters and voices, and both employ a mix of Broadway and hip-hop music to tell their stories.
Boogie Rican Blvd
., which is set in the Bronx, north of
In the
Heights's barrio, lacks the energy, the sophisticated weaving of music and dialogue, and the vocal talents of the Broadway success. But
In the Heights
seeks a wide and mainstream audience, while part of
Boogie Rican Blvd
.'s charm is the delight in self-reflection it offers its more local audience at the Puerto Rican Traveling Theatre.
Credit also goes to Caridad De La Luz, an actor whose power of impersonation recalls that of Whoopi Goldberg at her best. De La Luz, who is also the playwright, portrays six characters, each a different stereotype—the eccentric bodega owner, the Long Island wannabe, the hip-hop gangster—with a comic sensibility that is both affectionate and cutting. When she is offstage changing costume, a certain energy seeps out of the room as the rest of the company dutifully performs unmemorable scenes of street life. Onstage, she offers the gift of a serious and underappreciated talent.
But De La Luz's virtuosity and gentle sideswipes at cultural clichés don't quite make up for the overwritten dialogue, which is dragged along by director Nelson Vásquez's slow, precious pacing and sometimes awkward staging. Nor does it make up for misguided attempts at issues drama. Though De La Luz deserves credit for not eliding drug abuse, teen pregnancy, and homophobia, too much easy sentimentality (the out-of-place Diane Warren–style number given to a bashed gay man is particularly egregious) and the sense that she's completing a checklist rather than seriously probing a culture keep any character's plight from having much of an impact.
If we enjoyed our time on
Boogie Rican Blvd
., it was for the general warm feeling we got from the artists' sincere efforts, not for any lasting impression of a moving theatrical experience.
Presented by De La Luz Inc.at the Puerto Rican Traveling Theatre, 304 W. 47th St
.,
NYC
.
June 30
–
July 26. Tue
.–
Sat
.,
8 p.m
.;
Sun
.,
3 p.m
.
(
718
)
855-2681 or www.urbanlatino.com/misc/boogierican
.