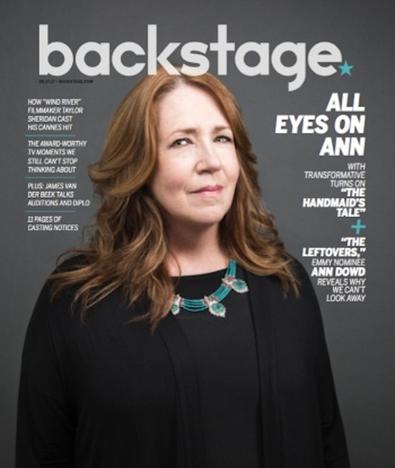 It is by some coy irony—and a ferocious performance—that Ann Dowd believably plays a tyrannical aunt on "The Handmaid's Tale." Ask co-star Elisabeth Moss, and you'll hear that Dowd is "one of the absolute nicest, kindest, most generous and hilarious people you will ever meet."
Recounting long days filming outdoors that were "either hot at the beginning of the season or freezing for most of it," Moss tells Backstage by email that Dowd took on the role of mama hen, tending to everyone from stars to extras. She would go from the Taser-wielding Aunt Lydia when cameras were rolling to checking in on background talent between takes and telling them what great work they were doing. "You get the feeling if you ever needed anything, she would be there in a heartbeat with advice, comfort, or just to make you laugh," Moss adds.
Hearing it from her collaborators makes her merciless turn on the Hulu series feel all the more like a paradox, but the first-time Emmy nominee's double recognition for "Handmaid's Tale" and "The Leftovers" this year are anything but.
Sitting down for a quick bite and a glass of white wine at Gramercy Tavern in Manhattan, Dowd takes to calling the server (and this interviewer) "honey" and "sweetheart," and she eventually raises her glass with a "Here's to you." It is of course her pair of lauded performances on "The Handmaid's Tale" and as Patti Levin on "The Leftovers," which have respectively earned her Emmy nods for best supporting actress in a drama series and best guest actress in a drama series, that we should be toasting. Dowd, however, is as humble an actor as you're likely to find.
In fact, it's not until our interview's closing minutes that awards talk comes up at all. She admits, though, that while "by far and away the most important thing is the work," to be recognized by her peers "is a pretty fabulous thing. I'm pretty damn grateful for it."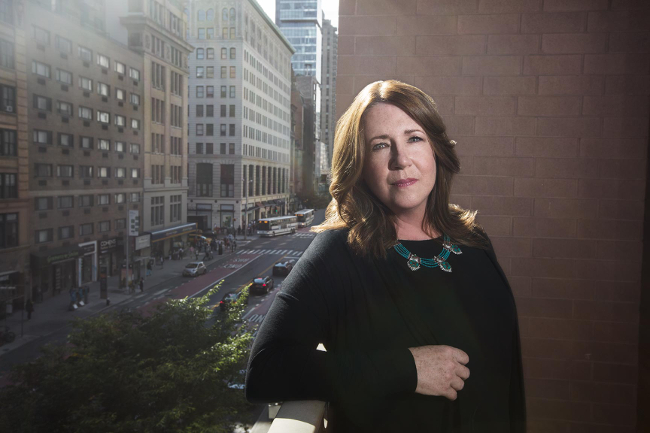 Photos: Shot on location at 121 E. 23rd St., Ampersand Team, Triplemint
We're two weeks out from the Television Academy's July 13 Emmy nominations announcement, and the ensuing awards circuit is still exotic territory for the 61-year-old Dowd. It is a world, she says, that didn't open up to her until 2012's indie hit "Compliance," despite decades on the stage and screen. Her performance as Sandra, a restaurant manager who gets beguiled into strip-searching an innocent employee, earned her a Film Independent Spirit Award nomination and a win from the National Board of Review. It is a definitive role and a career turning point that quite literally would not have happened were it not for her roots in the theater.
"At the time that we were casting 'Compliance,' she was in a play with Ethan Hawke," writer-director Craig Zobel recalls. The play in question was "Blood From a Stone," a Tommy Nohilly drama that had her playing Hawke's doting mother. "I was just so blown away that I officially asked casting if there was any way to have her come in. She came in and it just seemed so obvious," Zobel says. He then pushed "Compliance" production back so Dowd could finish the play's run and come work with him. He has since gone on to direct Dowd in a handful of "The Leftovers" episodes for creators Damon Lindelof and Tom Perrotta, including her guest stint in Season 3, "The Most Powerful Man in the World (and His Identical Twin Brother)."
While "Blood From a Stone" in 2011 and Naomi Wallace's "Night Is a Room" in 2015 mark Dowd's most recent New York stage outings, her previous Broadway credits include "Candida" (1993), "Taking Sides" (1996), and "The Seagull" (2008).
"I love film and television, but I always encourage [actors] to find their sea legs in the theater," Dowd, who received an MFA in acting from DePaul University, says. "I think the theater is where you stand up and you say, 'Here is what I have to offer.' "
Stage acting, she muses, also requires a fearlessness not called for by the screen. Actors must give up their power in a way that's singular to the spotlight and the boards. "[You have] to be able to say, 'I'm not going to control this. I rehearsed this. I have a director. I have my colleagues and whatever gifts I possess. And now we're going to put it out there for the audience to enjoy.' It takes the courage of letting go."
Dowd learned that giving herself over to the craft had positive repercussions offstage, as well. She speaks of a period just after giving birth to her daughter when she "couldn't get hired for the life of me. Just rejection after rejection. And after each one, I would weep like a child"—until she decided not to and learned to give in to an acting career's ebbs and flows. "You are consciously doing this. Why are you making that choice? Why are you choosing to see this as a rejection that requires you to fall apart?" she remembers asking herself. "We do not need protection [as] actors. We come into the world with that gift, and the message is: 'Hit me, I'm good. My role will come and my chance will come.' We are the ones who define for ourselves where our place in the world is, not another."
She adds to that concept of "letting go," explaining that "anything or anyone that limits the dream you have for yourself and for your career is just to be dismissed. Do not keep that company and do not hear those words."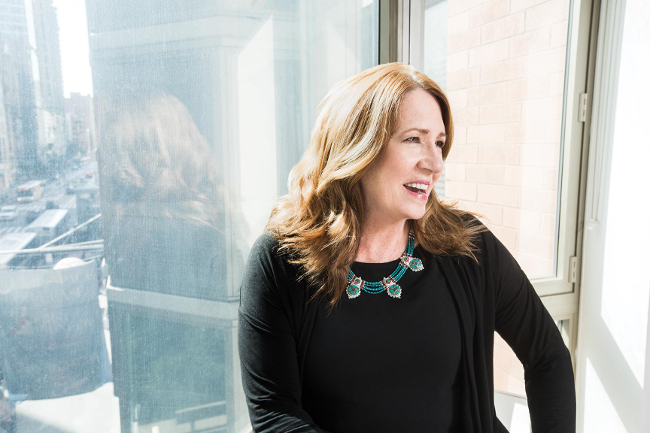 These lessons and more are what Dowd, in conjunction with being a yearslong, steadily working actor, has taught young aspiring actors as a coach and instructor at CAP21 in New York City, where her husband was once acting chair.
"Being older, it's thrilling [to teach] because you have something to say because you've been there," she says. "I've made a billion and a half mistakes. It's so lovely to be able to say, 'Darlings, let me just give you a little something. You don't have to do all that. Just start here.' "
To now be at what many would argue is the height of her career, and to be able to spread the wealth and wisdom, is an all-new vantage point for Dowd. And it comes full-circle now that her daughter, Emily, is pursuing acting herself.
"She's got a pure and beautiful heart, and wherever it takes her, I'm all in," the mother of three says. "[But in acting], I step out of that and let her find her way."
Dowd does take a moment, however, to offer all young actors a piece of advice she wishes she'd known when she was starting out: "Every day, take a deep breath and know in the core of you it will be OK," she advises. "Pay attention to your life. Engage in the world; have an opinion about what is going on. Appreciate your life deeply and know that whatever process it will take, you will find your way. [And] stick with nature as much as you can." (Coincidentally, Dowd is due in New Hampshire for a 10-day family vacation shortly after we part to do just that.)
"Sit with silence a lot. Real silence, where nothing is happening, because you learn so much in those moments of quiet," she continues. "That's the biggest thing I would say to this generation: Put [your phone] down. Go into the woods. And if you can't find the woods, go to Central Park. If you cannot do that, buy a plant and watch it grow."
---
How to Find Your Type, According to Ann Dowd
"Darlings, here's the deal: You look in the mirror, and not when you're in a criticizing mood (so it's going to be a special couple of minutes, because we are always [thinking], Why am I not thinner than…). Look in the mirror, and be very, very honest, and say, 'This is how I am comfortable presenting myself in my work. I like and accept and want this person.' Be very honest. If you don't like what you see, then change it. Don't let others tell you what you need to look like. Decide for yourself and then move forward. I think that's wildly important. You have to know, and that knowing is far more powerful to me than [anything else]."
Want to act in an Emmy-nominated series? Check out Backstage's TV audition listings!
Hair by Sam Leonardi using Neutrogena Triple Moisture. Makeup by Natasha Smee.