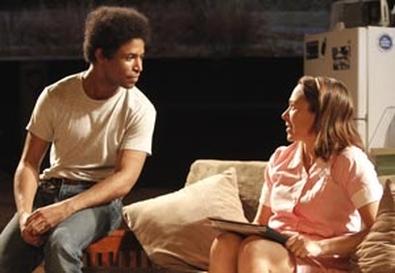 Suzan-Lori Parks' new play, "The Book of Grace," seems to be aiming for a heightened naturalism. This three-character study of a deeply troubled family deals with familiar topics that Parks not only works hard to make fresh but also tries to elevate into American myth. But despite some compelling writing, three excellent performances, and director James Macdonald's tense, imaginative production, the whole thing never quite jells. The effort is just too palpable.
Vet is a gung-ho border patrol officer who works along the fence the U.S. has erected on its Southern border. His 25-year-old son by a first marriage, Buddy, estranged from him for 15 years, is returning to see his father receive a medal for capturing a group of illegal immigrants single-handedly. Buddy is arriving due to the efforts of Grace, his stepmother, a determined optimist who is writing the titular book, which she describes as being about "the evidence of good things." Parks' effective prologue of three intercut monologues makes it immediately clear that Buddy still hates his father, Vet is deeply skeptical of his son, and Grace is desperate to change all that. The possibility of violence simmers underneath everything that follows. Grace's fear of her controlling husband causes her to keep the writing of her book secret from him. Buddy alternates between provoking his father and longing for his approval. Vet, once known as Snake, says he is "on the good foot now." Buddy appropriates the nickname.
Parks keeps both us and her characters determinedly off kilter, doling out information parsimoniously and mysteriously. Two important questions linger: Did Vet sexually abuse the young Buddy? Why do Buddy and the middle-aged Grace, who haven't seen each other since Buddy was 10, have sex as soon as they meet? Parks' choice not to answer is obviously deliberate, but the effect is to undermine credibility. Symbols abound—that border fence, Buddy's lifelong proclivity for explosives, a hole Vet digs in the backyard—but we're too aware of them. Parks also falters in her use of what seems to be two endings. This clearly mirrors a sad story in Grace's book about a dog named Trouble. It lacks an ending, so Grace makes up a variety of them. In a program note, Public Theater artistic director Oskar Eustis describes "The Book of Grace" as being about "the great difficulty of having and holding hope." In Parks' first ending, there is no hope. The second seems to be intended to suggest that this story can end in other ways. In performance, though, it does so cerebrally, not viscerally.
Elizabeth Marvel is, well, a marvel as Grace, making a woman who could seem just pathetically deluded into one whose determined optimism feels both true and moving, if ill-advised. A fierce John Doman holds Vet close to his vest, tantalizing us with his character's potential for goodness before ruthlessly revealing Vet's true nature. Amari Cheatom nimbly alternates his boy-man between rage and hope, confidence and cowering. All three actors excel at creating a strong sense of family history.
Set designer Eugene Lee's rundown, deconstructed living room has a floor of sand (a house built on sand?) that segues into what seems like a mountain of sandbags stacked around that hole in the backyard. On the theater's back wall is a dilapidated screen showing the careworn house's exterior, onto which video designer Jeff Sugg projects a variety of rushing clouds and symbolic images, including that border fence. Combine Jean Kalman's isolated lighting and Susan Hilferty's sociologically accurate costumes, and the careful result explodes the writing's realistic qualities.
Unfortunately, as with the play itself, we're always aware of just how careful the work is.
Presented by and at the Public Theater, 425 Lafayette St., NYC. March 17–April 4. Tue.–Fri., 7:30 p.m.; Sat., 2 and 8 p.m.; Sun., 2:30 and 7:30 p.m. (212) 967-7555 or www.publictheater.org. Casting by Jordan Thaler and Heidi Griffiths.