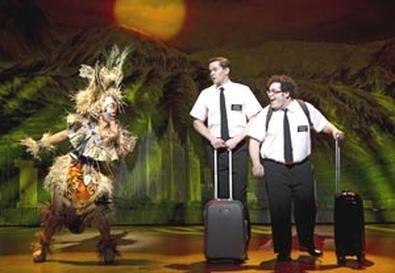 Can the sophomoric sensibilities of TV and movie bad boys Trey Parker and Matt Stone mesh with the Broadway brio of Robert Lopez (co-author of the music and lyrics for "Avenue Q") and Casey Nicholaw (director-choreographer of "The Drowsy Chaperone")? The answer is a resounding yes.
"The Book of Mormon," the result of this unlikely four-way collaboration, manages to combine outrageous parody, solid storytelling, and sympathetic yet goofy characters. You would think the central premise—two Mormon missionaries have their idealism crushed by excruciatingly awful conditions in a Ugandan village—would provide only enough fodder for a 22-minute segment of Parker and Stone's smash-and-run hit animated series "South Park."
But the sharp-edged book and fun score by Parker, Stone, and Lopez offer a screamingly funny yet sharply insightful full-length take on religion in general and Mormonism in particular. There are also pointed but loving tributes to musical comedy conventions, shockingly vulgar humor, and that rarity on Broadway these days: topical and effective satire.
Golden boy Kevin Price, a Mormon-most-likely-to-succeed type, is saddled with pudgy, socially challenged Arnold Cunningham for a joint two-year proselytizing mission, a requirement for all Mormon youth. They are sent to a poverty-stricken African village beset by AIDS, warlords, dangerous and antiquated notions about female circumcision, drought, famine, and a lack of cell phones.
Skinned animal carcasses litter Scott Pask's creatively cartoonish set, and the villagers greet each new setback with the catchphrase "Hasa Diga Eebowai," which roughly translates as "Fuck you, God." Complications ensue when the initially enthusiastic Kevin becomes disillusioned and applies for a transfer to his favorite place on earth—Orlando, Fla.—and geeky Arnold begins interpolating elements from his favorite sci-fi movies into the Book of Mormon to get the indifferent natives interested in converting.
Some may find the satire rather raw, but it reminds me of the classic sitcom "All in the Family." In its early days, each episode was preceded by a voiceover explaining that the aim of the series was to turn a comic spotlight on our ethnic and religious prejudices, to show how really ridiculous they are. As in "South Park," the authors are focusing their blisteringly boisterous lens on cultural stereotypes and the extremes of fundamentalist faith to demonstrate their absurdity. Ultimately, they acknowledge that the altruistic element within the Church of Jesus Christ of Latter-day Saints and other religions is worth preserving. That they manage to do this without compromising their gleefully vicious vision is nothing short of miraculous.
The staging—with direction by Nicholaw and Parker and choreography by Nicholaw—strikes the perfect balance between wild lampooning and honest limning. Like the best creations of masters such as Mike Nichols and Elaine May, Lily Tomlin, Whoopi Goldberg, and John Leguizamo, the "Mormon" characters are simultaneously skewed sketch figures and believable human beings.
Among the guffaw-inducing set pieces are nifty numbers referencing "The Lion King," "Oklahoma!," and Jerome Robbins' "The Small House of Uncle Thomas" ballet in "The King and I," as well as a riotous "Spooky Mormon Hell Dream," featuring Adolf Hitler, Genghis Khan, Jeffrey Dahmer, and Johnnie Cochran alongside an electric guitar
–
plucking Satan. Kudos to designer Ann Roth for the inspired costumes in the last-named madness.
The whole company is perfectly in sync with the insanity, with Josh Gad especially loony yet grounded as the lovably schlubby Arnold. Gad turns what could have been an annoying one-joke stock figure into a quivering bundle of insecurities, hilariously desperate to please and wackily willing to do anything, no matter how weird, to gain acceptance.
As Kevin, Andrew Rannells displays a solid, soaring voice and winking comic presence as the character journeys from self-importance to caffeine-fueled self-pity to humility. Rory O'Malley makes for a riotously closeted Elder McKinley, who longs to strut his stuff like Liza Minnelli but forcefully switches off those blasphemous urges. Nikki M. James is sweetly winning as the Ugandan villager Nabulungi, and Michael Potts, Brian Tyree Henry, and Lewis Cleale add jagged points to this barbed wired
–
laced Broadway bombshell.
Presented by Anne Garefino, Scott Rudin, Roger Berlind, Scott M. Delman, Jean Doumanian, Roy Furman, Important Musicals LLC, Stephanie P. McClelland, Kevin Morris, Jon B. Platt, Sonia Friedman Productions, and Stuart Thompson at the Eugene O'Neill Theatre, 230 W. 49th St., NYC. Opened March 24 for an open run. Tue.–Thu., 7 p.m.; Fri., 8 p.m.; Sat., 2 and 8 p.m.; Sun., 2 and 7 p.m. (212) 239-6200, (800) 432-7250, or www.telecharge.com. Casting by Carrie Gardner.