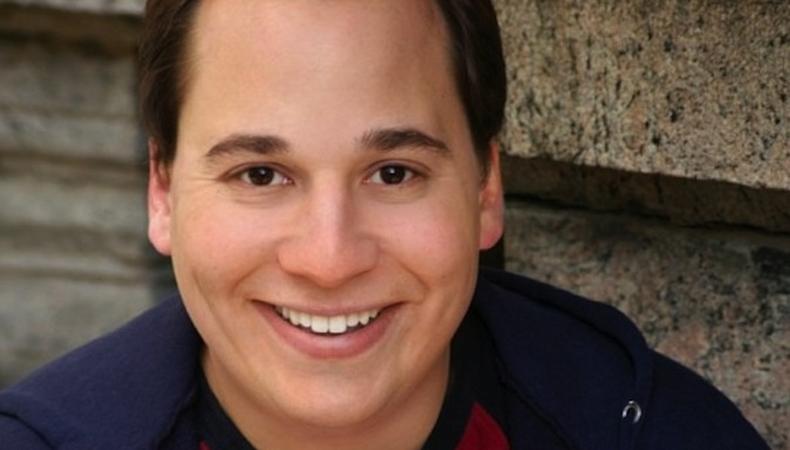 When Jared Gertner was called in to read for the Elder Cunningham cover for the Broadway production of "The Book of Mormon," he didn't know if he wanted to be a standby.
"I had never covered before," Gertner says. "I have nothing but respect for covers, but I love to be on stage. That's why I do what I do for a living."
Well, his decision to go in paid off. After spending a year and a half waiting in the wings, Gertner took over the role on Broadway in June, and is now headlining the show's first national tour, which launched in Denver on Sunday night, alongside Gavin Creel. "It was the best decision I ever made," he recalls of his decision to audition for the part.
The New Jersey-native began his love affair with Broadway at age 3, when he saw "Cats." ("I'm not embarrassed about it," he says. "I really liked it.") He started performing with his aunt and uncle's community theater company at age 6 in "Peter Pan" as "the most lost boy ever," and looked up to people like his cousin, Alison Mann, who was a dancer on Broadway.
"It really seemed like a possibility to me because there was someone in my family who had done it," says Gertner, who trained at NYU's Cap 21 program. "There was no question that this was what I wanted to do with my life."
What was your initial audition like for "The Book of Mormon"?
Jared Gertner: It was so fast. The first Broadway show I had done was "The 25th Annual Putnam County Spelling Bee." I did that show out of town for a year, and then I went to the Broadway company for a year. It took me about six auditions over seven or eight months to get "Spelling Bee." This show, I went in, and I did two scenes and bit of the song "Man Up." And they said, "OK, great. Thanks so much." And I left. And then they called and said I got it.
Audiences often go to see shows to see specific actors. What was the experience like for you of going on when the audience was expecting someone else?
Gertner: One thing about "The Book of Mormon" that's always been kind of cool is the star of the show is the show itself. In that respect, I think I was a little luckier than if I were standing by for a celebrity in a show. I ended up going on a lot, and there was a bit of an expectation there. You have to kind of put that out of your mind. I remember talking to a very good friend of mine, Lisa Brescia. She had been a standby in "Wicked, "Woman in White," and "Aida." And the best advice that she gave me was, "You have to turn off your ego and realize that it's someone else's role. But every once in a while it will be yours. On those days, you just have to have as much fun as you can with it." That's what I tried to do. I tried to just go out and do the show and honor what Josh [Gad] had created but make it my own.
Now that you do play the part full time, how have you made it your own?
Gertner: No one ever made me do Josh's show. I was able to really start making my Cunningham right from the beginning. The problem, though, is most of your process when you're a cover is in front of an audience. So you do the best you can with making your own big choices, but you're within the framework of a show that someone else already set up. With the tour, first of all, Gavin Creel is so incredible. To get to work with him for four weeks in the studio, that was even more liberating. We sort of followed each other in finding the show that we wanted to do, and Casey [Nicholaw] and Trey [Parker], as directors, they trust the material enough to know it's going to work.
What have you learned working with the "South Park" creators Matt Stone and Trey Parker?
Gertner: With Matt and Trey, the incredible thing is they're so ballsy. They're so not concerned with whether people will agree with them. They have something to say it and they say it. And they say it in as funny and as smart a way as possible. That's inspiration. I do a lot of comedy. To put yourself out there that much is really impressive.
You started with the Broadway company. What's it like to be part of a new cast?
Gertner: When we were opening it on Broadway, we all knew we had something special, but we were curious to see how it would play for an audience. With this cast, we came in knowing what we were working with. There's an extra responsibility there because we know we're dealing with something that people are really excited about. It's a tough business. Sometimes you're in great shows and sometimes you're in not great shows and sometimes you're in great shows that fail. So to be in this show and to know we have a job for a while and to know we have a show that everyone around the country is waiting for, I can't even explain it. Everyone is just jazzed.
So what's the secret to getting tickets?
Gertner: Your guess is as good as mine! When I was a standby, getting people in to see me was way more stressful than doing the show. Once I got out on stage, that was the easy part. It was the phone calls from my mother beforehand saying, "These 6 people from the synagogue want to come and how can we get them tickets?"
You've also done hilarious work as the theater nerd Randall on the web series, "Submissions Only." Do you have an inspiration for your character?
Gertner: I'm embarrassed to say that a little bit of it comes from me. Some of those show T-shirts are mine, I'm not going to lie. When I was a kid, I was obsessed with Broadway. I mean, I still am to some degree, but it's not as much of a mystery. I remember locking myself in my room so that I could memorize cast albums until I knew every word. For Randall, I just kind of tapped into 12-year-old Jared.
What advice do you give to young actors?
Gertner: I always say train, train, train. If you go to any Broadway cast, one thing that almost everybody shares is that we've worked our tails off to get where we are, whether that means in college or in private classes. You don't get to Broadway by accident. I always suggest college because it's a really safe place to figure out what kind of artist you want to be and what kind of person you want to be. Because if you haven't figured that out, it's going to be really hard to create characters. You have to figure out who you are.
Even if that person is Randall.
Gertner: Even if that person is Randall! And if it is, celebrate that. Maybe don't wear the show T-shirts as much. But bring that enthusiasm into the room.
For tickets and more information of "The Book of Mormon" tour and Broadway production, visit http://bookofmormonthemusical.com/.