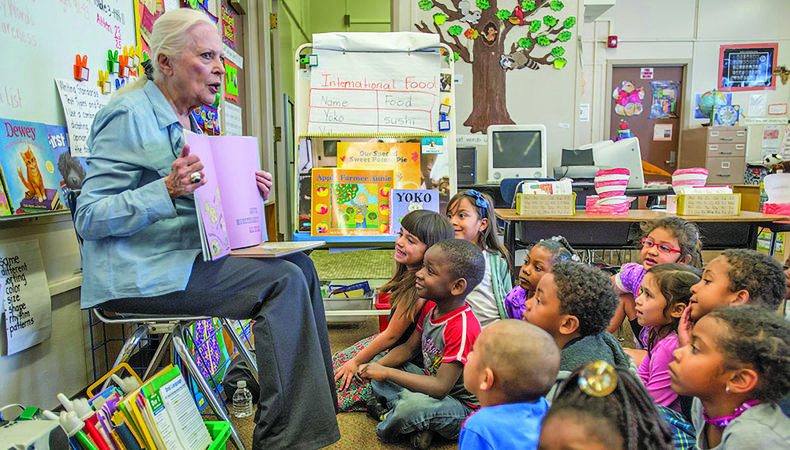 The actor's routine of coming in to read has meant something different to Barbara Bain for the last 20 years.
In 1993, Bain, a film and television actor famous for her portrayal of Cinnamon Carter on the series "Mission: Impossible," founded BookPALS (Performing Artists for Literacy in Schools) to promote children's literacy through the SAG Foundation. Bain said pairing actors with children hungry for storytelling was a perfect match.
"We read and we're also under-employed, so we have time and like an audience, so what could be better?" she said. "It all just fit together."
Originally located only in Los Angeles, the organization now has five chapters across the country, of which New York and L.A. are the largest, with 1,700 BookPALS serving 45,000 children. The other three branches, in Arizona, San Francisco, and Florida, have a combined 600 BookPALS serving 16,000 children, from preschoolers to fifth graders, in schools, hospitals, and social service agencies every month. The program has featured high-profile performers as readers, including Benicio Del Toro, Jenna Elfman, and Elijah Wood.
"For the performer, it's a little like going to the gym," said Jill Seltzer, executive director of the SAG Foundation. "It's really honing their craft if they can keep 35 third graders entranced for 45 minutes and use all the character voices they want to. Everybody benefits."
As part of its literacy program, the foundation also publishes Storyline Online, Web videos of actors such as Annette Bening, Jason Alexander, and the late Ernest Borgnine reading children's books. "It allows performers to become the philanthropist," said Seltzer.
The foundation uses anecdotal evidence to measure the success of the program because, as Bain explained, the program isn't strictly an education initiative. "We don't teach; we're not teachers," she said. "The whole idea is to create an interest in reading and books through the presence of an adult being there, being excited about reading."
The foundation recently launched an online fundraising effort tied to BookPALS' 20th anniversary. The foundation is also sponsoring Literacy Days at its five BookPALS branches, broadcasting a live reading online May 7, and sponsoring a celebrity BookPALS reading and kids' party at the West Hollywood City Council Chambers May 11.
The foundation is asking SAG-AFTRA members to donate $20 to support the effort, which is expanding to include a pilot program in New York City designed to serve children with special needs. "We want to arm our volunteers better to handle those special classrooms," said Seltzer. "If you can handle that classroom, you can handle any classroom."