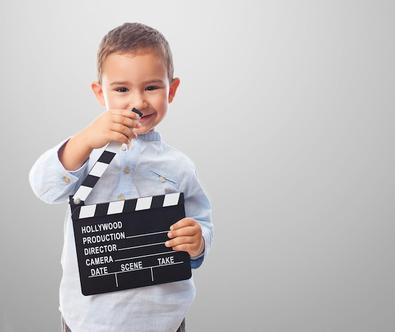 Entering the acting industry can seem like a daunting task, especially for young actors and their parents. Here are seven books that detail everything from audition technique and appropriate monologues, to how to find work and which acting method would work best for your child or teen thespian.
"10-MINUTE PLAYS FOR KIDS"
Perfect for the kid actor, this collection of plays allows young thespians to examine themes of family and friendship while taking on roles that allow them to go beyond their species to play fish and chess pieces, for example.
"IN PERFORMANCE: CONTEMPORARY MONOLOGUES FOR KIDS"
For actors more advanced in their years and craft, this book, written by casting director and teacher JV Mercanti, breaks down plays by character, synopsis, and provides relevant questions, which allow the teen to determine which monologue best suits them and what their intentions for it should be. As a bonus, there's information on appropriate audition room etiquette, as well as how to handle rehearsal.
"THE BEST SCENES FOR KIDS AGES 7–15"
Author Lawrence Harbison should know a thing or two about plays; for 30 years, he was the new play acquisitioner for Samuel French before penning this collection of child-appropriate scenes. For the young thespian in your life, pick up a copy of this book, which includes excerpts from 50 plays ranging from dramatic to comedic that will give them school-appropriate production material, as well as challenge them to get out of their comfort zone.
"MY FIRST LATINO MONOLOGUE BOOK: A SENSE OF CHARACTER"
For the parents of young Latino aspiring actors looking to remove cultural barriers over their child's blossoming career, consider "My First Latino Monologue Book." Written by M. Ramirez, as part of a series that includes "My First Latino Scenebook," "My Second Latino Scenebook," and others, this book is a collection of 100 monologues for kids ages K–3 whose primary language is Spanish. The book focuses on building characters around familiar figures such as hairdressers, teachers, astronauts, and the likes, to get young performers to think in-depth about their characters.
"SANFORD MEISNER ON ACTING"
This book gives an inside look at the craft of acting through the eyes of 16 actors over the course of 15 months, beginning with their takes on the most elementary of exercises before progressing into polished performances from contemporary American plays. The work focuses on the Meisner techniques of "doing" rather than "thinking," and shaping your performance around what your partner's giving you to work with.
"YOUNG PERFORMERS HANDBOOK"
Available free online thanks to SAG-AFTRA, this comprehensive handbook details everything kid actors and their parents need to know—from the simple tasks of getting appropriate headshots and résumés, to the complexities of dealing with agents, managers, and callbacks. As a bonus, the SAG-AFTRA branches for 22 different states, their contact information, and locations are listed in the back of the book!
"ACTING A TO Z"
This book covers exactly what the title suggests for both screen and stage actors just getting started in the business. It breaks down the different acting techniques, what one needs to know about auditioning, what to expect during rehearsal, and the steps one needs to take to find work. "Acting A to Z" is written by 30-year industry vet Katherine Mayfield.
Looking to be SAG-AFTRA eligible? Learn about the basics of joining here!