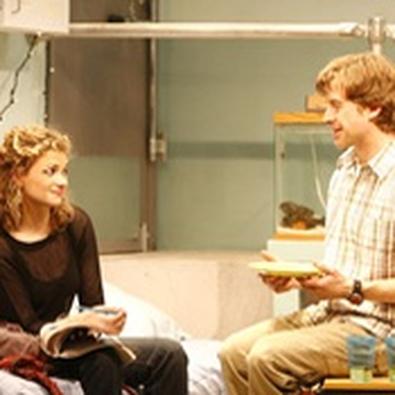 A play that tackles the creationism-versus-evolution debate could easily swerve into the musty and didactic zone. But in the hands of playwright Peter Sinn Nachtrieb, we're whisked away on a fantastically wild ride — a comet is headed for Earth and it's unclear if anyone will survive — only to discover that we've been hit with comical ammunition that doesn't seek to persuade us to take sides in the debate as much as it supports a narrative with an irrefutable biological outcome.
When Barbara (Susan Wands), a buoyant middle-aged redhead dressed like a stylish flight attendant, first rushes down the aisle to take her place at the edge of the stage in a control station, we're unsure of her role. Then she begins to bang on a timpani, and we expect danger. Instead, she's a quasi narrator who pulls giant levers to draw back the curtain and cause lights to come up on a fish tank in a tiny lab. Rather than something foreboding, we see Jules (Lucas Near-Verbrugghe), a nerdy biologist, attempting to woo Jo (Megan Ferguson), a young journalism student.
Director Alex Timbers keeps the pace zooming along as the duo engages in pithy repartee that teeters between natural and too perfect. The pleasures of Boom come directly from its unusual plot turns and surprises, and Near-Verbrugghe grounds everything with his endearing awkwardness and compulsive eccentricities. With so much momentum built up, it's almost jarring when the narrative suddenly skids to a halt and Ferguson's dynamic Barbara takes over completely. Nachtrieb possesses a sharp wit and has crafted an imaginative piece of social satire, tempering any urge he may have to wow us with his facile use of language and delivering a clever play that's both experimental and entertaining.
Presented by and at Ars Nova,
511 W. 54th St., NYC.
March 20-April 13. Thu.-Sat., 8 p.m.; Sun., 7 p.m. (No performance Sun., March 23.)
(212) 868-4444 or www.smarttix.com.
Casting by David Caparelliotis.