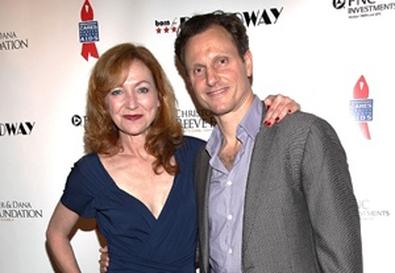 Nine years ago, the first Born for Broadway show took place in a small classroom at Marymount Manhattan College. Sarah Galli, a freshman performance student, organized the cabaret to benefit medical research for spinal cord injuries. Her brother became a quadriplegic after a diving accident in 1998, and Galli wanted to use theater to support a cause that had become important to her.
Born for Broadway has grown since then. On May 21, the third annual benefit took place in a slightly larger venue: the American Airlines Theater on 42nd Street. Hosted by Julie White and Tony Goldwyn, the evening featured 30 performers from Broadway and television.
"There's a generosity that's inherent not only in Broadway, but all theater programs, because you're not the only one there. There are others that rally with you," says Galli. "We're both raising funds and galvanizing the theater community for something that's so great."
Before Galli launched Born for Broadway, performers were rallying behind the cause to find a cure for paralysis. When actor Christopher Reeve, famous for playing Superman in the 1978 film, was thrown from a horse and became a quadriplegic in 1995, the issue was pushed into the spotlight. Both Reeve and his wife, Dana, became advocates for medical research on spinal cord injuries, and their organization, the Christopher & Dana Reeve Foundation, transformed a dire field of research into one of hopeful innovation. The two organizations have teamed up for the past few years, and Monday night's event benefitted the Foundation.
"As you can see, I'm a big 'Superman' fan," said actor Ron Bohmer before the show, showing off a silver ring with the famous insignia. "Christopher Reeve was always my hero."
For the benefit, Bohmer reunited with his former "Ragtime" cast members, Robert Petkoff and Christiane Noll, to perform "Journey On" from the show. Like many of the evening's other performers, he emphasized the importance of combining theater with philanthropy, especially, he said, as television shows like "Glee" and "Smash" have pushed Broadway into the mainstream.
"Anything that we can do to bring attention to people who need our help — that's easy for us, and it's so beneficial to any cause," he added. "I'm thrilled that our role is increasing in the world in that way."
This sentiment permeated the evening's performances, which ranged from heart-wrenching to hilarious. Carmen Ruby Floyd, who is currently performing in "The Gershwins' Porgy and Bess" on Broadway, silenced the house with her sensual rendition of "And the World Goes Round." Later, the audience fawned over 14-year old Ben Cook, who is starring in the National Tour of "Billy Elliot," when he pirouetted and leaped across the stage, singing "I Can Do That" from "A Chorus Line."
But Steve Rosen's performance sent the audience abuzz during intermission. Rosen, who made his Broadway debut in "Spamalot" and more recently starred in "Guys and Dolls," performed an original medley of Broadway songs, including "Bali Ha'I" from "South Pacific," "We Go Together" from "Grease," and "Skimbleshanks the Railway Cat" from "Cats."
"When people do a medley, normally they have a theme," Rosen told the audience. "Our theme is that this medley has no theme."
Despite the comedy, Rosen didn't forget the night's ultimate meaning. Having participated in the benefit once before, he said that one of the most extraordinary things about Born for Broadway is how it includes performers with paralysis.
"Normally when you do a benefit, you can't tell who's getting benefitted by it," Rosen said before the show. "But because of the nature of this benefit, you can literally see the people that are going to be helped, hopefully, in the long-run, by the work that the Christopher & Dana Reeve Foundation do."
Some of the evening's most moving moments came when performers with spinal cord injuries took to the stage. Director Marcia Milgrom Dodge's sister, Carole Lasser, played a George Gershwin song on the piano using just her right hand. Later, Ali Stroker, a contestant on the second season of "The Glee Project" who was paralyzed at the age of two, wheeled herself onstage and sang "Let Me Be Your Star" from the television series "Smash."
"Best use of a song from 'Smash' ever!" said White when she returned to the stage.
In between performances and jokes, presenters discussed the accomplishments of the Christopher & Dana Reeve Foundation and thanked the audience for supporting the cause. Galli was, for her part, ecstatic about the evening. With white-blonde hair and a shimmery dress, she seemed thrilled by Born for Broadway's success. And she certainly didn't forget where it all began — her brother came to the event as well.
"That's possibly the greatest gift, to have him surrounded by hundreds of people who are there to support him," says Galli. "What happened to my family was so horrifically traumatizing, but there's the hope for something good to be born out of that."