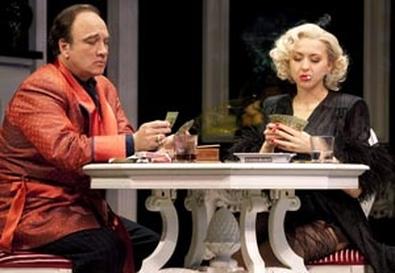 Having seen both Mary Martin and Madeline Kahn fail as Billie Dawn, I had come to the conclusion that Garson Kanin's "Born Yesterday" was too inextricably bound up with original star Judy Holliday's radiantly daffy persona to work without her. What a pleasure to discover I was wrong. The pugnacious Nina Arianda triumphantly makes the role her own, with perhaps just a gallant nod to Holliday's indelible performance, in director Doug Hughes' loving and intelligent revival at the Cort Theatre. Arianda is aided by comparably fine turns from co-stars Jim Belushi and Robert Sean Leonard, reminding us that the proceedings aren't just about Billie. Backed by a crackerjack supporting cast, the trio brings Kanin's comic engine of a play to clattering life.

This variation on the Pygmalion myth has coarse junkman Harry Brock hiring investigative reporter Paul Verrall to smarten up Harry's dumb blond ex-chorine girlfriend Billie, so that she won't embarrass Harry socially as he works the levers of power in immediately post–World War II Washington, D.C. Paul, who hopes to uncover governmental corruption, does his job too well, however, which becomes quite a problem, as most of Harry's various business enterprises have been put in Billie's name to avoid scrutiny. Even worse for Harry, Billie, whom he genuinely loves in his own twisted way, falls for Paul and vice versa.

Holliday's performance was built on the contrast between Billie's loud crassness with Harry and her amusing attempts to appear ladylike. Arianda takes a harder-edged approach, giving us at first a Billie who is willfully ignorant and unconcerned with how others may perceive her. When, early on, she comes on to Paul for a quick roll in the hay, it's the action of a woman used to taking what she wants. Arianda makes Paul's unavailability Billie's door to learning. Self-improvement is just her means to an end, so when Billie begins to understand why knowledge matters, her dumbfounded reactions are both immensely entertaining and convincingly maturing.

Whether Billie is struggling to remember her given Christian name (Emma) or snapping to sharp attention when Harry suddenly bangs his shoe on the coffee table, Arianda's comic timing is a precise delight. She also looks smashing in Catherine Zuber's parade of handsome and colorful period outfits and brings a vibrant sexuality to the part. When Billie finally rises up and takes control of her life, Arianda pulls all the strands together into an immensely satisfying whole.

Belushi's Harry is a bull crashing about John Lee Beatty's elegant, richly appointed hotel suite, as convincing in his need for Billie as he is in his bottomless appetite for power and money. The actor can turn on a dime from endearing to nasty, and while commendably not sugarcoating the character's viciousness, Belushi also correctly refuses to make Harry a villain.

Leonard provides intriguing subtext to the terse Paul, who plays his cards close to his vest and could easily become a caricature of the strong, silent type. In Leonard's hands, Paul is more of a brainy Clark Kent who blossoms into a bold hero just as (and because) Billie is blossoming herself.

Excellent support comes from Frank Wood, as a self-loathing lawyer working for Harry (watch Wood's subtle reaction when Billie calls Harry a fascist); Terry Beaver, as a corrupt senator increasingly embarrassed by the company he's keeping; and Michael McGrath, as the brusquely efficient Eddie, Harry's right-hand man and cousin. Also popping out is Patricia Hodges' very funny senator's wife, who's determined to stay above the fray and clearly obsessed with Eleanor Roosevelt.

Definitely a play of its time, "Born Yesterday" moves at a more leisurely pace than contemporary works and is unembarrassed by its idealized political message concerning a democracy's need for an informed citizenry. I hope that won't stop younger audiences from enjoying it. Me, I had a ball.

Presented by Philip Morgaman, Anne Caruso, Vincent Caruso, Frankie J. Grande, James P. MacGilvray, Brian Kapetanis, and Robert S. Basso, in association with Peter J. Puleo,
at the Cort Theatre, 138 W. 48th St., NYC. Opened April 24 for an open run. Tue., 7 pm.; Wed.–Sat., 8 p.m.; Wed. and Sat., 2 p.m.; Sun., 3 p.m. (212) 239-6200, (800) 432-7250, or www.telecharge.com. Casting by Jay Binder/Jack Bowdan.