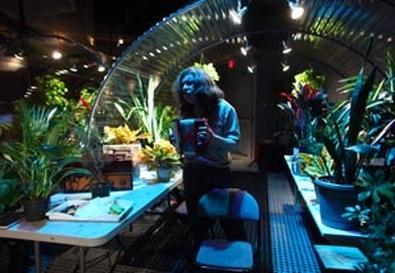 Jim Findlay's "Botanica" is a large, immersive multimedia production ruminating on the consciousness of plants, as well as on their—ahem—relations with humans. Much like the contact wires and electrodes that periodically zap the flora in set designer Peter Ksander's magnificent bio-habitat, writer-director Findlay and his co-writer, Jeff Jackson, use frequent jolts of loony passion, audio feedback, and human-plant sexual interaction to offset the procedural malaise of two botanists running bizarre tests. "Botanica" is most certainly mad, and though Findlay allows its errant buds of whimsy to germinate perhaps a little too long, it's also mad fun.
Before taking your seat in the 3LD Art & Technology Center, you must pass through the greenhouse portion of Ksander's manifold set, which features convincing plant designs by Rob Besserer. The stage is divided into four completely functional areas, allowing us to follow the cast members (who use their own names) in that greenhouse, their lab, their residences, and the gym as we track their downward spiral into feverish hysterics and psychedelia. Liz Sargent, who plays the more sexually charged and intuitive of the wayward botanists, soon discovers that the spores that have grown on the plants produce a high if consumed. At that point it becomes counterproductive to try to find any sort of reality in the wanton narrative, though the orgasmic houseplant did seem quite authentic.
A collection of cameras and monitors throughout allows for many superb scenes of simultaneous action. Perhaps the most stunning of these occurs while Ilan Bachrach, who plays an amusingly repressed fop of a scientist, rides an exercise bike. The exercise comes complete with simulated Parisian city streets from video designer Jeff Sugg and audio effects that sound designer Jamie McElhinney has repurposed from the video game Excitebike. This gym sequence takes place adjacent to an extended sequence wherein Chet Mazur, the deadpan plant keeper, courts a potted sail plant he's taken a fancy to by singing Velvet Underground songs to it, reciting French surrealist erotica, and watering it with whiskey.
Presented by and at 3LD Art & Technology Center, 80 Greenwich St., NYC. Feb. 1–25. Wed.–Sat., 8 p.m. (No performance Thu., Feb. 2; additional performance Sun., Feb. Feb. 19, 7 p.m.) (800) 838-3006 or www.brownpapertickets.com.