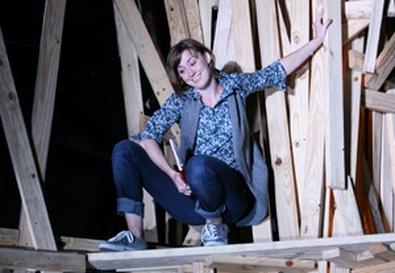 "When Worlds Collide" would have been a better title for Lucy Thurber's "Bottom of the World," an uneven comedy-drama that only half succeeds. The main character is Abigail, a young lesbian in mourning for her older sister Kate, a novelist who was killed in a fire. As Abigail deals with her grief, her new girlfriend Gina, and the crazed antics of the disintegrating family of her best friend, Susan, she reads her sister's last work of fiction. Scenes from the two realities alternate as Kate's ghost watches from atop Walt Spangler's weird set of bizarrely arranged wooden planks, which resembles a giant game of pick-up-sticks.
The "real" segments take place in contemporary New York and are smart, funny, and touching. Kate's book is set in rural Massachusetts and this "fictional" world is fake and forced. The people in New York seem to have real, messy lives, while the characters in Massachusetts resemble an author's devices to illustrate points. The NYC milieu is reminiscent of Woody Allen's better films, such as "Hannah and Her Sisters" and "Manhattan," with intricate webs of relationship among friends and family. Abigail's battle with depression is contrasted with Susan's tartly funny conflict with her mother, Louise, who has left Susan's father, Marshall, for a young French tutor and the promise of a higher quantity and quality of orgasms. The predicaments of the "real" people have the ring of authentic pain seen through a comic lens.
The fictional characters and their conflicts are pale and thin by comparison. Kate's plot centers on Josh and Ely, two farm boys and best friends—masculine versions of the sisters—who grow apart when Josh marries Dana, the girl both of them love. The central themes are the inability to really know another person, no matter how close you think you are, and the transitory nature of all human relations. Thurber hits these ideas on the head in the novel but handles the topics more subtly in the Manhattan parts. But just in case we don't get it, she gives us a big explanation in the final fadeout, with characters from both realities delivering lines about death and parting, just as in "The Shadow Box."
The cast does its best with the difficult material, and director Caitriona McLaughlin delivers a tight production. Crystal A. Dickinson illuminates Abigail's need for joy despite her overwhelming sorrow. Jessica Love attempts to bring vitality to the dead Kate, but the character is basically a ghost, with little or no positive action to play. Kristin Griffith—she was the middle sister in Allen's "Interiors"—enacts two mothers with wit and restraint. Aubrey Dollar gives Susan an edgy intensity and Dana a sweet strength. As Josh and Ely, Brendan Griffin and Brandon J. Dirden are defeated by Thurber's stilted dialogue. K.K. Moggie conveys Gina's confusion over Abigail's inconsistencies and gives Sally, a young woman who may have a crush on Dana, a deep inner life.
The reliable character actor Peter Maloney is the standout as the weepy Marshall and the sage Paul, Josh's father. This veteran performer skillfully limns Marshall's stunned inability to deal with his wife's sudden departure and Paul's solid ability to handle his son's newlywed jitters. It's a masterful dual turn, fleshing out the demands of both worlds. Too bad Thurber could not pull off the same trick.
Presented by Atlantic Theater Company at Atlantic Stage 2, 330 W. 16th St., NYC. Sept. 14–Oct. 3. Tue.–Sat., 7:30 p.m.; Sat. and Sun., 2:30 p.m. (212) 279-4200 or www.ticketcentral.com. Casting by Telsey + Company.