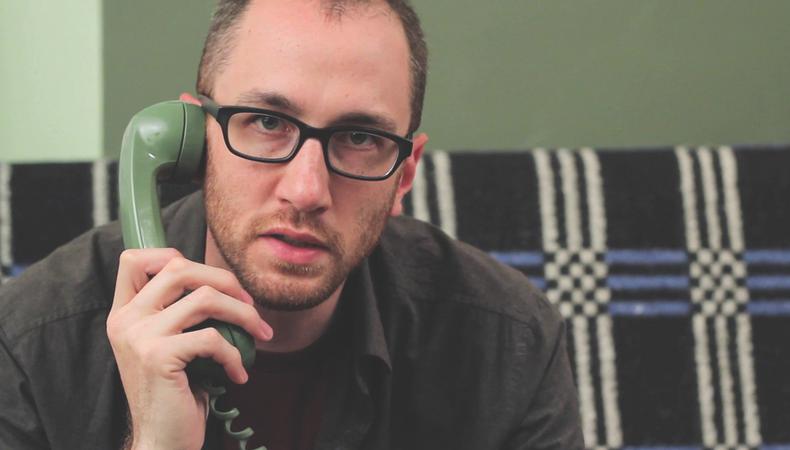 When Adam Dorsey told his friends about his Web series, they all made the same joke: "You ripped off 'Boyhood.' "
"Yep," Dorsey says, "I ripped it off 12 years ago."
Dorsey's Web series, "Magic Phone," does share timeline similarities with Richard Linklater's Oscar-nominated film, namely that Dorsey shot half the footage 12 years before the series premiered in October 2014.
Ostensibly, that's where the similarities end. "Magic Phone" features Ron (Dorsey's friend Curtis Retherford) talking to himself through the series' titular communication device. Rather than warn his younger self about important events that will shape history, Ron tells him about the television shows he'll eventually see and breaks the news that he'll start to bald. "You need to fix this; you're the John Connor of my hair," Ron warns his younger self, referencing the Terminator franchise.
Dorsey, along with writing partner Nathan Smith, began shooting "Magic Phone" as his senior project at the Evergreen State College in Olympia, Wash., alma mater of "The Simpsons" creator Matt Groening. The older footage, shot on a Mini DV camera that Dorsey notes probably cost three times the amount of his current Canon DSLR, was originally two sitcom episodes, very much rooted in its time (hence the O.J. Simpson references).
Dorsey, Smith, and Retherford decided to revisit the old project when Retherford, a veteran UCB performer, visited Dorsey and Smith in Los Angeles. "This was really just a project that started with 'Curtis is coming to town; let's do something other than touristy stuff,' " says Dorsey, who also plays Tracy, Ron's roommate. But the trio didn't want to just talk about making a Web series; they wanted to actually have a complete project by the time Retherford returned to the East Coast. "We didn't want there to be a budget; we wanted to make sure we actually did it, so there's no crew—it's just us," Dorsey says. "Perhaps it suffers a bit; it's not lit as well as it should be, and that bothers me as a filmmaker, but it probably wouldn't have gotten done if I called in a bunch of favors." The seven episodes were shot in only two days in Dorsey's apartment.
The challenge was writing around the footage that already existed. "[The old footage] was a lot different than the new stuff," Dorsey says. "It's obviously worse because I was a college student. It was meant to parody that '90s sitcom that I had been watching my whole life." They had to write the jokes after the fact.
In that way, "Magic Phone" is similar to "Boyhood," showcasing Dorsey, Smith, and Retherford's evolution as creators and performers.
Dorsey says he would love to make more episodes of "Magic Phone," although it's not an easy task. "We have the joke, 'Should we write more stuff now? Get all the filler stuff we can use in the next 10 years?' " Dorsey says. "Or Curtis could put on a lot of weight in the next year and we could make more sooner."
Like this story? See more of our Now Streaming articles here!