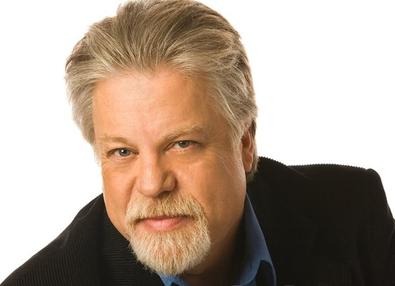 During his 22 years as Dr. Tony Jones on "General Hospital," Brad Maule suffered gunshot wounds, impotency, temporary insanity, temporary blindness, and four brain surgeries before his character was finally done in by encephalitis in 2004. But in that time, Maule established himself as one of the most popular actors on daytime TV, earning two Emmy nominations and a host of adoring fans—whose letter-writing campaign even resurrected his character when the producers first tried to kill him off.
Now, Maule is not only back in his native Texas but at his alma mater, Stephen F. Austin University, enjoying a comparatively easier life as an acting and filmmaking lecturer. Here, he chats with us about his Texas roots, his life as a doctor on TV, and the retirement of GH's other star, Anthony Geary.
Growing up you were a farmer. How did you transition from farmer to actor?
I went to a small country school that had about 150 kids total for all 12 grades. And once a year they'd hold a talent show for the entire school. From the first grade on I was in it. When I was 13 my brother died, and I went to live with my grandparents; at that school they had actual plays that I took part in. So that's where it began.
I chose Stephen F. Austin for college because it was a rainy, beautiful place—West Texas never rained. I first thought I'd be a lawyer but I couldn't stay away from performing.
Did you get your big break right away?
When I graduated I drove to L.A. with $600 in my pocket. I was scared to death. After six weeks I had $11 left and was thinking of going back to the farm when I got a job with a singing group. I was on the road for a year and then spent a year in Hawaii singing backup for Don Ho. But by then I was in my early 20s and already thought my life was over—I wasn't doing what I wanted. So I moved back to L.A.
It was during the American Music Awards that I got my break. I filled in for Andy Gibb singing "Arthur's Theme" and the producer for "General Hospital" saw it. They called me in to audition for the role of Frisco Jones but then said I was too old. But they still kept calling, and eventually they told me, "You're gonna be his older brother."
How did you like working on "General Hospital"?
I really enjoyed it. It becomes a family for you. But it was different then—there were three channels on TV as opposed to 500. And everybody now has to work during the day, so there isn't the audience. Back then we used to have to say lines like, "I'm about to pull a gun out of the drawer," because our audience would be in the kitchen, or ironing, or somewhere other than the living room.
One of your most famous moments on TV is when you listen to your dying daughter BJ's heartbeat for the very last time.
Yeah, that's in the Hall of Fame of daytime moments, right behind Luke and Laura's wedding. During that shoot they were running late and asked if we could do it without a rehearsal. And I understood how to perform that scene because of what happened with my brother. What I tell my students now is you're just mostly doing the work—but every once in awhile a wave comes and picks you up, and your work touches people when you never thought it would.
Why were you eventually let go from "General Hospital"?
You never really understand the mechanics of it all. But if you were over 30 and had been on the show for awhile they began to use you less and less. Also, when a new producer comes in, they try and put their stamp on things by getting rid of the old regime. It's the same everywhere. But I'm happy to say I survived eight producers.
It was a pretty painful period for me though. And it's harder to get jobs when you're older—I'd walk into a casting office and they'd see Dr. Tony Jones.
So how did you end up back in Texas?
I didn't intend to—I was just looking for places to live, and Nacogdoches was just a nice place. I fished for 30 straight days there just trying to get my head together. And I slowly started teaching and it's been great. Since I've been at SFA our film program has expanded from 17 to 100 students—I'd like to take credit for that, but it coincided with the digital era.
What do you teach?
I teach acting for the camera, acting for theater, and beginning filmmaking. When I first taught acting I had to reverse engineer what I'd been taught—I was like, "Just act!" Because in the soap world there's no time to find your character. So I had to change a bit, but I'd say I still fit the [David] Mamet style of acting. I've also found that one of the best techniques is to film an actor and then show his work back to him, so he can actually see what's he's doing right or doing wrong.
Is there one piece of advice you give all actors?
A common piece of advice I give is—you're telling a lie as if it were the truth. And I tell them to stop flipping the actor switch because we can see it. I also say that if you're lucky enough to get a soap but feel like you're too good for it, you're lessening your chances for something better. You can't have one foot in and one foot out. I believe in complete commitment, even when I did dinner theater where people are eating during your performance.
Talk about SFA's Film Festival.
Yes, it's the Nacogdoches Film Festival—we've grown so much over the past four years. And we've been able to raise enough money to have panelists like George R.R. Martin from "Game of Thrones" and Charlaine Harris who wrote the "True Blood" books. We also have a great benefactor in Joe Lansdale, who wrote "Bubba Ho-Tep" and "Cold in July."
Anthony Geary is retiring as Luke Spencer, a role he held for 37 years on "General Hospital." What was he like to work with?
Tony is a wonderful guy. He never fell for the hype of being the most famous soap opera actor. He burns hot and loves his work and has a passion for it.
He doesn't turn the acting switch on and off?
No, if anything he turns yours off.
Inspired by this post? Check out our Texas audition listings!