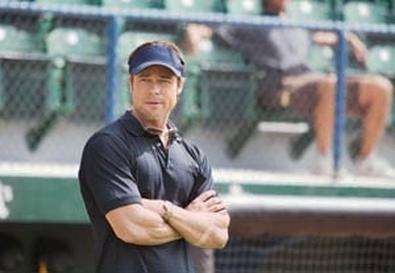 Brad Pitt is a bit of a puzzle. One of the best character actors working today, he's trapped in a leading man's bone structure. And his choices defy traditional Hollywood logic; after bursting onto the scene in 1991 as the small-time hustler who seduces Geena Davis in "Thelma & Louise" and as the beatific brother of 1992's "A River Runs Through It," he likely had his pick of big movie roles. Instead, he grew a wild beard, had his front tooth chipped by a dentist, and appeared not to wash his hair for weeks to play a crazed killer in the indie "Kalifornia."
Pitt's career would continue this somewhat schizophrenic pattern; for every big-budget blockbuster he appeared in ("Interview With a Vampire: The Vampire Chronicles," "Ocean's Eleven," "Troy"), he would lend his star power to a smaller movie that likely wouldn't have gotten made without his participation ("The Assassination of Jesse James by the Coward Robert Ford," "The Tree of Life"). Sometimes he found projects that combined prestige with box-office appeal, such as "Inglourious Basterds" and "The Curious Case of Benjamin Button." But what seemed most important to Pitt was to work with the best filmmakers in the business—David Fincher, Quentin Tarantino, the Coen brothers, Terrence Malick. The size of his roles seemed secondary to being part of a great story.
So it's no surprise that Pitt frequently cites great films of the 1970s and filmmakers such as Hal Ashby or actors such as Gene Hackman when talking about the works that inspired him. Last year, Pitt produced and starred in two features that he was drawn to largely because they reminded him of the films he loved growing up. In Malick's experimental drama "The Tree of Life," Pitt won raves for playing the strict father of two boys growing up in 1950s Texas. But it is "Moneyball" that has earned Pitt some of the best reviews of an esteemed career. As Oakland A's general manager Billy Beane, who implemented a scientific formula to assemble a winning baseball team with little money, Pitt charms, rages, and obsesses in a performance that is exhilarating to behold. And just this week, it earned Pitt his third Oscar nomination for acting.
It would be easy to resent Pitt, an actor who makes everything he does look so natural. Take it from his "Moneyball" co-star Jonah Hill. "You know what sucks about Brad?" Hill says with a laugh. "Here's what sucks about him: He's super good at acting, he's got a great career, he's a great guy, and he's funnier than me! It's bullshit—I am so sick of it. He can't let me have that one thing!"
In addition to speaking at a recent Q&A, Pitt sat down with Back Stage to talk about his lengthy career.
Back Stage: When did you first realize you wanted to be an actor?Brad Pitt:
I grew up in Oklahoma and Missouri, and I just loved film. My folks would take us to the drive-in on summer nights, and we'd sit on the hood of the car. I just had this profound love for storytelling. I think it's just an amazing thing we get to do. We're so complex; we're mysteries to ourselves; we're difficult to each other. And then here's this storytelling that reminds us we're all the same. I consider it such a privilege.
Back Stage: Did you have anyone who mentored you or really guided you in those early years?Pitt:
When I first moved to L.A., I discovered Roy London. I didn't know anything about the arts, the profession; I had no technique, I knew nothing, I'm fresh from Missouri. I sat in on a few classes, and they just felt a little guru-ish and just didn't feel right to me. Until I met Roy.

Back Stage: How did you find him?Pitt:
I was taking all these odds jobs, and one of them was driving strippers around to bachelor parties. My job was to get them there, get them home, collect the money, play the music, and catch the clothes. For real. It was a very interesting education and paid really well, so I did it for three months and then decided I was going to move on. The boss said, "All right, but just come in one last night. I need you to do Sunday; I'm in a pinch." And this woman turned out to be dating an actor. I didn't know any actors or know anyone who knew any actors. She said she started this class an actor told her to go to. I asked for the name and went to check it out and felt like this was a really good direction. I learned so much from that man. I miss him.
Back Stage: Did he teach a specific method or kind of create his own?Pitt:
It was kind of based on Uta Hagen, but I think [Roy] really made it his own. He was tough, lovely, compassionate, tough. I give him full credit for pointing me in this direction. I studied with him for three years, I think, then started getting some work. Then I would work with him individually on projects. He loved film, and he loved storytelling. And he loved the individual and looking at what each person could bring to something.
Back Stage: From the beginning of your career, you've made really interesting choices in your roles and collaborators. You could have just made big studio blockbusters—and there's nothing wrong with those; I like them—Pitt:
You and me both. I enjoy them. But I actually wouldn't be very good at them.
Back Stage: Why not?Pitt:
It's just not my interest. I grew up on certain movies, particular movies that said something to me as a kid from Missouri, movies that showed me places I'd yet traveled, or different cultures, or explained something, or said something in a better way than I could ever say. I wanted to find the movies like that. It was less about a career than finding the films I wanted to see.
Back Stage: You obviously play leading men, but I think of you as a character actor—Pitt:
I appreciate that!
Back Stage: But because you are a star, did you ever worry you wouldn't get the character roles? Have you ever felt underrated as an actor? Pitt:
No, I thought I could always get there or make that turn as long as they let me stay in the game. Listen, I've been pretty fortunate. And if I've been underrated, it's actually been something I've been able to work with; I can surprise people. It sets me up to exceed expectations, so I don't mind.
Back Stage: What's your favorite part about being an actor?Pitt:
I'm at an age now where I get to start looking back, I guess. And there are some really amazing people I've been able to hang out with and work with. Hollywood gets dubbed this place of extreme vanity and neediness—and I guess it's there—but that's not the crowd I've seen or run with. I've found the most interesting, curious, engaging people in this funny thing we call storytelling. I love working with them, and I love the moment right before "Action" and the bell rings, and you don't know exactly what's going to happen; you just start following a vein of thought. And I love the surprises that come from that. And I love stories. I think it's an amazing thing we get to do; we get to contribute to the Zeitgeist of our time. I don't know how much relevance that has—we're not eradicating T.B.—but I don't diminish it either. I think there's really something to getting to tell stories that investigate or laugh at what paradoxes and quizzical things we are.
Back Stage: You've also gotten into producing, and spent years trying to get "Moneyball" made. How did the story find its way to you, and what attracted you to it?Pitt:
Aaron Sorkin described the making of this film the other day. He said, "There are easy films, there are difficult films, then there's 50 feet of crap, then there's 'Heaven's Gate,' then there's us." It was an arduous undertaking. There was a first attempt at a script, and I felt there was something there, but it was geared to more of a major league kind of slant, more comedic. Then I read the book and became rather obsessed with this man's story, who was labeled a failure in some ways. And these ideas of value—how we value ourselves, what are we worth to each other, and is this system even accurate? And then we started. Economics is not the most edge-of-your-seat subject matter, so it took us a few years to get it right. And we found [director] Bennett Miller.
He's not getting enough credit for how much authorship he has of the film. I think he's going to be one of our best.

Back Stage: What was the most unusual or difficult part about making the film? Pitt:
Something that I think is particularly interesting to actors: Bennett was intent on bringing in real baseball insiders. Therefore they're not actors, a lot of the baseball players and scouts; they're not trained as we are. And he very wisely said, "Don't say the lines; put them in your own words." Then it became incumbent on us to respond to that, which can be very exhausting. You've got to be on your toes at all times. And these guys know baseball certainly more than we do. The interesting thing—and it was the same thing in "Tree of Life," working with kids who didn't know the script and weren't actors—there's a spontaneity that happens; there's a freshness that happens that's up on the screen that I really, really enjoy. I'm questioning myself how to bring it into future projects, because I think it makes that little bit of difference in what we do become more alive. You are really in the moment. I hope to be able to do more of that.
Back Stage: You were also a producer on "Tree of Life." Is it true you didn't originally intend on acting in it?Pitt:
Yeah. Our actor fell out, and suddenly the film was in jeopardy, and it was looking like it was going to go away. So I said, "Fuck it—I'll do it." That movie was a challenge to get made and get the money for. Terry and I grew up in similar kind of country environments, and we certainly have a kinship.
Back Stage: Another director you've collaborated with a lot is David Fincher.Pitt:
He's a great friend. Sharp as a knife and wickedly funny. I will absolutely be working with him again.

Back Stage: What do you make of his reputation for doing multiple takes of a scene?Pitt:
It's not… [Laughs.] You know, it's not true. There are times when it's a big technical thing and that happens. But it is this moniker he's received. But once it's down, it's there, it's in concrete.
Back Stage: And isn't it a good thing to be able to do lots of takes?Pitt:
It can be. But on "Tree of Life" we just did two takes on everything. And the second take was completely different from the first. So I can go either way.
Back Stage: Although I'm assuming you haven't had to audition in years, what is your take on the audition experience? Pitt:
Bennett talks about this a lot; a lot of times, what it takes to get elected to office has nothing to do with what it takes to govern. I find that true about the auditioning process, as well. You're sitting in a room, and you all kind of look alike, and you're all going over your lines, and you can hear the audition going on inside. And you have these few pages of black lines on white paper, and it says you smile here, you do this there. You start hearing the same thing over and over. Now you think of the people on the other side there, the people that are running the casting sessions. By the third, the fourth, the 10th, the 20th, they're hearing the same thing, and then suddenly somebody comes in and does something different. And it lands. Now you can't be different for different's sake, and this doesn't always work, but you have to separate yourself from the normal read. Of course, it has to be truthful. If it's not truthful, don't waste your time. I think that's a key thing that took me a while to figure out.
Back Stage: Is there anything else you know now that you wish you'd known at the beginning of your career?Pitt:
When you first get opportunities, suddenly you get surrounded by a lot of people who want to make money off you but also are there to help. But they start telling you so much what you need to be and what you need to do to maintain some idea of career maintenance. When you start out, it's very discombobulating, and you are ill-defined at that point as far as direction, what stories are personal to you. So there's two things I'm saying here; at that point, I wish I knew just to follow what was interesting to me. Because we're actors, we want to tell stories, we want to tell personal stories. And not just something you can plug any one of us in and basically get the same thing. Get into something that's really personal that means something to you, where you have something to say and is something really individualized. I wish I was more aware of that then instead of doing a few things I was told would be good for me. And they weren't, because it left me empty, so I didn't do a good job anyways. I think that's what's key to what we do: It's got to be personal.
---
What's So Funny?
At a Jan. 15 Q&A sponsored by Back Stage and SAG Foundation, Brad Pitt and Jonah Hill spoke to a packed house about their work on "Moneyball." One topic of discussion was a blooper reel on the DVD that features Pitt laughing hysterically for almost a full three minutes. The scene in question is one near the end of the film, when Hill tries to show him video of a baseball player who hit a home run without realizing it, and Pitt attempts to collect himself several times, to no avail. When asked what he was laughing about, Pitt put the blame on his co-star. "I can't tell you what he said. It's so wrong. So wrong," Pitt said. "This is the guy who did 'Superbad.' Just head in that direction, then go further." Though he wouldn't reveal what he said, Hill responded, "Movie shoots, sometimes you're there for like 12 or 15 hours, and sometimes you get joy out of trying to make the other person laugh when you're not on camera. I think that is one of the gifts of being an actor, is trying to see how someone handles it when they're getting told the dumbest things on the planet, and they have to actually react like they're watching something serious or they're moved by something. I had a really great time." Quipped Pitt, "I know you did."