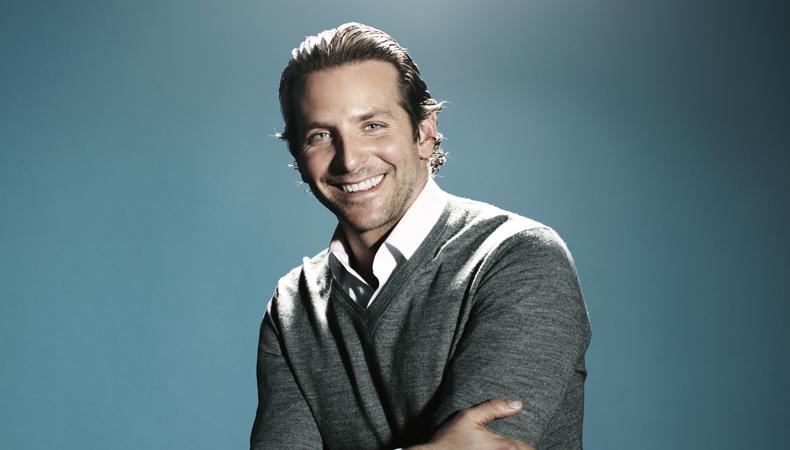 Bradley Cooper didn't have a whole lot of time to prepare for his starring turn as Pat Solitano, the brash, damaged soul at the center of filmmaker David O. Russell's "Silver Linings Playbook." In fact, he had no time.
The actor was shooting a movie called "The Place Beyond the Pines" in Schenectady, N.Y., when Russell phoned and asked if he wanted the role. The only catch: "Silver Linings Playbook" was set to start filming in a matter of weeks.
"I wrapped and I drove my car from Schenectady to Philly and we started the next day," says Cooper. "It was something else."
Relaxing on the scuffed leather couch in his tidy home office, Cooper projects a warm, down-to-earth vibe as he recounts the whirlwind "Playbook" experience. While there's no doubt he's attained movie star status—thanks to megahits such as the "Hangover" franchise and respected art-house fare such as this year's "The Words"—he still seems like a regular guy who's genuinely thrilled he gets to do what he loves for a living.
That may be why the quick transition between films didn't really faze him. "You know, I've never had the luxury of being able to be like, 'Well, let me take six months and get ready for something,' " he says with a chuckle. "I've always just sort of been lucky to get hired."
Cooper initially met Russell when the two were set to work together on "Pride and Prejudice and Zombies." That project fell through, but the duo discovered they shared a similar storytelling sensibility; Cooper ended up taking on an executive producer role for "Silver Linings Playbook," which is based on the novel by Matthew Quick and captured the People's Choice Award at this year's Toronto International Film Festival.
"What turns me on is the storytelling process as a whole, not just my character," says Cooper, who also served as both star and executive producer on the sci-fi caper "Limitless" earlier this year. "When the director allows you to be a part of that collaborative process, it means you're probably going to be a part of the movie after you wrap."
Cooper was thoroughly invested in all aspects of the character of Solitano, a short-fused straight talker trying to put his life back together after spending eight months in a mental institution. Aiding him in his quest are his put-upon parents (Robert De Niro and Jacki Weaver) and a fierce, socially inept young woman who upends his world (Jennifer Lawrence). In one particularly crowd-pleasing storyline, Cooper and Lawrence perform a flashy—but decidedly amateur—dance routine, complete with Patrick Swayze–worthy lifts.
"The first time I met Jen, it was in the dance studio," remembers Cooper. "We had never met each other and the next thing you know, we're, like, sweating, trying to learn these dance moves. It took a lot of time to get those down—as badly as we did them. But the cool thing is you're also doing them as these characters, which is really fun."
Does that mean we might see Cooper showing off his moves in a "Dancing With the Stars"–style competition one day? "I don't know if I'd be lucky enough," he says, laughing.
Cooper took on a physical challenge of a completely different kind when he played the title role in Bernard Pomerance's "The Elephant Man" this summer at the Williamstown Theatre Festival. The actor has long been fascinated by Joseph Merrick, the severely deformed "elephant man" who also inspired David Lynch's 1980 film starring John Hurt. That film, says Cooper, made him want to become an actor. And he performed the play as his thesis project while studying at the Actors Studio Drama School at the New School University more than a decade ago.
Cooper recalls that he did extensive research for his thesis project performance, traveling to the hospital where Merrick lived in London and drawing up a map of Merrick's anatomy. "You know, all that sort of acting school stuff," he says, grinning. "I figured out exactly what it would be like for him to have to go to the bathroom. Day-to-day stuff. And then you let all that go, and this thing kind of happens. I do feel like it's the only time I've done a role where I'm sort of stepping aside and letting this guy in."
While Cooper used that long-ago research to fuel his Williamstown work, he also felt a definite difference between the two performances.
"This time, I was much more willing to fail onstage, willing to allow the moment to occur. I felt like I experienced many more moments in these scenes than I did before," he says. "If moments are like a trip on a road, I went from the beginning to the finish line and just sort of drove past everything when I did it in school. This time, I stopped at many different places; I was able to take in much more along that path."
The experience was so fulfilling that Cooper hopes to take the play to Broadway. In the meantime, he's got plenty keeping him busy. "The Place Beyond the Pines," also starring Ryan Gosling, comes out in March; he's reteaming with Lawrence for the period drama "Serena"; and both a third "Hangover" and another collaboration with Russell are in the works.
Still, Cooper keeps things in perspective. He's been acting long enough to know that no matter how much work you do, Hollywood always wants to put you in a box.
"When I did 'Alias,' I played the nicest guy in the world," he says. "And auditions that I would go on during that time period—and maybe this was the energy I was bringing to it—they would say, 'He just doesn't have an edge.' And then with 'Wedding Crashers,' where [director] David Dobkin really took a chance with me, all of a sudden it was 'Isn't he an asshole?' So I really did experience the pendulum swing completely."
Not that it discouraged him. "You definitely realize quickly in this business that, as Elia Kazan said, 'If you're going to play a cowboy, show up with the horse at the audition,' " he says. "You really have to change people's minds."