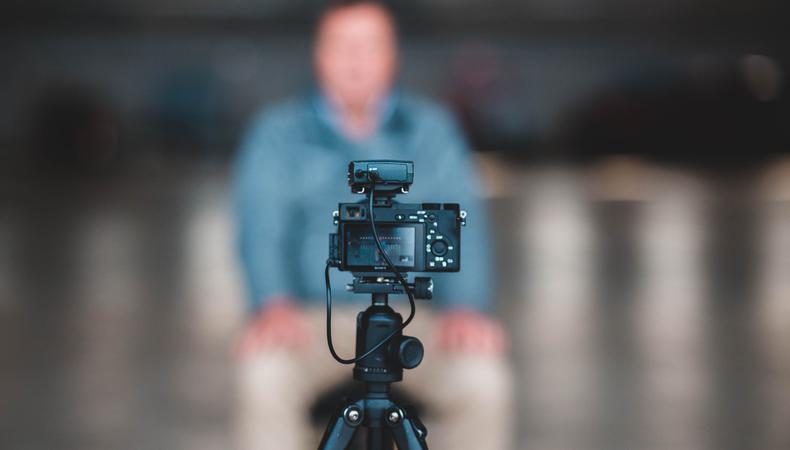 It's a hard time for actors as productions, auditions, and even side gigs and survival jobs are canceled, but not all has stopped! Talent is still needed for a growing list of remote work for performers, from promos and testimonials to video games, web series, and voiceover work. Make some money out of your time at home with one of these gigs seeking talent right now.
REAL COUPLES FOR SHAVE PRODUCTS
Real couples who are home together are wanted to film testimonial-style commercials for products from a shave club. Men and women with partners, aged 25–35, with fun personalities and fun partners are wanted. Both people in the couple must be in the same place to shoot together and those with skin allergies should not apply because they will be trying the product. A background in comedy is a plus. Shoot dates are based on talent's availability and pay is $150 per person plus product. Apply here!
"ANCIENT MYSTERIES" BRANDED SHORT
A major chip brand is casting a branded content short that parodies popular alien conspiracy shows. The roles are based on the interview portions of the shows that include professors, theorists, and historians. Two roles, one for an Alien Theorist, for talent aged 40 and older, and a narrator, for male voice talent, aged 25 and older, is wanted. Production timeline is currently TBD but will tentatively wrap shooting by the end of April. Pay is TBD. Apply here!
CORPORATE TRAINING HOME AUDIO RECORDING
An internal corporate training program on harassment is in need of non-union voiceover talent. The production is not looking for professional sounding radio or commercial voices but more of an interview style sound. Six roles are available for lead voice roles, aged 18–62. Recording will take place remotely in talent's own space and actors should be available to record beginning the week of April 13. Pay is $350 for a 2–3 minute recording, which includes three rounds if needed. Additional rounds will pay $100 each. Apply here!
HEALTHCARE VIGNETTE VIDEO
A series of vlog-style scripted videos that will supplement internal e-learning training for a healthcare organization is casting. Talent is needed to play a healthcare worker that will record one- to two-minute videos they shoot themselves. Talent, aged 25–50, is wanted for the role. Filming schedule is flexible but the production is aiming for the remote shoot to happen in mid-April. Pay is $1,000. Apply here!
Keep your skills sharp while staying at home with Backstage's digital seminars.
HARVEST PLATFORM VIDEO TESTIMONIAL
A campaign needs talent to recite improvised and testimonial explainer videos for social media. Videos will be about a bank fee negotiation that gets customers real refunds back from the bank. Actors, aged 18–40, are wanted to film a series of 8- to 12-second videos showcasing how Harvest has helped you. Improv and creative scripting experience is a plus. Videos record remotely and pay is $50 per video submission. Apply here!
"LOCKDOWN"
Male and female actors who live together are wanted for a short film. The 3–4 minute short thriller begins when a husband returns from his office and his wife is waiting to discuss an issue with him. Male and female actors, aged 23–35, who live together are wanted. The film will be self-shot from an already-prepared script and storyboards. Shooting takes place remotely based on actors' availability. Pay is $100 per person. Apply here!
ZENERGY FILMS PODCAST PROJECT
Voiceover artists with home studios are wanted to record content for a podcast project. Actors, aged 8–40, are wanted to record audio that is 15–20 total minutes from home. A one to two day turnaround time is required for all recordings. Pay is $5–$10 per finished minute. Apply here!
"POLYBIUS"
A one act play, "Polybius," is filling three lead roles to tell the story of three people who are called to a bad part of town to get an exclusive peek at a mysterious artifact from the 1980s in a garage. The three people find that their past and present are crashing together. The production is currently casting a Zoom stage workshop that will not be recorded. Male and female talent, aged 23–46, is wanted for the three roles. The digital reading will take place April 16 with a zoom meeting in advance to discuss the work on a date currently TBD. Pay is $100 for the discussion and workshop. Apply here!
"THE MAGPIE"
Short animated film "The Magpie" follows Dennis when he "crashes his car during a blizzard and finds himself in desperate need of rescue. One glimmer of hope in the distance turns out not to be the savior he needs." The role of Dennis needs a voice actor, aged 60–69, to bring it to life. This will be recorded over the phone during a two hour session. Pay is $180. Apply here!
INFLUENCERS AND ASPIRING INFLUENCERS
People with the ability to shoot influencer style content from home are wanted to work with men's and women's skincare, makeup, lingerie, and workout gear. Male influencers and aspiring influencers, aged 18–45, and female influencers and aspiring influencers, aged 18–65, who have a good home setup with good lighting and background are wanted. Shoot dates vary and are flexible. Pay is $150 per project. Apply here!
ASTROLOGY APP RECORDING
A 30–second Snapchat-style video for an astrology app needs a white female actor, aged 25–35, to record remotely by the end of april. Pay is $50. Apply here!
10 key dos and don'ts for a self-taped audition.
MAKEUP SELF-APPLICATION COMMERCIAL FOR MAJOR BRAND
Anyone interested in filming themselves apply makeup for an at home influencer-style video is wanted by a major brand to do just that. The brand will send product and people who are good at filming themselves for these types of videos will record themselves unboxing and applying the makeup. Recording should be done with your phone. Talent, aged 18 and older, is wanted to submit a 10–30 second video of themselves applying makeup and answering why you love makeup to be considered for the role. Products will be mailed the first week in April and recording will be done remotely. Pay is $250 for completed videos. Apply here!
TUTOR & TEACHER MOBILE APP COMMISSION
A commercial for a mobile tutoring app is casting someone to play a teacher. Male and female talent, aged 35–55, is wanted to record the commercial from home. Talent must know how to use a cell phone and have proper lighting. They will recite talking points about the product in a testimonial tone. Shooting will take place remotely from April 2–10. Pay is $250. Apply here!
PRESCHOOL ANIMATED MUSIC VIDEO WEB SERIES
Vocalists are wanted for ongoing work on a new preschool YouTube series. Male and female singers, aged 18 and older, who can sing nursery rhymes in a variety of styles are wanted. Singers should be comfortable performing dance, pop, island, hip-hop, or pop rock styles. The production is especially seeking versatile singers. All work is remote and pay is $150 per song. Apply here!
Your side hustle should inspire, not exhaust you—make sure you're doing it right.
VIDEO GREETING CARD EXPLAINER AD
A mobile app is looking for talent to remotely record video for promotional materials. Male and female talent, aged 18–50, is wanted for a variety of lead and background roles of people sending video greetings to someone for holidays and life events. All video recording will take place remotely and leads will be paid $100 per hour. Background will be paid $10 per video message selected up to 10 times per month. Apply here!
DYE YOUR HAIR ON CAMERA
If all this time inside has been making you think of ways you can change up your look, you can get paid to make that change. Women and real moms, aged 30–45, are wanted to dye their hair at home as part of a testimonial for a luxury hair coloring system. The shoot will take place in your home at an agreed upon time with help from a producer or director in person in Los Angeles or remotely elsewhere in the U.S. Pay is $250 plus product. Apply here!