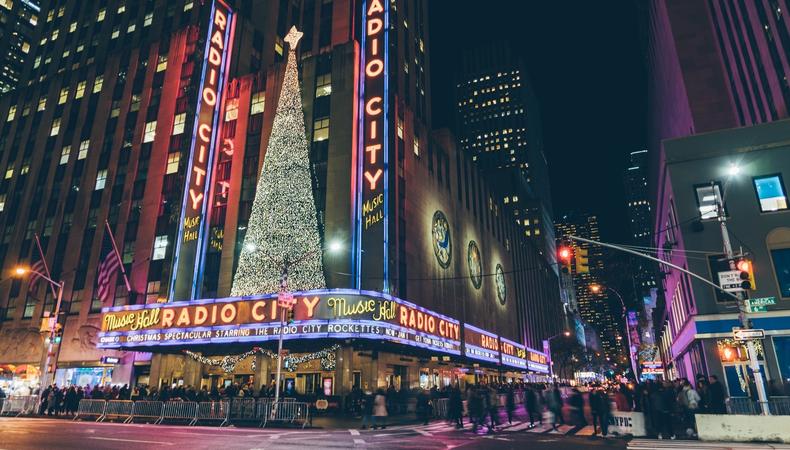 Whether you're looking to improve your sales skills or you want to take your performance talents to the streets of the Big Apple, there are brand ambassador opportunities for you from New York City to Los Angeles and in between. Read on to learn more!
RADIO CITY MUSIC HALL WINTER WONDERLAND
Male and female performers are wanted for an immersive experience that will take place outside of Radio City Music Hall. Performers will portray different characters in Santa's Workshop outside the iconic theater to enhance the experience of audience members on their way to see the famous Christmas Spectacular. Male and female talent, aged 18–35, with strong dance or movement, improv, and persona-building skills is wanted. Performers should have upbeat personalities and love holidays, theater, and people. Please note work will take place outside during the gig. Work will run from Nov. 8, 2019–Jan. 5, 2020 in New York City. Performers do not need to be available each day of the run. Pay is a competitive hourly rate. Apply here!
HAUNT EVENT SCARE ACTOR
A haunt event in Louisville, Kentucky needs an actor who can be "really scary." The company wants high-energy actors to portray a variety of scary characters. Performers, aged 18 and older, are wanted. Specific movements like crouching or standing for long periods of time, as well as vocalizing, might be required. Some actors will need to wear a mask or makeup. No formal acting training is needed for the roles, but improv actors who can play a character and have conversations with guests are wanted. The gig rehearses Sept. 30–Oct. 3 and performs throughout October on Thursdays–Saturdays in Louisville, Kentucky. Call time will be an hour before opening. Actors will be paid per hour of work. Apply here!
THE AMERICAN BOMBSHELL SINGERS
Singers and ambassadors are wanted for live, concert-style appearances with the American Bombshells, a retro vocal trio and 501(c)3 nonprofit. Performances take place in large and high profile venues as well as smaller events like fundraisers and military bases. Female talent, aged 18–35, of all vocal types, is wanted to be a part-time member of the group. Most gigs are in the Tri-State area, but some travel is required, usually for 2–4 days. Pay is $100–$350 per show depending on the location of the event. Travel, accommodations, and meals will be covered while traveling. Auditions are by appointment on Sept. 12 and rehearsals begin immediately. Apply here!
SUMMIT RETAIL SOLUTIONS BRAND REPRESENTATIVE
If you like being in front of a crowd, Summit Retail Solutions is hiring actors, entertainers, or performers of any kind to earn some money while refining their craft for show-style events. In this new division, products will be showcased in person to customers during live, interactive shows. Talent, aged 18 and older, is wanted for the gig. Training is paid and pay is hourly, $11–$14 depending on the region, with the opportunity for extra commission. Talent in Ann Arbor, Michigan and Memphis, Tennessee is wanted. Training will start the week after auditions. Apply here for Ann Arbor and here for Memphis.
TEQUILA BRAND AMBASSADORS
Qui Platinum Extra Añejo Tequila wants brand ambassadors to promote their product. Talent, aged 21 and older, is wanted for the gig. Ambassadors work Thursdays–Sundays in the New York City area and pay is $15 per hour with the opportunity for growth and higher pay. Apply here!
BLOOM BRAND AMBASSADOR
Outgoing, charismatic people with experience in the Cannabis industry are wanted to join Bloom as brand ambassadors. The role will serve as product experts who communicate knowledge of the product to clients and customers. Ambassadors are the face of the company and there are opportunities for growth. Male and female talent, aged 21 and older, is wanted in Palm Springs, Orange County, Sacramento, and San Francisco, California for part time work. Pay starts at $20 per hour and hours vary depending on your schedule and the needs of the brand. Apply here!