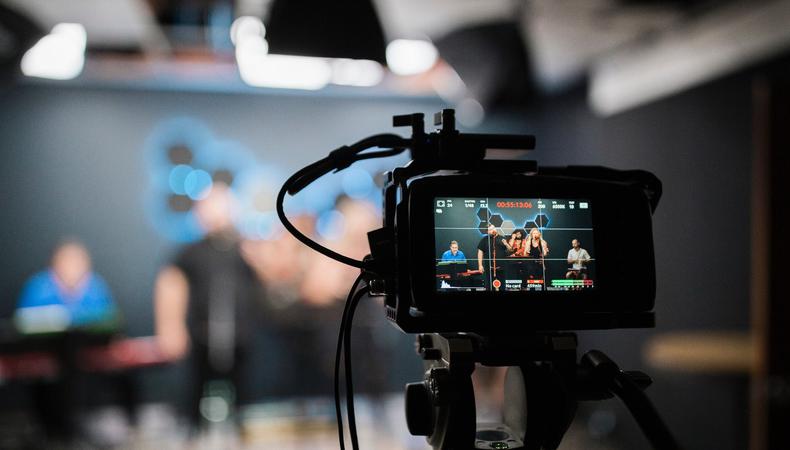 Though much in-person work is still on hold, there are still plenty of projects casting talent to work right from their own homes. Check out the listings of voiceover and video work below—you could find your next project without leaving your couch!
LIVE-STREAMING CASTING
IVY Entertainment is seeking talent for a paid contract gig with a live-streaming client. Singers, dancers, actors, musicians, comedians, models, and influencers, aged 18 or older, are wanted to create energetic live-streams in which they showcase their talents for an audience. Talent must fulfill a minimum of 30 hours and 15 days per month, and pay averages between $1,000 and $3,000 per month. Apply here!
DIGITAL COMMERCIAL
Crisafulli Films is seeking voiceover talent for an upcoming digital commercial. An actor, aged 18–55, is wanted. Talent will record remotely from home. Pay is $500. Apply here!
"FRIENDS WHO TALK ABOUT MONEY"
The podcast "Friends Who Talk About Money" is casting participants for its second season. In the podcast, friends and relatives discuss finances with an expert who can offer a professional perspective and advice. The podcast is seeking seven types of participants, including people who've had a financial dispute with a family member, friends with college-aged kids, and friends talking about their salaries, among others. Talent, aged 20–65, is wanted. Recording will take place remotely in December, and pay is $300 for five hours. Apply here!
REMOTE TOOTHPASTE AND SOAP PROJECT
Southeast Asian female talent, aged 18–34, is needed for a remote toothpaste and soap project in which she will be in a bikini or bathing suit in a tub, rubbing soap on their arms and legs. This is a director-assisted remote shoot which can be shot on a phone; however, if talent lives in the Los Angeles area, this project can be shot in a studio. Multiple versions of the project will be shot between October and November. Pay is $250. Apply here!
PIZZA APP VOICEOVER
An actor, aged 18 or older, is needed for a "fast-paced and exciting" voiceover for a pizza app. Talent will record remotely. Pay is $200. Apply here!
10 key dos and don'ts for a self-taped audition.
SOFTWARE COMMERCIAL
"A talented, energetic, and refined voice actor" is wanted for a software company's video commercial. Male talent, aged 18–65, is wanted to record remotely for the commercial. Recording will take place this month. Pay is $200 plus copy and credit. Apply here!
PET PLAYTIME SKIT
Creators are wanted for a self-shot pet playtime skit for a mobile game app. A pet owner, aged 25–50, and their pet are wanted for the skit. Recording will take place remotely. The pet owner will submit a few shots of themselves playing with their pet and playing a game on their phone. Pay is $100. Apply here!
VIRTUAL HOSTING OPPORTUNITY
Virtual hosts are wanted for an online trivia platform. The gig would be part-time and ongoing with the right person. Hosts should be "quick on their feet, good with Zoom, patient, and poised." Hosting duties would take place on Wednesdays and Thursdays. Hosts, aged 18 and older, with a stable internet connection, greenscreen, or computer that doesn't need one, are wanted. Talent will work remotely. Pay is $50–$100 per hour. Apply here!
DOG PERSON TIKTOK TALENT SEARCH
Barkbox is looking for content creators who can "speak to" dog people, from a normal video to something completely original. The brand is looking for content that features their products in order to grow their following and presence on TikTok. TikTok talent, aged 18 and older, is wanted. Pay is on a per-TikTok basis with bonuses for different view tiers on Barkbox's handle. Pay is $200–$750. Apply here!
FACE FOR A YOUTUBE CHANNEL
Instructional videos about health and beauty are in need of a face. Actors will fim remotely at home using their own equipment and a neutral background. Hispanic, Middle Eastern, or White talent, aged 30–45, is wanted. The production will send a script for each five-minute video. The team plans for this to be a long term collaboration. Pay is $250 for six videos with the potential to continue working beyond the first set of videos. Apply here!
Keep your skills sharp while staying at home with Backstage's digital seminars.
"THE DELLS"
"The Dells," in which the government has incorporated population control into everyday life to fight off climate change, is seeking talent for various live-action and voiceover roles. Three Black female actors, one Black male actor, and three Black voiceover actors of any gender are wanted. Voiceover actors will record remotely (the other roles will shoot on-set in Wisconsin Dells, Wisconsin). Pay is $400–$800 depending on the role. Apply here!
UNUSUAL TALENT, SKILL OR FUN FACT
Worldwide Casting is seeking people with an unusual talent, skill, job, collection, home, or fun fact, especially anything visual that can be shown from home, for an upcoming show. Anyone aged 18 or older may apply. Talent will receive $200 if selected. Apply here!
"FUTURE OF SCIENCE"
Smithsonian Digital Studio is seeking two child actors, aged 7–13, to be hosts for a video series in which they will interview scientific experts. Filming for the five-episode series will take place remotely in October over 2–3 days. Pay is $500 per shoot day and $400 per rehearsal day. Apply here!
UNTITLED SPOTIFY PODCAST
An upcoming Spotify podcast is seeking anonymous callers to share "true and crazy" secrets. Callers must be 18 or older. Interviews will take place remotely via phone, and callers will be paid $150 if their secret is selected and recorded for the podcast. Apply here!
Looking for remote work? Backstage has got you covered! Click here for auditions you can do from home!