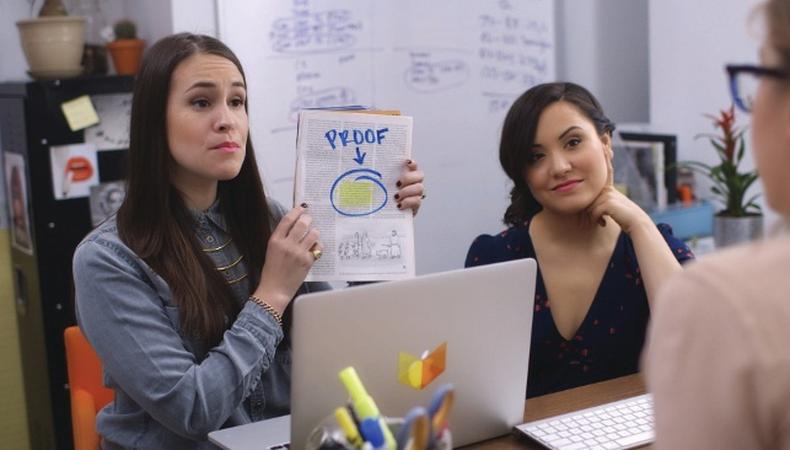 When they graduated from college, Alexandra Fiber and Danielle Gibson landed where many artistically inclined millennials do. "I was waking up every day at noon with nothing to do except babysitting," remembers Gibson. Their transition from NYU Tisch to actually living in NYC was fraught with existential angst and inertia. "You go from being in school and being creative all day to doing nothing." Fiber says it felt like their film acting education was going to waste. "We trained, we went to school—we had done everything right."
"SRSLY," a series of fabulous and hysterical Web shorts, is the result of Fiber and Gibson taking matters into their own hands. "It was really important to us to make something funny and fresh and female-focused, but something that looked and sounded really good too. We knew that that was going to be a sticking point of whether people would keep watching our videos," says Fiber, adding, "We have a pretty low tolerance for Web video with poor audio quality."
Drawing from their training and other NYU filmmaking friends, the two became producers, writers, and stars of a catchy brand name that as of 2011 has grown in several unexpected directions; Fiber and Gibson have partnered with Birchbox, bareMinerals, Refinery29, and Glamour.com to create original online content. "We don't get into branded partnerships where it feels like we're just writing commercials," says Fiber. "The brands we've supported are brands we use anyway." Their résumés include four scripted videos and 12 original Vines for Ann Taylor LOFT's 2014 holiday campaign, as well as a current collaboration with Racked.com, where they play slightly heightened versions of themselves—"obnoxious, in a fun way," explains Fiber.
Whether it's brand partnerships or original shorts, the BFFs draw from their own lives and tastes for inspiration. "SRSLY" videos range from the cringeworthy ("Best Friends") to the joyous ("Dance") to spot-on parody ("#Snack"), and in each, Fiber says, they dial their personalities up to 11. "We try to find these little moments both of us can relate to. That's our measuring stick: Has it happened to both of us, is it funny, can we visualize it and see it come to life?" Their strategy is working; in addition to profitable collaborations with brands they enjoy, Fiber and Gibson were recognized at last year's Webby Awards as the only self-financed and self-produced honorees in the comedy category.
What advice do the co-creators have for floundering postgrads with a lot of creative energy? Strike while the iron is hot. "If you're young and just out of college you have to realize you're the freshest, coolest thing out there right now," says Gibson. "You get to go into meetings and everyone's like, 'Wow, you just graduated? You're so young and hot and hip.' So please exploit yourselves!" With enough passion and persistence, babysitting can be avoided altogether by creating your own work on the Web.
As Gibson says, "There's no reason to not be doing it." Seriously.
Like this story? See more of our Now Streaming articles here!