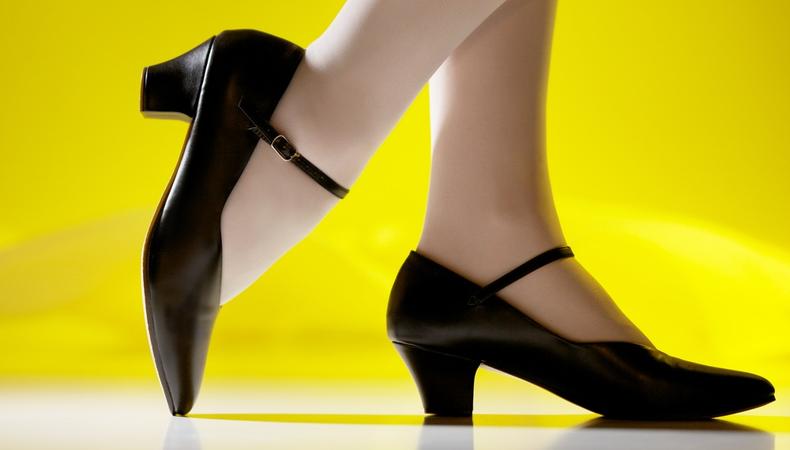 Underneath every musical theater dancer is... a great pair of shoes. Proper character shoes (which can also be fitted with taps) help actors audition with confidence and offer necessary support for long rehearsal and performance days. With that in mind, here are five major character shoe brands that professional actors swear by.
LaDuca
They're considered the Rolls Royce of dance shoes for a reason. Serious performers can't go wrong with these pricey Italian leather heels, which are designed "by a dancer, for a dancer." Popular styles for women include the "Alexis," featuring an elegant "Y" strap, or the "Elizabeth" featuring criss-cross straps across the arch of the foot. Both styles come in nude or black, and actors can choose two-and-a-half or three-inch heels. Pro tip: East Coast actors should make the pilgrimage to the LaDuca store in Manhattan to try on a few pairs and find the perfect fit. Check out Audition Update for some more LaDuca know-how from fellow musical theater performers.
Miller & Ben
This esteemed company from tap dancers/teachers Avi Miller and Ofer Ben got its start in Israel before relocating to New York City's Tap Emporium 15 years ago. Dubbed "Musical Tap Instruments," Miller & Ben shoes are hand-crafted, comfy, and ultra-attractive, designed with the performer in mind. The premium shoes can be found worldwide and come in a variety of styles and colors, including the "Jazz-Tap Master" for men and the (gorgeous) "La Coquette" for women.
Capezio
Beginner dancers (and those on a budget) should not discount this expansive brand. Capezio offers a wide variety of ballet, jazz, tap, and character shoes in classic styles, and its footwear is far more affordable (and widely distributed) than the high-end competition. The "Manhattan Character" shoe for women is straightforward and sturdy, and can easily be outfitted with taps. Strong dancers craving flexible soles can try the "Broadway Flex Character" or "3" Heel Flex Character" for an elegant look and lots of bendability.
Bloch
These professional dance shoes are also very reasonably priced, and serve beginners and more experienced dancers alike. The comfortable character shoes come in soft black or tan leather, and most actors opt for a "T-Bar strap" and a two-and-a-half to three-inch heel. Looking for an affordable alternative to the ultra-popular LaDucas? Bloch's "Splitflex Dance Shoes" have a similar look and a highly danceable flexible sole.
Só Dança
These durable (and attractive) shoes were first made in Brazil over 20 years ago, and are gaining popularity with dancers worldwide. The company makes shoes for every style of dance, and musical theater actors are drawn to the three-inch character shoes in black and caramel. The heels are braced for maximum support, but man-made leather uppers may not stretch as easily as their leather counterparts. Still, these affordable shoes are worth a shot for athletic movers with an eye for style.
Inspired by this post? Check out our dance audition listings!